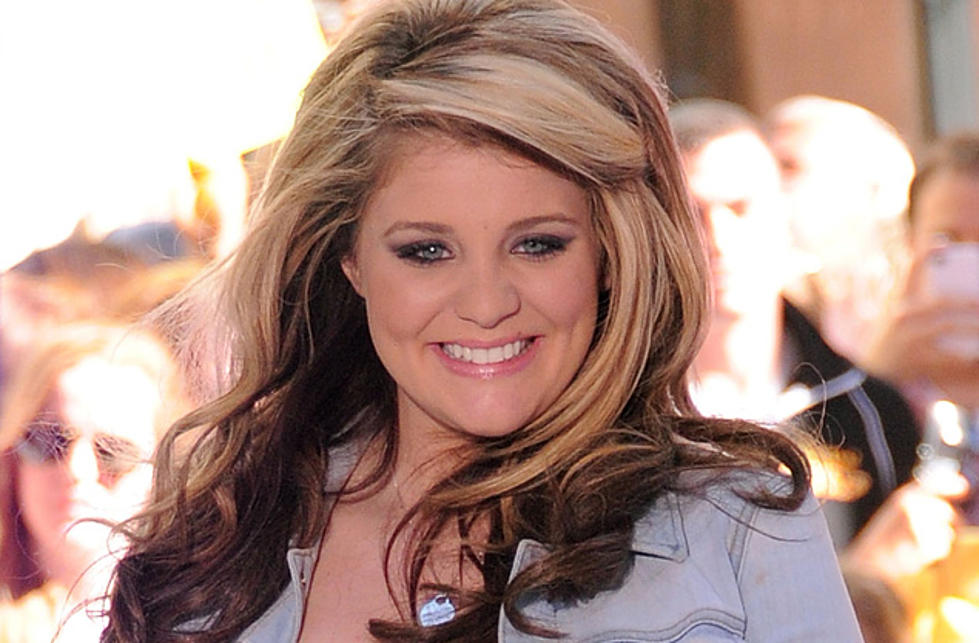 Lauren Alaina Dishes On Proposals, Love Songs and the Tune Carrie Underwood Wrote for 'Wildflower'
Not many up-and-coming singers can say they've got the support of Carrie Underwood, Keith Urban and Taylor Swift like Lauren Alaina does. Then again, not many young performers have an 'American Idol' claim to fame, a promising record deal and a single that started climbing the charts as soon as it was released. The 16-year-old Georgia native may have placed second to Scotty McCreery in the official 'Idol' competition, but her career trajectory is proving to be just as promising as his.
"[Taylor Swift] actually gave me flowers while I was on the show and told me that she wanted to show me around Nashville," Alaina gushes to Taste of Country. Maybe that gift is a sign of what's to come.
Just days before the American Idols Live Tour officially ends, Alaina has a gab session with Taste of Country about life on the road, new songs -- including an Underwood-penned track that'll be on her debut album 'Wildflower,' due out on October 11 -- and the country boy she "about had a a stroke" over meeting.
You accepted a marriage proposal from a fan for a one day only engagement recently. It probably wasn't exactly your dream scenario of how that would happen one day, right?
It was very … I didn't know what to say! I've never had that happen to me before. He got down on one knee and everything. There's a video [laughs]. You can probably watch it. It definitely caught me off-guard. I had no idea he was gonna do that.
Are you the kind of girl who has her future wedding planned out?
No! But I was at the Boston Red Sox game last night, and this guy proposed to his girlfriend on the big screen, and I thought that was the cutest thing ever.
Your first single is about your mom, and it sounds like 'She's a Wildflower' may be a coming-of-age kind of song. Do you have many love songs on the new album?
[Pauses] It has a few … I'm trying to think. All of my songs kind of tell a story, and some of them are about [love]. I have some, yeah.
Since you are young, is it difficult or weird to sing love songs, or is love something you've experienced?
Well, I've had crushes and stuff, so I don't really mind singing about it. I like any song that can tell a story that people can relate to.
You co-wrote a song called 'The Funny Thing About Love.' Can you tell us the story behind writing that song and what the experience working with co-writers was like for you?
Basically what we did, is we got together and we just talked for a while because it was the first time we had met. I got to know the two writers, Brett James and Luke Laird, and it was really nice and they're super awesome people. We were talking about stuff to write about, and we actually wrote another song before that one that I didn't put on the album, and then we wrote that one our second time.
We were just talkin' about how … it's not about anything in particular, it's about how when you're growing up you never are on the right timing with the other person. You like someone who doesn't like you, and then when you don't like them anymore they like you. Or it's the opposite. That's basically what it says.
Do you know what your next single will be and when fans will get to hear that?
I have not found out! We haven't even discussed the second single 'cause my first one's still doing pretty good. So I don't really know, but I'm excited to get another one out there for the fans to hear.
We asked your fans to send us questions on Twitter, and that's the thing most of them wanted to know!
Aw, tell them I'm sorry that I don't know yet [laughs].
Take us through a typical day in the life of Lauren Alaina right now, from the time you wake up to the time you go to bed.
I wake up and if I have time, I go work out. And then I get in the shower and I get in the bus and we ride to the venue, and then I start hair and makeup. I go through hair and makeup, and then we have soundcheck. After soundcheck, I have a meet and greet. And [laughs] … I'm sorry, Casey Abrams just walked in here and started dancing, and I lost my whole train of thought! OK, so after meet and greet -- we have like three meet and greets before the show -- and then we have to get ready completely for the show. I put on my outfit. I sing, and then I have a little bit of a break before my next song. Then after that, it's the second half and I have a lot of songs in the second half. I mean, it's pretty much the same thing every day.
You've probably met a lot of celebrities by now. Is there anyone who told you they watched 'American Idol' that really surprised you?
Keith Urban came up to me when I was in Nashville for a week for the CMA Festival. He came up to me at a radio … thing [laughs]. I don't know what it was, really. But it was like where a bunch of radio stations set up in one room, and a lot of artists are in there talking to them, and Keith Urban was in there. He walked up to me and said, "Hey Lauren, I was a huge fan on the show." He called me by name, and it was really shocking to me! I know how busy he is, so I thought it was really cool.
There's another one that came up to me, and I about had a stroke: Hunter Hayes!
We heard you had a crush on him…
Maybe … I think he's cute. I don't really know him, but we've been tweeting back and forth. And his album comes out the same day as mine!
And Martina McBride's releasing her new album the same day, too.
That's a busy day! Oh my gosh. I'll definitely buy it. I'm glad you told me that! I didn't know.
You've also said that you're a big fan of Taylor Swift but have yet to meet her. What would you say to her if you had a few minutes with her?
I haven't, and I really want to. She actually gave me flowers while I was on the show and told me that she wanted to show me around Nashville, so maybe when I finish this tour we can do that.
I feel like everyone tells her how good they think she is … I just bought a ton of her songs on my phone the other night, and it just makes you feel better to listen to her songs! I just want her to know. People tell her how awesome she is all the time, but I do the same thing that she does now, and I feel like we could connect. It would be cool for us to be friends.
You've mentioned working with Carrie Underwood, too…
Well, she wrote one of the songs that's on my album.
Can you tease anything about that song for us?
It's a really sweet song about two young teenagers that fell in love and, you know, have thoughts like teenagers and do things that teenagers do, like they runaway and stuff. It's really pretty.
Is there anything you miss about not being a normal teenager and not being in school right now?
Um, everything. I wish I could go back to school! I'm gonna go back -- I just won't be able to go every day. I'll just go, I'm gonna try to cheer at some football games.
None of my friends act any differently towards me, which is great. I was scared about that, so scared about that. But people that weren't really close to me before have [acted] like best friends, that's the only thing. But that's fine! I'll take all the friends I can get!
Have you gotten to hear Scotty's album yet?
You know, I haven't. We've been so busy with this tour, we haven't really had the chance to share anything.
Since you two seem so close, tell us: What's one thing fans don't know about Scotty?
Hmmm. One thing that fans don't know about Scotty. [Long pause.] He's sleeping all the time!
Watch the Lauren Alaina 'Like My Mother Does' Video
More From Taste of Country