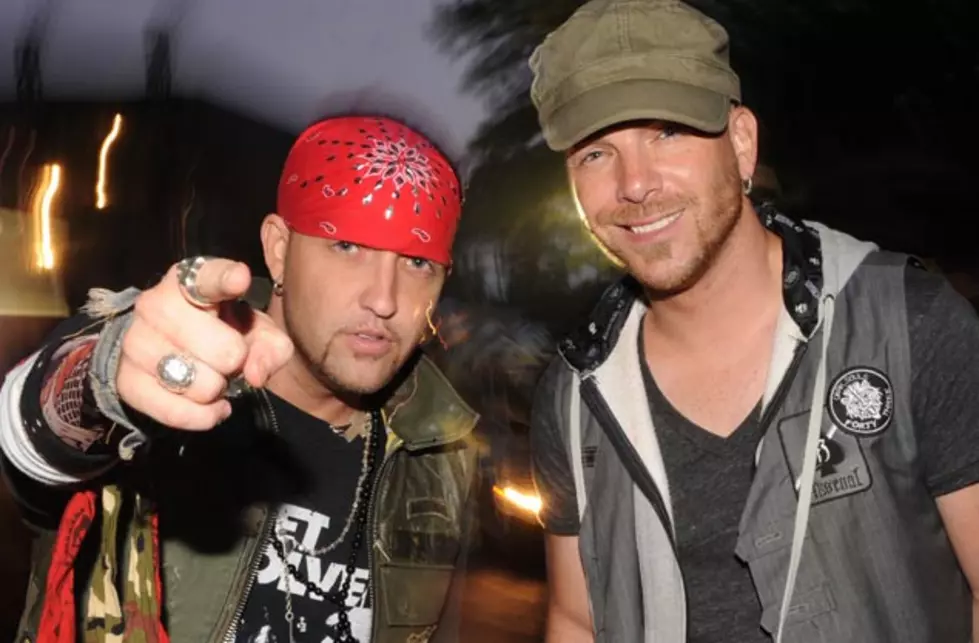 LoCash Cowboys: From Wildhorse to Wild Ride as One of Country's Hottest New Duos
This year marks a very special time for country duo the LoCash Cowboys. Besides charting their first Top 40 single, 'Keep In Mind,' and making their debut on the prestigious stage of the Grand Ole Opry, Preston Brust and Chris Lucas are anticipating the release of their debut album on Stroudavarious Records. The new collection of tunes consist of many self-penned songs, including its third single, 'You Got Me,' slated to hit radio this summer.
The road that has led them to becoming one of country music's hottest acts on the rise has not always been a smooth ride, but they have continued to enjoy every moment of the journey since meeting in 2002.
"When I got to town, I heard that a lot of people hang out at this place called the Wildhorse Saloon," Brust tells Taste of Country. "I figured I'd go there and meet some people, make some friends and make some connections because it was a Saturday night. There was really no other place that I knew of that I wanted to go."
When he arrived at the Wildhorse, Brust met Lucas, who was manning the DJ booth for the popular dance club. When Lucas learned that Brust was new to town, he offered him a job working at the Wildhorse. "I'll never forget it," Brust says with laughter. "I said, 'No, I've saved some money. I saved like $2,000! I'm good!' I didn't need a job. I figured I'd just go after music and it would happen. He goes, 'You could start Friday.' I was like, 'Maybe I should listen to this guy … he seems to know what he's talking about.' I said, 'Well what do I do?' He hired me to be a DJ at the Wildhorse with him."
"I didn't have any authority to hire him," Lucas adds with a grin. "But I did because I needed to go on vacation for four days, and I needed someone to do my job! I could tell he was already a natural at it. I was getting calls while I was on vacation like, 'Dude … where's the 'play' button?' I was like, 'Dude … it's fine! Just put on a CD, sit back and relax.' He goes, 'Well don't I have to teach something?' I was like, 'Just make it up as you go. You're fine. Don't worry about it. You're good.'"
"I seriously showed up for work the first night, and I didn't have a clue," Brust recalls. "There were buttons and CDs everywhere! I didn't know what to play, who to play or when to play it. There was a band ready to go onstage that I had to bring on. I didn't know what to say or how to even turn my microphone on!"
When Lucas returned from vacation, he was called into the office by the Wildhorse manager who was not too pleased about the new hiring. "I went up there, and I told them I knew he was good," says Lucas. "I was bored doing it by myself. For six years of doing the same thing with nobody helping you, it runs you ragged."
Brust remained on staff at the Wildhorse, and it didn't take long for club-goers to see the unique show the two had started every night, calling themselves the LoCash Cowboys. "More people were coming to see us over the bands," Brust says. "We knew we had something valuable going. We started writing songs immediately and made up pictures and homemade CDs to sell. We couldn't even make them fast enough. We were going crazy. People were lined up for like meet and greet type stuff, and we're just working!"
Not long after they built up a name for themselves, famed record producer James Stroud, stopped into the Wildhorse one night and was drawn to Brust and Lucas. "He saw that there was a magic there," says Brust. Stroud signed the duo to DreamWorks Records after performing a couple of songs a cappella. At the time of their new deal, DreamWorks was bought out by Universal Music Group, and LoCash Cowboys were let go.
"We were like, 'We'll just go get another deal,'" Brust says. "It didn't come so easy the second time. We had to get out there in our cars pulling U-hauls and started doing shows all over the country."
"I remember one time we were at a gas station," he continues. "My Jeep had a flat tire. Chris was changing my tire, and I was paying the band for the whole entire week of shows. We didn't have gas, and I didn't know how we were going to get home. If I gave the $80 in my hand to the last player, there was no money left for gas to get home. So I counted out the four $20s, and I handed it to him because those guys had to come first. I didn't say a word. He handed it back. He's like, 'Get gas … I want to go home.' Those days were tough, but I wouldn't trade any of that -- well, maybe I'd trade a couple of them -- but you look back on it, and all of it's life lessons and you pay your dues. People will never know how tough of a struggle it was for us, but that's what builds the character in everybody."
When things began to pick up for LoCash Cowboys, they "graduated" from using their own vehicles to renting a van, which eventually led them to purchasing a van to save on money. "We bought this van, and things were moving so quickly for LoCash that before we could even make our first van payment, we moved into a motor home," Brust says. "That's when we started making merch money," remembers Lucas. "We were making and selling merch like it was going out of style! That's what kept us afloat for three or four years."
"Then we graduated to older buses … we called it Ghetto 1," Brust says with a laugh. "Then nicer buses came along."
"Ghetto 2," adds Lucas with a smile.
Brust and Lucas know they still have their work cut out for LoCash Cowboys, but they also know the memories they are making along the way and the name they built for themselves will only continue to grow stronger. "We're in if for the long haul," Lucas says. "We're still around because we don't go away. We're always going to be here, whether you like us or not because we put everything back into our careers."
"We built this," Brust agrees. "When you build something from scratch from the ground up, nobody can take that away. They can only take away what they give you. They can't take away what you built yourself, and we built all of this ourselves."
'You Got Me' is scheduled to impact country radio on June 6. The duo anticipates having their debut album, 'This Is How We Do It' (produced by Jeffrey Steele), out on Stroudavarious Records hit stores later this year.
More From Taste of Country