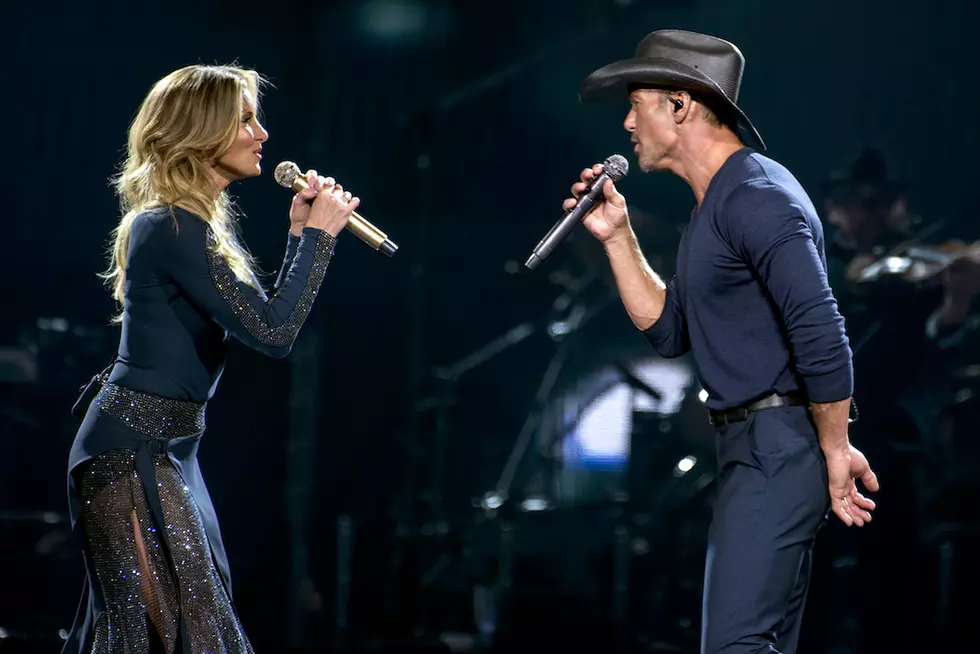 Love Burns Bright on Tim McGraw and Faith Hill's Soul2Soul Tour [Pictures]
Josh Lowe for Taste of Country
Tim McGraw and Faith Hill are a power couple to be reckoned with. The country pair made their first-ever stop in Newark, N.J., on May 4 as part of their Soul2Soul Tour, and those paying close attention may have learned a thing or two about the power of love — oh, and keeping things spicy.
While sharing the spotlight for their third tour as husband and wife, country fans witnessed what it looks like to connect face to face, heart to heart and Soul2Soul. McGraw and Hill rose from the stage while singing the chorus to "It's Your Love," staring at one another from afar. From there, they rolled out more duets, starting with an energized version of Aretha Franklin and George Michael's "I Knew You Were Waiting for Me." With roaring response they slipped in their respective hits, starting with McGraw's "Felt Good on My Lips" and then Hill's "The Lucky One." Both husband and wife then had their own part of the show, with McGraw passing the stage over to his wife first.
Hill, who had taken a decade, give or take, off from touring, hit the stage and reminded the crowd that she still has spark: "I didn't realize it had been 10 years since I had been on the road!" She performed a six-song solo set in a striking blue gown, backed by a ten piece band. Barely skipping a beat, Hill rocked the house with "Free," which was followed by a snippet of Beyonce's "Freedom." She powered through more of her own with "This Kiss," "Breathe" and "Wild One" and took the crowd to church with "Stronger," saying: "Nothing in this world still moves me today like good old church soul."
She handed the stage back over to her husband, but not before her renowned cover of Janis Joplin's "Piece of My Heart", which was met with astounding applause. McGraw rolled out his own mini set with "One of Those Nights" and "Real Good Men" before sneaking in an a cappella tribute to Bruce Springsteen with "Hungry Heart." Winning further approval from the New Jersey crowd, the muscle buff continued with "Shotgun Rider" and delivered his heavy hitting ballad, "Humble and Kind," which delighted the crowd. Before the magical event was over, the pair joined together again, leading with their latest radio hit, "Speak to a Girl," and McGraw urged the men in the audience to follow the song's advice.
The encore saw Hill walking among the crowd, singing "Mississippi Girl," and McGraw following her, taking a stroll of his own for "Something Like That." They brought the show to an intimate close, seated and staring into each other's eye to share a microphone with a wedding vow intimacy to sing "I Need You."
This tour stop also featured a group of openers, like the Shadowboxers, who were playing their first ever arena show. The band added a third layer of soul to the tour, starting their set with an original, "Woman Through the Wall," and "Go Find Another," dancing to their 90's beat "Build the Beat." They went on to honor the Eagles with an original choice of "Take It to the Limit" and Bruce Springsteen's "Dancing in the Dark," which undoubtedly won over the Jersey country fans.
The Hottest Tours of Summer 2017 
Watch Faith Lead the Crowd in a Singalong for Tim
More From Taste of Country