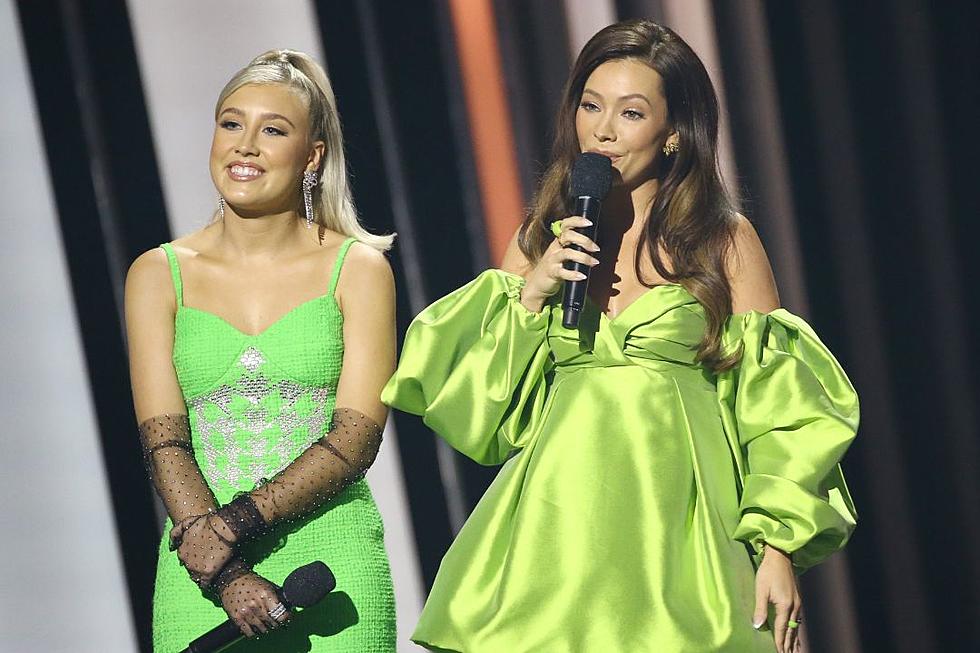 Maddie & Tae Are Going to the CMA Awards as 'MILFs'
Terry Wyatt, Getty Images
Maddie & Tae are heading into the CMA Awards with a lot on their plate. The duo is nominated for Vocal Duo of the Year, they have a a Christmas project set to release this week (We Need Christmas - Extended Version) and both are new mothers.
I had some time with the pair ahead of the 2023 CMA Awards, and I wanted to see if they would reveal what their outfits are going to look like for Country Music's Biggest Night (Weds, Nov. 8 at 8PM ET on ABC).
"Whoa baby, it's coming. Yeah we're getting a little crazy," they promise fans.
Maddie expanded on that, saying: "Yeah, it's mom era vibes."
"MILF vibes, is what we're going for," Tae adds.
Maddie even joked that she wants the headline of articles about their looks to be: "Maddie & Tae, MILFs for CMAs," and that all media would put the word MILF in stories about them.
The conversation moved onto what the duo has coming up for 2024, and it's a lot.
"We have a record coming out, not sure when, we're playing Stagecoach, we're doing a lot of shows, and maybe more babies, who knows," Maddie says.
The Maddie & Tae star was quick to asterisk that statement with the following fine print: "Not me — I might take a minute — it's her turn. We're taking turns. We're going to have like 17 babies between the two of us by the time we are done."
Evan Paul is the host of Taste of Country Nights, a syndicated radio show heard on more than 120 country radio stations nationwide, every night from 7PM to midnight. He plays the best new country music and interviews today's top stars, like Luke Combs, Miranda Lambert, Dan + Shay, Keith Urban, Carrie Underwood, Luke Bryan, Chris Stapleton, Lady A, Morgan Wallen, + more! 
PICTURES: See Carrie Underwood at the 2023 Rock & Roll Hall of Fame Induction Ceremony
Carrie Underwood was among the stars who were on hand at the 2023 Rock & Roll Hall of Fame induction ceremony in New York City on Nov. 3, 2023. The singer paid tribute to 2023 inductee George Michael.
Gallery Credit: Sterling Whitaker
Pictures: Country Music Hall of Fame Welcomes Tanya Tucker, Patty Loveless, Bob McDill
Tanya Tucker, Patty Loveless, Bob McDill became the newest members of the Country Music Hall of Fame on Sunday (Oct. 22) in Nashville. The three-hour-long ceremony included nine performances, by surprise guests like Bob Seger, Jamey Johnson, Brandi Carlile and more.
Gallery Credit: Billy Dukes
PICTURES: See Inside Bret Baier's Staggering $32 Million Mansion
Bret Baier has listed his massive $32 million mansion in Washington, D.C., for sale, marking the highest-priced home listing in the history of the city.
Gallery Credit: Sterling Whitaker
More From Taste of Country