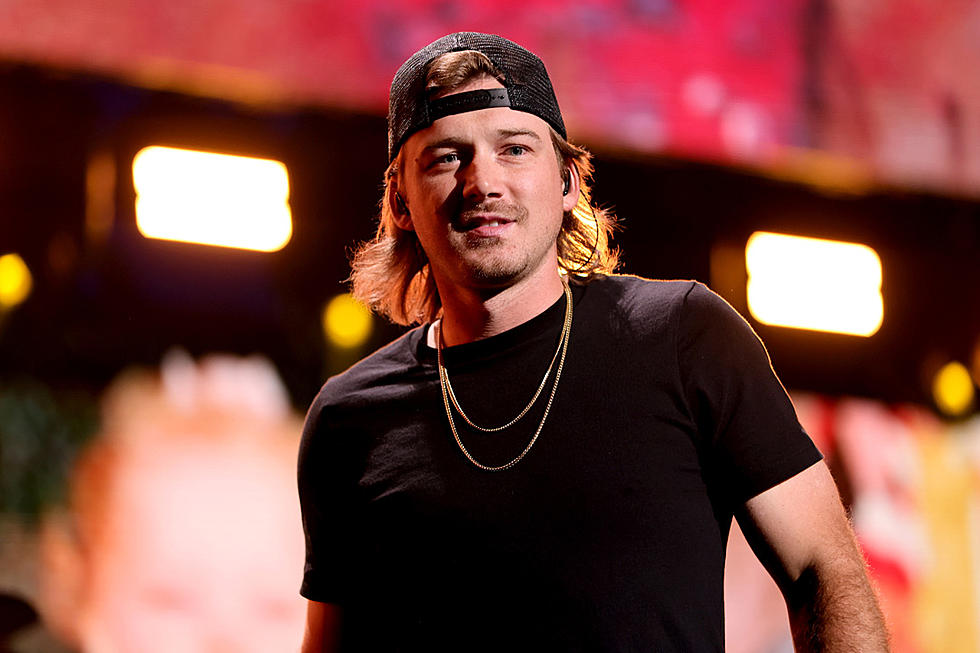 Morgan Wallen's New Single 'One Thing at a Time' Twists a Familiar Feeling [Listen]
Matt Winkelmeyer, Getty Images
The title track of Morgan Wallen's new One Thing at a Time album is symbolic of a project that effortlessly mixes genres as the singer stays on topic. Heartbreak is his thing, and with very few exceptions, his radio singles have lived there.
On paper, "You Proof" and "One Thing at a Time" are sister songs. Both find the singer relying on alcohol to get over a girl, but nobody would say they're the same song, even if the same four men (Wallen, Ernest, Ashley Gorley, Ryan Vojtesak) wrote them both.
They're different in two ways: "One Thing at a Time" relies on a retro guitar groove and organic drumbeat, while his previous No. 1 hit is better classified as an acoustic song with a snap track. This is representative of what's perhaps most surprising about Wallen's 36-song album — sonically, it's quite dynamic.
Lyrically, this new release is a bit more nuanced than most of what he's sent to radio. He's not just getting stupid-drunk to forget about a girl, he's admitting he's not strong enough to quit drinking (or smoking, or whatever vice you want to substitute) and that girl. Small variations on a very common theme go a long way in country music, especially when wrapped in a melody as addictive as nicotine.
Did You Know?: "One Thing at a Time" checked in at No. 5 on our list of songs from Morgan Wallen's One Thing at a Time album, ranked.
Related: Every Song on Morgan Wallen's One Thing at a Time Album, Ranked
Listen to Morgan Wallen, "One Thing at a Time"
Morgan Wallen's "One Thing at a Time" Lyrics:
Somebody hand me a cigarette / I know I ain't had one in over a week / Somebody pour me a double shot / Been gettin' better by the day, but tonight I drink / You say I gotta get over you and get sober too / I got a lot of habits I gotta kick / But weigh out all your options and take your pick.
Chorus:
I can either burn the bar down / Or I can take your number out my phone / I can give you up right now / And never want you back long as I'm half-stoned / If you want me to quit you, want me to get you / Outta my heart and, baby, off my mind / I hate to tell you, girl / But I'm only quittin' one thing at a time.
I know I got me some problems / About a thousand memories I gotta forgеt / But if I'm gonna solve 'em / Baby, I'll take all thе help I can get / If you ain't gonna kiss me / Then I'll take some whiskey / Some Grizzly, nicotine, amphetamines too / You want me to stop some of that / Or you want me to stop lovin' you / Hey, what you want me to do.
Repeat Chorus
Aw, yeah, I hate to tell you / Aw, yeah, I hate to tell you.
I ain't no superman / I'm just the way I am / If I'm gonna move on, then I need me somethin' in my hand / Ain't nothin' wrong with that / And if you ain't comin' back.
Repeat Chorus
Aw, yeah, I hate to tell you / Aw, yeah, I hate to tell you.
20 Best Morgan Wallen Songs — Hits Every Fan Should Know by Heart
You'll find largely singles in this Top 20 countdown of
Morgan Wallen
's best songs and biggest hits. But we've scattered in a few songs found deep within Wallen's two albums,
If I Know Me
and his record-breaking double album
Dangerous
.
See Inside Morgan Wallen's Recently Sold Nashville Home
Morgan Wallen
has sold his Nashville home for $835,000. The country singer sold his home for a $135,000 profit five months after being filmed on his driveway using the N-word. The 4-bedroom, 3-bathroom house is a two-story house near Nashville's 8th Ave. It's over 2,700 square feet. Redfin confirmed the house sold on July 8, 2021, less than one month after it was listed.
More From Taste of Country