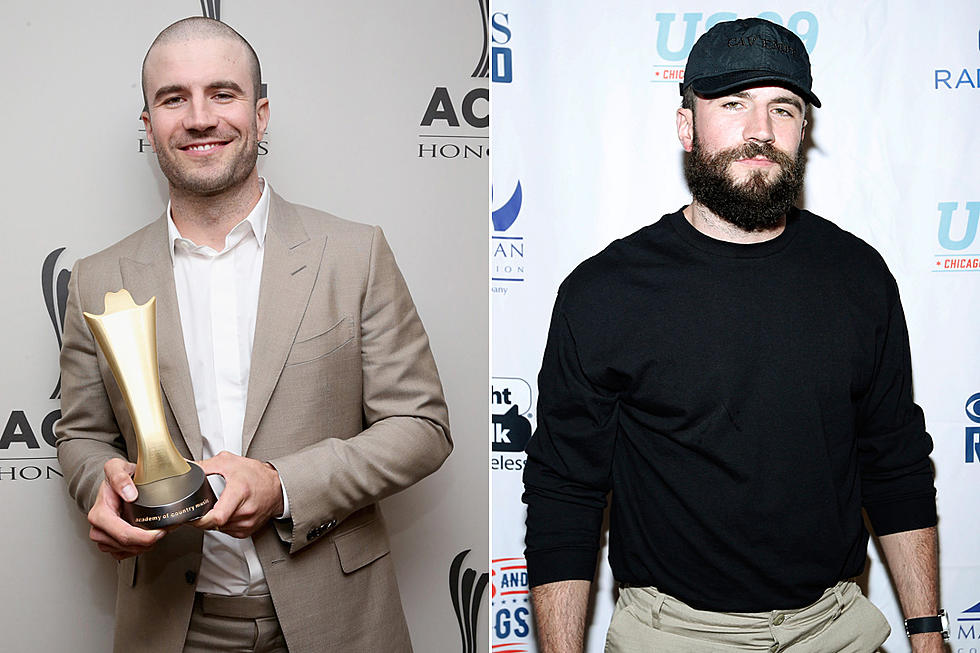 The Old Sam Hunt Can't Come to the Phone Right Now, Because He's Shaving
Terry Wyatt / John Shearer, Getty Images
Sam Hunt picked up the Gene Weed Milestone Award at the ACM Honors ceremony in Nashville on Wednesday night (Aug. 22) and in doing so showed off his new, more aerodynamic look.
A beardless — almost hairless — "Body Like a Back Road" singer accepted the honor and posed for pictures backstage with stars like Jon Pardi, Bobby Bones and Kassi Ashton. Of course there are pictures. In fact we've created a gallery of Hunt's evolving aesthetic, starting with the buzz cut and moving through his mountain man stage, good little boy stage and Vanilla Ice stage. Oh, you forgot about that time he shaved lines into the side of his head, didn't you?
Sam Hunt's Body Hair Progression in Pictures:
Wife Hannah does not appear in any photos from Wednesday night's show at the Ryman Auditorium in Nashville. She was last spotted smiling alongside a very hairy "Downtown's Dead" singer in June. The first sign that Hunt had shaved came in late July, when he performed at Country Thunder in Twin Lakes, Wisc.
A new look could indicate new music is coming. He revealed "Downtown's Dead" in May and promised another new song one month later, but it's August and that song hasn't yet materialized. "Downtown's Dead" peaked just inside the Top 20 on the Billboard Country Airplay chart, marking the first time one of his singles failed to reach the Top 5.
Talking to ToC at the 2018 Taste of Country Music Festival, Hunt indicated that his current influences have been more traditional and that one day he'd like to create a traditional country record that better reflects his raising. Although he's been touring with Luke Bryan this summer, he's mostly kept a low profile.
Sam Hunt, the Traditionalist? It's Not Crazy!
See More Sam Hunt Pictures, Just Because
More From Taste of Country