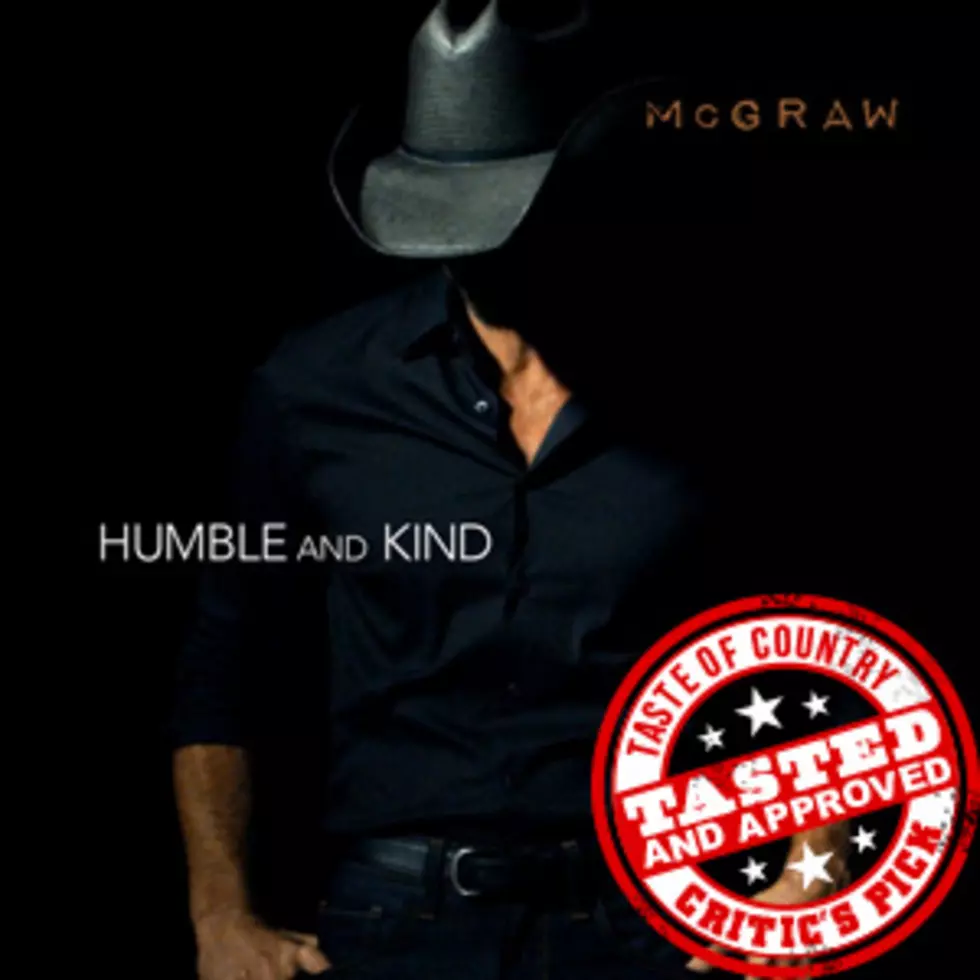 ToC Critic's Pick: Tim McGraw, 'Humble and Kind' [Listen]
Big Machine Nashville
Tim McGraw's "Humble and Kind" needed to wait. The singer says he's had the Lori McKenna-penned ballad for years, but it wouldn't have sounded so true on any other album. The orchestral performance is stunning, and the song will be deservedly included with the best of his career.
McGraw's message satisfies like a good chicken dinner. Simply put, it's Damn Country Music's "Meanwhile Back at Mama's." Every line includes another piece of wisdom, but as a whole the song never feels preachy. At times one senses that McGraw is imparting advice he wishes someone gave to him. Worry, regret and unbridled love are among the emotions you'll feel listening.
The "Sleeping with someone and sleeping with someone you love" lines will become the signature "Humble and Kind" lyrics, but a warm and imaginative third verse is just as comforting. These lines recall his nostalgic "Back When," a hit from 2004.
Like "Meanwhile Back at Mama's," "Humble and Kind" relies on simple ideas and objects that everyone looks past from time to time. A film reel flickers through your mind as you hear this needed reminder to slow down and appreciate those close to you. The message doesn't get old, especially because McGraw keeps finding new ways to deliver it.
Listen to Tim McGraw, "Humble and Kind"
Why Tim McGraw Had a Hard Time Cutting This One
Tim McGraw's "Humble and Kind" Song Lyrics:
"You know there's a light that glows by the front door / Don't forget the key's under the mat / When childhood stars shine, always stay humble and kind / Go to church 'cause your momma says to / Visit grandpa every chance that you can /
It won't be wasted time / Always stay humble and kind."
Chorus:
"Hold the door, say please, say thank you / Don't steal, don't cheat, and don't lie / I know you got mountains to climb but / Always stay humble and kind / When those dreams you're dreamin' come to you / When the work you put in is realized / Let yourself feel the pride but / Always stay humble and kind."
"Don't expect a free ride from no one / Don't hold a grudge or a chip and here's why / Bitterness keeps you from flyin' / Always stay humble and kind / Know the difference between sleeping with someone / And sleeping with someone you love / "I love you" ain't no pick up line so / Always stay humble and kind."
"When it's hot, eat a root beer popsicle / Shut off the AC and roll the windows down / Let that summer sun shine / Always stay humble and kind / Don't take for granted the love this life gives you / When you get where you're goin / Don't forget turn back around / And help the next one in line / Always stay humble and kind."
See Tim and Faith's Cutest Photos Through the Years
More From Taste of Country