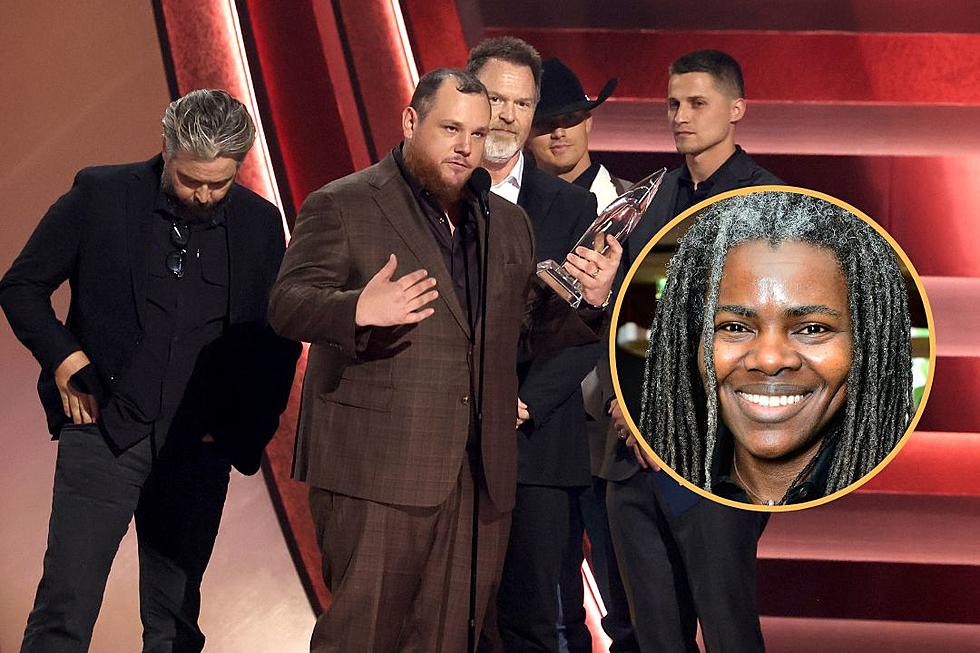 Tracy Chapman Scores First CMA Awards, Thanks to Luke Combs Cover
Jerod Harris/Terry Wyatt, Getty Images
This year's Song of the Year prize went to Tracy Champan's "Fast Car" at the CMA Awards on Wednesday night (Nov. 8). The award is traditionally given the songwriters, and though the song was reignited in a cover by Luke Combs, it was solely written by Chapman.

Chapman was not in attendance for the awards show, however, but after Bill Anderson and Sara Evans announced her as the winner, Evans read a special message from the writer.
"I'm sorry I couldn't join you all tonight," Evans said, reading Chapman's words. "It's truly an honor for my song to be newly recognized after 35 years of its debut. Wow. Thank you to the CMAs and a special thank you to Luke and all of the fans of 'Fast Car.'"
"Fast Car" also received the CMA win for Single of the Year, which is awarded to producers and mix engineers. Combs produced his version of the track with Chip Matthews and Jonathan Singleton. Matthews also mixed it.
"First and foremost, I want to thank Tracy Chapman for writing one of the best songs of all time," Combs gushed at the podium in accepting the win. "Never, never intended — I just recorded it because I love this song so much. It's meant so much to me throughout my entire life. First favorite song that I ever had from the time I was four years old."
Combs' cover won in categories that included tracks from Lainey Wilson, Jordan Davis, Megan Moroney, Jelly Roll and Hardy. His cover of Tracy Chapman's "Fast Car" became a quick favorite of both country and non-country fans, topping charts.
The "Love You Anyway" singer's name is included in several categories this year: He's up for Entertainer and Male Vocalist of the Year, and his album Gettin' Old is being considered for Album of the Year.
Combs will bring his latest single "Where the Wild Things Are" to the show.
The 57th annual CMA Awards are being hosted by Luke Bryan and Peyton Manning and are airing live from Nashville.

Luke Combs + Wife Nicole Look Ravishing in Red on the 2023 CMAs Carpet
Luke Combs and his wife Nicole stepped out at the 2023 CMA Awards, walking the carpet with semi-matching outfits in shades of red.
Gallery Credit: Carena Liptak
More From Taste of Country