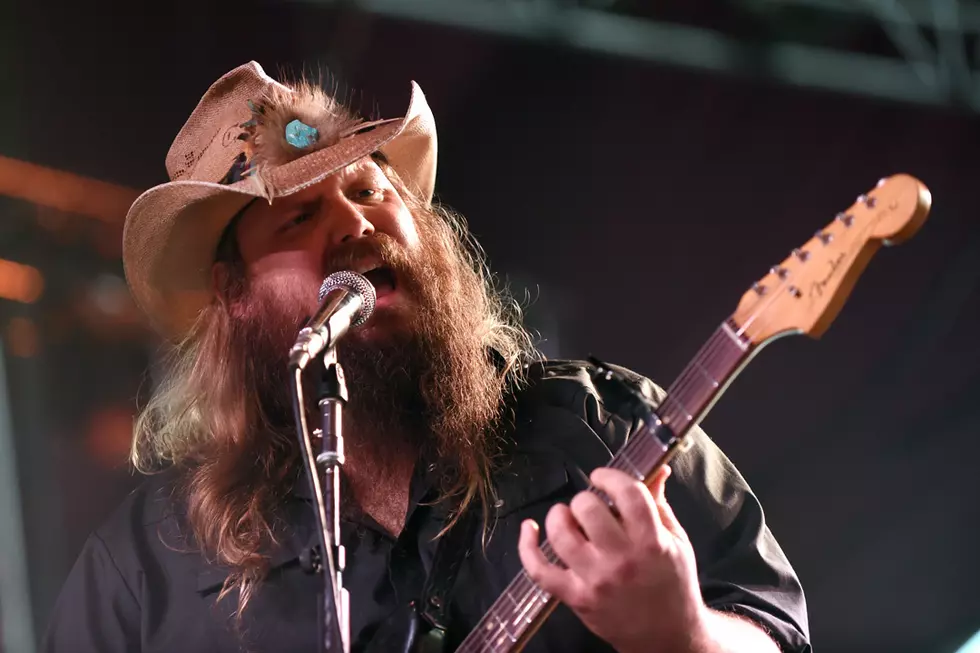 2017 Remembered: The Next Chris Stapleton Is Here, and She's Pretty Awesome!
Emma McIntyre, Getty Images
Chris Stapleton is an artist and a symbol. At once, he's everything great about country music and everything that's wrong with the business. Since he burst into our consciousness in November 2015, hopeful whispers of "Who's next?" have shaped the narrative.
He set the bar for those who demand more than vanilla and transcended expectations without exploitation.
On a literal level, it's not fair to him or new artists to proclaim there is or will be a "next Chris Stapleton." Symbolically, however, the conversation becomes more interesting. Here's what this person or persons would need:
An unapologetic commitment to art for art's sake, not commercialism.
A style that recalls the past but feels rare in today's country climate.
Songs that endure lyrical scrutiny to the point of obsession.
A one-of-a-kind voice.
Little support from traditional promotional platforms, i.e. radio.
Sound familiar?
Women of country music are the next Chris Stapleton.
It's the silver lining around the dark-cloud subject of "women on the radio." Free of the expectations to record "hits" and aware that anything short of original will get lost, the women of country music have been recording and releasing the best and most original songs and albums for several years. It's a survival tactic.
"I don't know what a single is anymore," Miranda Lambert said prior to the 2017 ACM Awards. "I don't care really."
Three women made Taste of Country's Top 10 albums of 2017 list (Angaleena Presley, Kelsea Ballerini and Lindsay Ell), and not one of them sounds like the other. Beyond that you'll find empowering music from resurgent Lauren Alaina, a young, fresh and hip breakup album from Danielle Bradbery, a critically acclaimed project from indie darling Margo Price and Carly Pearce, the artist with perhaps the most unique voice of 2017. Be honest, when you first heard "Every Little Thing" last spring did you think it was a "hit"? The almost orchestral ballad is way left of center, yet she became one of just two female solo artists to hit No. 1 in 2017 (along with Alaina's "Road Less Traveled").
Female artists who didn't release albums in 2017 but remain prominent players include Miranda Lambert, Maren Morris, Carrie Underwood and Cam. Perhaps only Underwood and Ballerini's styles could be called mainstream — every other female artist listed leans into the edges of the genre to create music that some people will flat-out hate, but many will champion as personal favorites. Need proof? Look who's winning all the Grammy Awards. Year after year, female-fronted country projects bring home statuettes because men can homogenize. In fact, when they don't, they fail, i.e. Drake White, early Eric Church and until Justin Timberlake joined him at the CMAs, Stapleton.
"I was just a little exhausted at the fact that I wasn't hearing another perspective of women on the radio," Morris told Taste of Country about writing and recording her Hero album. "I just wanted to come in and refresh myself and others hopefully, with a sound that was not pertaining to the guy."
Ell's The Project album is genre-less, with blues licks on top of pop melodies and country themes. The best songs are imaginative explosions of color and emotion, and they came after she quit chasing.
"It is the album I've always wanted to make, but more so it's the album I didn't know I could make," she told ToC last summer. "A year ago I wouldn't have written these songs. I wouldn't have put together this record."
Lambert puts it most succinctly. "I don't know what a single is anymore," she said prior to the 2017 ACM Awards. "I don't care, really."
Within the context of the multi-year conversation about country music and the place of traditionalists and women within the format, this point that all women are the next Chris Stapleton is somewhat belittling. One has to be extremely optimistic to see the silver lining as described here — a broke artist is only slightly more likely to make great art than a broken chair.
Simultaneously there's tremendous criticism for the songs that do become hits and overwhelming regret that the age of the album is behind us, replaced with a more snackable singles society. But what would happen if we flipped the narrative?
What would happen if we changed the conversation?
Is it the "women in country music" problem?
Or is it the "women in country music" solution?
See 12 Female Trailerblazers in Country Music 
More From Taste of Country