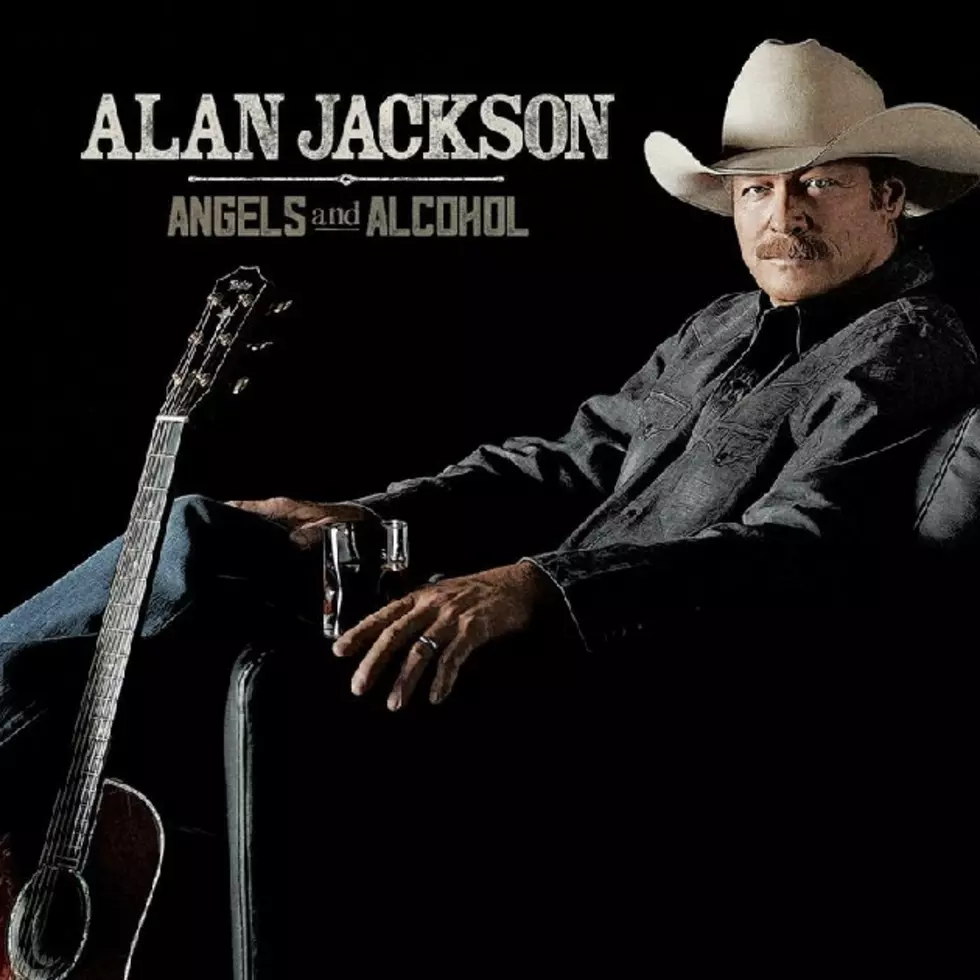 Album Spotlight: Alan Jackson, 'Angels and Alcohol'
UMG Nashville
Alan Jackson returns to what he does best with his 15th studio album, Angels and Alcohol. The album does just what George Jones asked him to do. Jackson "keeps it country."
The new project marks Jackson's first collection of new country songs since Thirty Miles West in 2012. The country icon released The Bluegrass Album in 2013, which featured a mix of original songs and covers of classic bluegrass tunes.
Jackson is celebrating 25 years since the release of his debut album, Here in the Real World. Earlier this year he embarked on the Keepin' It Country tour, and his career was the subject of an exhibit at the Country Music Hall of Fame. Here's everything you need to know about the title, songs and impact of Angels and Alcohol.
The Title:
Jackson's new album is titled Angels and Alcohol, named after a very traditional track that he's been playing live. "You can't mix angels and alcohol / I don't think God meant for them to get along / When it takes control you can't love no one at all / You can't mix angels and alcohol," Jackson sings during the ballad. As you'll see, however, this isn't an album without one or two more booze-friendly tracks.
Here Jackson explains the title and his music philosophy:
The Label:
Universal Music Group Nashville has released Angels and Alcohol, specifically EMI Nashville. It's Jackson's third record on EMI.
The Producer:
The new album was produced by Keith Stegall, who has helmed all of Jackson's studio projects over the last 25 years with the exception of Like Red on a Rose, which was produced by Alison Krauss.
Keepin' It Country
Jackson vows to do just as George Jones taught him many years ago. The Possum was one of Jackson's heroes and a true friend.
The Songs:
Jackson wrote seven of the album's 10 original tracks and drew from some well-known writers for three others, including Michael White — who wrote Blake Shelton's "The Baby" — and Troy Jones, who wrote two of Billy Currington's biggest hits in "People Are Crazy" and "Pretty Good at Drinking Beer."
1. "You Can Always Come Home" (Alan Jackson) - A slow acoustic ballad builds to a mid-tempo country rambler about family and true love. Jackson says his father inspired the song.
2. "You Never Know" (Alan Jackson) - Sonically, this cut is similar to "I Don't Even Know Your Name," but it's a track about real love and never knowing where you may find it.
3. "Angels and Alcohol" (Alan Jackson) - The title track is a ballad that warns of mixing alcohol with love.
4. "Gone Before You Met Me" (Michael White, Michael Heeney) - Guitars drive this mid-tempo song about the wayward ways of an outlaw. Dig deep to understand the Jack Kerouac reference. Ultimately it's about appreciating the slow and simple life you're living.
5. "The One You're Waiting On" (Adam Wright, Shannon Wright) - An easily adaptable ballad that relies on specific details to touch many hearts. It's touching and effective and includes something of a twist at the end.
6. "Jim and Jack and Hank" (Alan Jackson) - The radio single is a straight-forward, tear-in-your-beer country heartbreaker performed at about 110 beats per minute. Guitars swing in and out to complement the singer's clever rhymes.
7. "I Leave a Light On" (Alan Jackson) - Fans may compare this track to "Every Light in the House Is On" by Trace Adkins. It's a slow ballad about love lost.
8. "Flaws" (Alan Jackson) - "Flaws" is an outlier on Angels and Alcohol. It's a quirky song about living with the flaws God created.
9. "When God Paints" (Troy Jones, Greg Becker) - Many will choose "When God Paints" as the best song on Jackson's Angels and Alcohol album. "When God paints / The heart beats / A life begins, a season ends and lovers meet," he sings during another tender, personal performance.
10. "Mexico, Tequila and Me" (Alan Jackson) - Accordion and fiddle drive this rowdy closer from the very first note. It's the fastest cut on Angels and Alcohol, one about leaving life behind for a few days, or weeks.
The Scoop
Alan Jackson is taking his time these days, and Angels and Alcohol is a reflection of that patience and compassion. The 10 country stories are familiar — although a few snap back to surprise you — but the space he leaves between thoughts and guitar licks is unique.
The singer's warm baritone is inviting. "Spread your wings, don't be afraid to try," he sings to begin "You Can Always Come Home," the album's opening track. It doesn't stop time, but it quiets the rat race for five-plus minutes.
His band fills the space, sometimes just with chords and fills, but occasionally with a solo when it's required. No one will accuse Jackson of packing in too many notes on this album, not even on the two-steppin' "You Never Know" or demanding "Jim and Jack and Hank."
Ballads like "When God Paints" and "The One You're Waiting On" are signature tracks. The singer is simply the right man for the first song, crooning, "When God paints / The heart beats / A life begins, a season ends and lovers meet."
"I've learned that sometimes / It's not always black or white, but we'll be fine / When God Paints."
"The One You're Waiting On" begins like a personal letter to his daughter before becoming less specific. It's a note to a woman waiting for Mr. Right or a note to a wife waiting on her husband before something of a surprise ending. Find growth in his lyrics and the subtle way he embraces technology and new production techniques. Jackson never sounds out of place, but he also never sounds … old.
From top to bottom, Angels and Alcohol is a warm record that longtime fans will appreciate. He's not pursuing radio as aggressively as he once did, which is a shame, because songs like "Jim and Jack and Hank" (technically a single) would sound as good on FM today as Jackson's cuts did 25 years ago.
See How Alan Jackson Has Kept It Country Through the Years
You Think You Know Alan Jackson?
More From Taste of Country