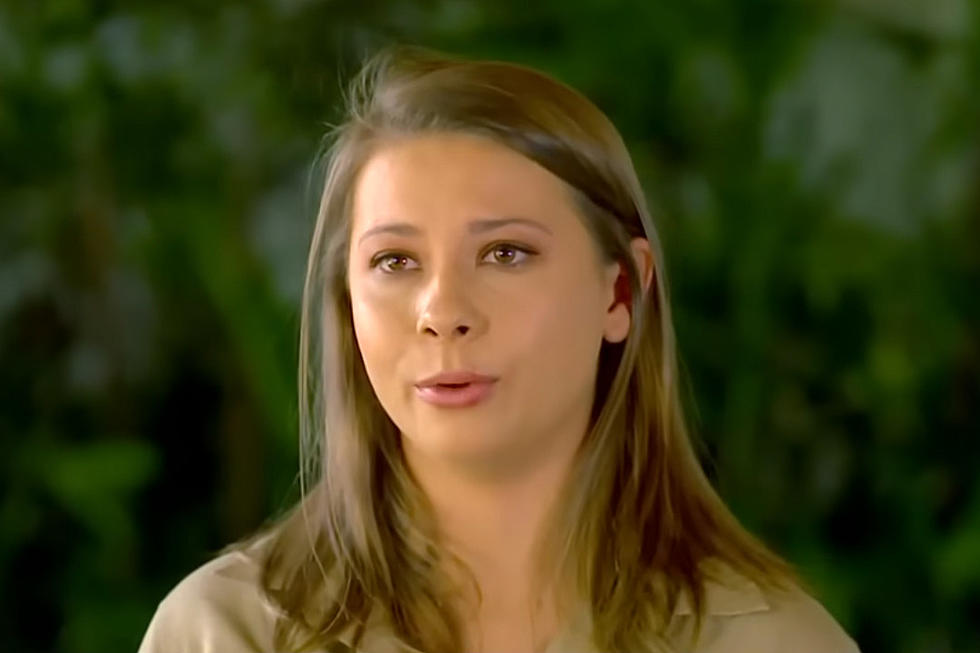 Bindi Irwin Once Thought She Was Miscarrying Due to Debilitating Endometriosis Pain
YouTube
Just over six months after undergoing surgery to address her endometriosis, Bindi Iwin is opening up about some of the most painful moments of her disease.
In her first television interview since her surgery, Irwin tells Good Morning America that endometriosis has taken a toll on every aspect of her life, including her pregnancy with her daughter, Grace Warrior Irwin Powell. Grace was born to Irwin and her husband Chandler Powell in spring 2021, and during her pregnancy, Irwin remembers suffering terrible pain that made her think something might be wrong with the baby.
"Along my pregnancy journey, I would often have times where I thought I was miscarrying, because I would have severe unexplained pain," she recounts. "And I would think that I was losing our beautiful daughter."
An endometriosis diagnosis often impacts fertility, and Irwin has previously used her platform to remind followers about the challenges people with endometriosis face when planning their families. "Please be gentle & pause before asking me (or any woman) when we'll be having more children. After all that my body has gone through, I feel tremendously grateful that we have our gorgeous daughter. She feels like our family's miracle," she said at the time.
In her latest interview, Irwin reiterates the gratitude she feels that she was able to get pregnant despite her endometriosis. "We're so lucky to have Grace. So many women can't fall pregnant because of problems with endometriosis," she continues.
According the Mayo Clinic, endometriosis is an often-painful condition in which the tissue that normally lines the uterus grows on the ovaries, Fallopian tubes and elsewhere in the pelvis. People suffering from the condition often struggle to receive a diagnosis or treatment. Irwin has previously spoken about her decade-long health battle, during which she often felt brushed off by doctors who dismissed her pain as a normal side effect of having a female reproductive system.
When she finally had surgery to address the issue, Irwin says that doctors removed "37 lesions, some very deep & difficult to remove, as well as a chocolate cyst" (a chocolate cyst is filled with menstrual blood, and is a sign of endometriosis). Along with the relief she felt from addressing a problem that had caused her years of pain, Irwin also spoke to the powerful "validation" of doctors acknowledging her condition and taking her concerns seriously.
Now, after six months of healing after surgery, Irwin says that she's feeling better than ever.
"My health now is night and day," she says. "It took a while to recover, because it was such an extensive surgery. They took out 37 lesions, and now I'm a completely new person.
"I'm actually able to go on a walk with my family. I'm able to do the conservation work. I'm able to be there for our daughter, finally. I'm able to run around with her, play with her, to have fun and revel in her joy," Irwin continues. "I hope people will find comfort in my story, that they will find that maybe my story resonates. That maybe if you've gone through undiagnosed, unbelievable pain, you will be able to say, 'Hey, that girl has symptoms similar to mine, maybe this is what's wrong with me.'"
Famous Singers from 'The Voice,' Then + Now
Ten years (and counting) made a huge difference for many of the most popular singers and stars of
The Voice
.
Blake Shelton
looks noticeably different, but so do some of country music's most memorable performers.
Winners like
Cassadee Pope
and
Danielle Bradbery
wore baby faces when they auditioned during their respective seasons. The same can be said for
Morgan Wallen
, a forgotten castmember from the show who's transformed more than anyone else on this list of
The Voice
stars then and now.
Gallery Credit: Billy Dukes
More From Taste of Country