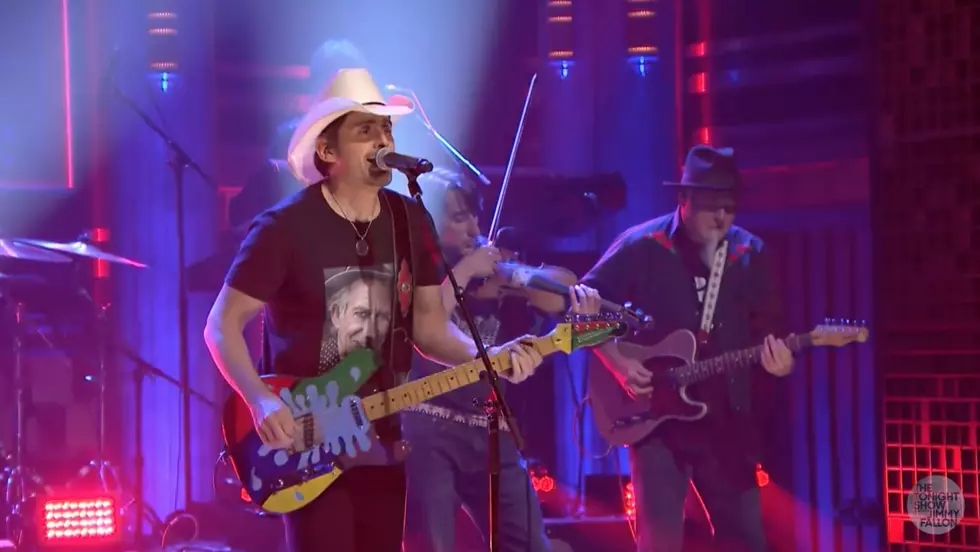 Brad Paisley Gets a 'Contact High' on 'Tonight Show'
YouTube
Brad Paisley brought a song from his new album called "Contact High" to the Tonight Show stage on April 20, and though he didn't bring any illegal substances to the crowd, they certainly felt its effects.
The bluesy tune from Love and War shows off Paisley's flawless guitar playing in a way that left both the audience and host Jimmy Fallon floored, proving just why Paisley is one of the greats in country music.
Brad Paisley, John Fogerty and More Play a Pop-up Show in Nashville
"Contact High" has a slow-swinging, classic country vibe — a seductive ode to a woman who has a hold on the narrator simply by being in the same air space. And when their hands touch? It's all over. The clever tune turns the phrase "contact high" into an effective play on words nearly anyone can relate to, and after two face-melting guitar solos, fans were left wanting more.
Paisley's new record Love and War features songs like these that fit snugly into the country genre, as well as a few outliers that push the boundaries, like collaborations with hip hop producer Timbaland and rocker Mick Jagger. John Fogerty also appears on the album, as well as an adapted poem by Johnny Cash. The album's release brought a unique show to Tootsie's Orchid Lounge in Nashville on April 23, which featured Timbaland, Fogerty and Bill Anderson alongside Paisley.
"There are 500 bands covering John Fogerty songs tonight," Paisley told the crowd, according to the Tennessean, "but we're the only one doing it with John Fogerty."
Love and War — the audio version — is available now, with a visual album to follow on April 28.
Brad Paisley on His Poignant Veteran Song, "Love and War"
More From Taste of Country