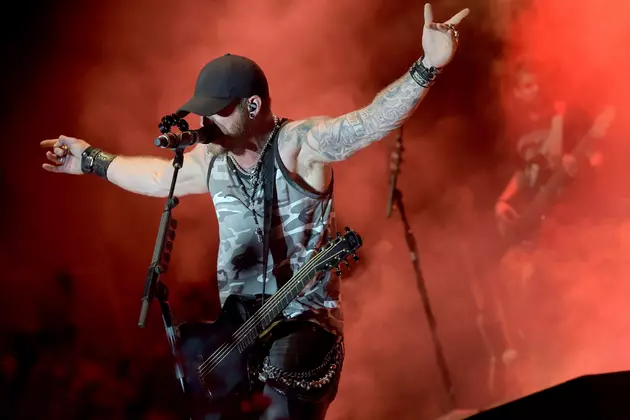 Brantley Gilbert Spills About the Temptations That Inspired New Album
Rick Diamond, Getty Images
Brantley Gilbert's upcoming album is titled The Devil Don't Sleep, and the singer-songwriter surely knows a thing or two about the subject matter.
Gilbert is approaching five years sober after dealing with serious addiction in the early part of his career. He's gotten married and built a much bigger career in the period since then, and he says the title of the album is a reminder to himself that all of the dark forces that set him astray in the past are still just one bad decision away.
"Decisions are always there to make, and The Devil Don't Sleep, for me, is always just being aware that I am an addict," Gilbert tells Nash Country Daily. "I'm a recovering addict, but I'll always be an addict. Those temptations are there. There's a lot of roads that go left. It's about just appreciating the fact that God has blessed me so much in this chapter of my life, and appreciating my marriage and that relationship that is so fulfilling to me. It's my life. She's my best friend. She's the best player on our team. It's just about appreciating those things, but, at the same time, being conscious that the shadows are right around the corner."
The singer, whose current single is "The Weekend," agrees that despite his imposing appearance, he's really a sweet person.
"Yeah, for sure, until it's time to not be very sweet, which is few and far between these days," he says. "There was a time in my life where I think I had a misconstrued meaning of what tough was. December 18, it will be five years alcohol free ... and I think since then, I don't find myself in very many situations where I need these as much, my fists as much. It's more about being spiritually tough ... Spiritually tough and morally tough for myself and the people around me."
The singer relies on his Christian faith to stay on the straight and narrow.
"For sure. I've always been a believer first above anything else. I feel like I'm like any other Christian. I think I've definitely strayed from time and time, and my relationship has not always been the best, but I think that's always been a part of my music as well."
The Devil Don't Sleep is set for release on Jan. 13.  Gilbert is set to launch his The Devil Don't Sleep Tour in February.
Brantley Gilbert's The Devil Don't Sleep Keeps Him Moving Forward 
Country Stars Who've Suffered Tragedy
More From Taste of Country