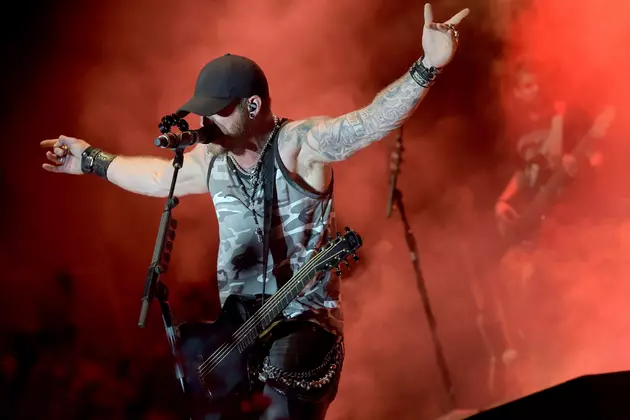 Brantley Gilbert Previews 'The Devil Don't Sleep' Songs Online
Rick Diamond, Getty Images
Brantley Gilbert drops his new album The Devil Don't Sleep on Jan. 27, but fans of the country rocker don't have to wait for a sneak preview. Gilbert recently gave fans a taste of his forthcoming album through a series of creative Instagram posts — 16 to be exact — each one previewing a new song, and coming together to compose the cover.
Each video post, about 50 seconds max, makes a call to action to pre-order The Devil Don't Sleep on iTunes, while promoting the dates for The Devil Don't Sleep Tour, which begins in Reading, Pa., on Feb. 2.
15 of the 16 posts contain a single still image — each a specifically placed piece of Gilbert's new album — that come together like a puzzle to form the full album cover on the singer's Instagram page. Each post contains an audio snippet of one of the songs from the album as well.
Though Gilbert is only showcasing 16 tracks on his Instagram, the deluxe version of The Devil Don't Sleep will feature 10 extra tracks — five demos and five live cuts. The live cuts were all recorded at the famous Red Rocks venue in Colorado.
Fans have been anticipating Gilbert's new album since July of 2016, when he released the album's first official single, "The Weekend." As the titles implies, the song celebrates those precious days off, and Gilbert explains that the inspiration for the song hit while he and his bandmates were on the road.
"We were rolling through the Midwest, South Dakota, Oklahoma, Minnesota, and you see how hard people work and how much they need to let it go when they get to Friday," Gilbert notes. "All those people coming out to the shows and rocking hard; they meant business. I wanted to write a song that matched that intensity to kick back even harder than you work. That's where 'The Weekend' comes from: all those people who came out and threw it down with us."
Brantley Gilbert's The Devil Don't Sleep Keeps Him Moving Forward 
Country Stars Who've Suffered Tragedy
More From Taste of Country