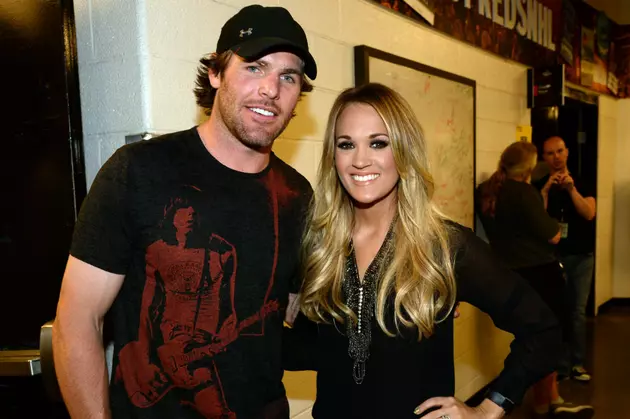 Carrie Underwood Says 'No Way' to Husband's Garth Brooks Duet
Rick Diamond, Getty Images
Carrie Underwood is putting her foot down. There is no way her hockey player husband will be singing a duet with Garth Brooks before she does.
"Bro, that is AWESOME! I HAVE to call you out after that ... Nashville is the last city on the American leg of the World Tour ... You and me, on stage, 'The River.' You in? love you pal, g."
Underwood tells Country Countdown USA that her husband sings all the time, but often doesn't know the words to what he's singing. "Sometimes I will film him, because he usually doesn't know the words," she explains. "But he was legit singing to 'The River,' so I filmed him, he noticed me, and tried to be all good."
She says she asked her husband if she could post it, and he gave her permission. But they never expected Brooks to respond.
"He's like 'Let's sing together in Nashville when the tour comes here.' And I said, 'You cannot sing with Garth Brooks before I do,'" she recalls. "When I was 10 years old I met Garth Brooks and said, 'If you ever need someone to sing a duet with you, I'm your girl.' So I've been waiting for that forever. And my husband who's a hockey player is gonna sing with Garth? I don't think so! I might cry if that happens."
Perhaps Underwood and Fisher can sing "The River" together with Brooks when the tour rolls through Music City? Brooks has yet to announce the date for a Nashville Garth Brooks World Tour show with Trisha Yearwood, so there's still time to duke it out.
8 Most Unforgettable Carrie Moments
See Every Carrie Underwood Single Ranked
8 Unforgettable Brad + Carrie CMAs Moments
More From Taste of Country