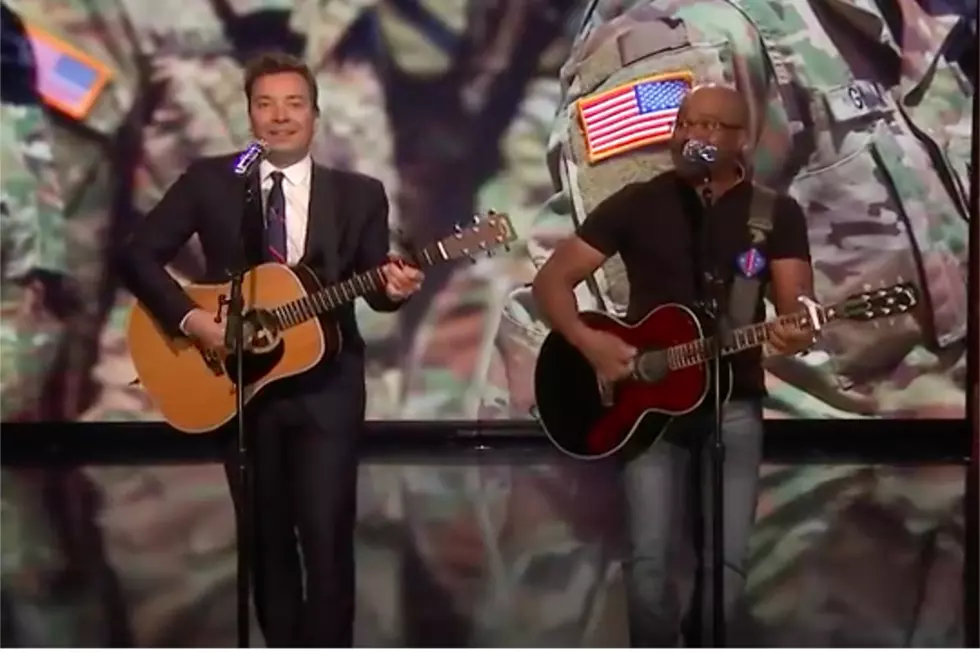 Watch Darius Rucker and Jimmy Fallon Parody Hootie on 'Only Wanna Thank the Troops'
The Tonight Show Starring Jimmy Fallon
As the country prepared to celebrate Memorial Day on Monday (May 28), country star Darius Rucker found a way to pay tribute to an all-military Fleet Week audience on The Tonight Show Starring Jimmy Fallon on Thursday (May 24) with "Only Wanna Thank the Troops."
In an obvious parody of Hootie & the Blowfish's 1995 hit "Only Wanna Be with You," Rucker and Fallon looked awfully comfy with guitars in hand and smiles on their faces, as they tried their best not to break out in hysterics during some of the parade song's lyrics:
"You serve with bravery / You serve with style / You serve with six pack abs, I can barely run a mile."
Rucker has been keeping busy. Earlier this week, he performed "Wagon Wheel" with American Idol runner-up Caleb Lee Hutchinson on the show's first ABC season finale."It's so inspiring to see how much talent, passion and ambition these contestants have," the country star says. "I loved being a part of Caleb's experience ... He's got that old school voice."
Next up for Rucker will be his ninth-annual Darius and Friends Concert benefitting St. Jude Children's Research Hospital at the Ryman Auditorium in Nashville on June 4. From there, he will hit the road for his co-headlining Summer Plays on Tour with Lady Antebellum, kicking off Thursday, July 19 in Toronto.
10 Songs That Honor Fallen Soldiers
More From Taste of Country