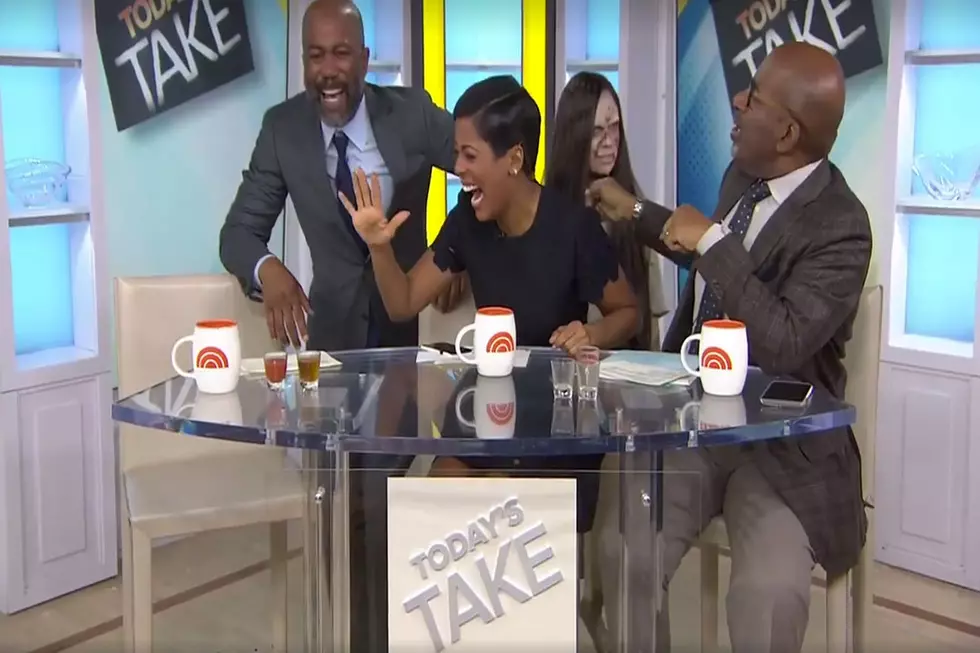 Darius Rucker Pranked By 'Rings' Girl on 'Today' [Watch]
Today's Take via YouTube
Darius Rucker made an appearance on the Today show on Thursday (Jan. 26) and got a good scare from a popular horror movie character.
At the beginning of the segment, Rucker admits to hosts Al Roker and Tamron Hall that he is a fan of horror films before they show a video prank where customers at a technology store are set up to be frightened by Samara, the horrifying character from film series, The Ring. The little ghoul is known for climbing out of the TV when you watch a cursed video tape. Guests in the tech shop are looking at various TV options when, suddenly, the character climbs out of one of the TVs, sending them running in fear.
But Rucker doesn't just watch the incident occur on screen, he experiences it, too, when a woman dressed as Samara comes speeding toward the country singer in the Today show studio. Rucker almost falls out of his chair trying to run away from the terrifying character. "That was not funny," the "Homegrown Honey" singer exclaims, wiping tears from his eyes as he and the talk show hosts burst into a fit of laughter. "That scared the heck out of me." Rucker continues to laugh as he watches a playback of the incident, saying how genuinely scared he was.
The country singer recently released the first single, "If I Told You," off his forthcoming fifth studio album. He additionally paid tribute to legendary singer-songwriter James Taylor at the 2016 Kennedy Center Honors, performing his classic hit, "Carolina in My Mind."  Rucker was also awarded the Randy Owen Angels Among Us award in early 2017 by St. Jude's Research Hospital for his longtime support of the organization.
See Artists Who've Unexpectedly Gone Country
More From Taste of Country