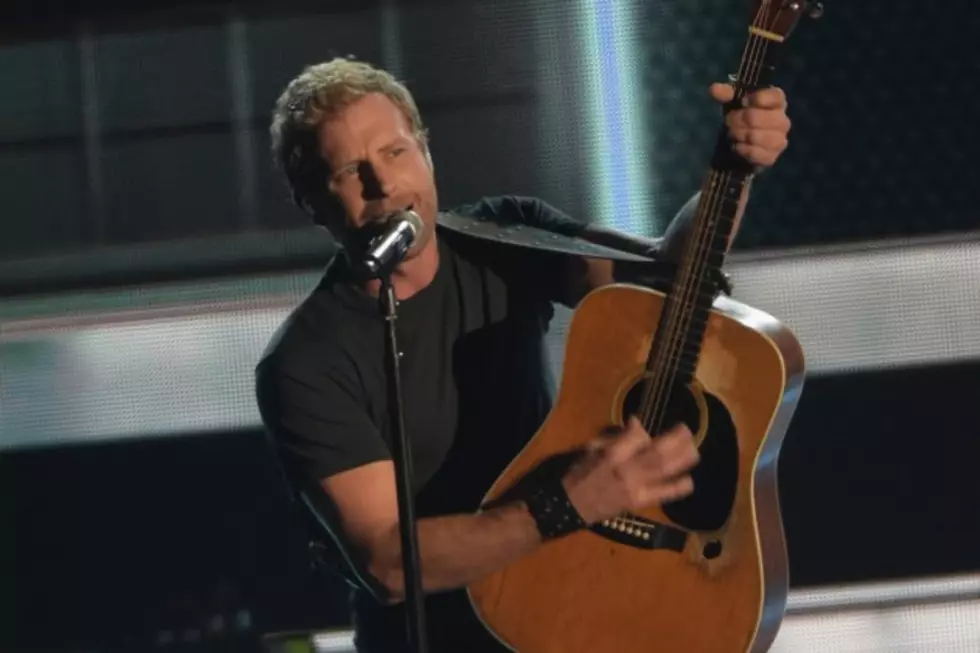 Dierks Bentley Says Winning ACM Album of the Year Would Be 'Special'
Rick Diamond, Getty Images
Dierks Bentley is nominated in seven categories in the upcoming 2015 ACM Awards, but he admits there's one that he'd like to win the most.
He earned nominations in some of the most important categories, including Male Vocalist, Album and Song of the Year. Taste of Country caught up with him in Dallas on Friday (April 17), and he spilled about what he'd do with the awards if he wins them.
"Album's what I really want," Bentley tells ToC's Billy Dukes. "If I win Album, that's going on the road, so the fans can see that every night. That's special. We put in a lot of time making records, and I think in this day and age, with there being such a singles-driven market, I feel like in a way it is good for fans, because people that want to make great albums, really have to make great albums. You really have to go out and make a full-bodied work, or else people aren't going to buy it."
Bentley hit that mark with his latest release, Riser, which has earned him some of the most positive reviews of his career. "With this record I really feel like it was top to bottom, every song had a reason, a point that enhanced the record," he states. "So that would be a special award for me."
No matter what he wins, it's unlikely Bentley's trophies would go on the mantle.
"I don't have any trophies hanging up at my house," he reveals. "I've won a couple of things, and I have them in my house, but they're not actually in a visible spot, because I don't want my kids being around all that stuff."
Bentley will perform the title track from Riser at the ACMs on Sunday (April 19), and he's already hard at work on a follow-up.
"I've been in the studio, cut like nine things," he shares. "I'm feeling pretty good about it. I'm trying to figure out what I wanna say. I feel like everything I put out, I really want to say something, whether it's a party song or a heavier song. But just trying to find something that has meat to it. I feel like Riser was one of my better records, so I really want to make something that equals that, whether it's similar or different. So I'm just looking for new sounds and ideas, and just trying to write stuff that's not common. There's a lot of work getting ready to happen."
The All-Time Best ACM Awards Moments
You Think You Know Dierks Bentley?
More From Taste of Country