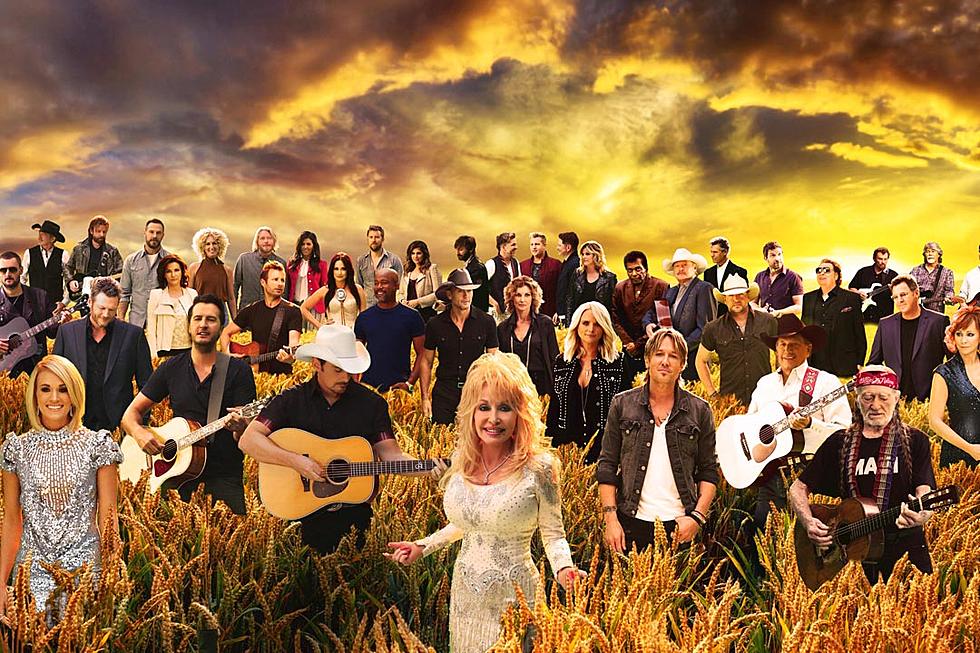 Randy Travis, Karen Fairchild on Hand for 'Forever Country' First Look
Courtesy: Country Music Association
This year marks the 50th anniversary of the CMA Awards, and to honor the longstanding awards show, 30 of country music's most respected artists have joined forces for "Forever Country," a medley of John Denver's "Take Me Home, Country Roads," Willie Nelson's "On the Road Again," and Dolly Parton's "I Will Always Love You."
While the music video will make its official launch Tuesday night (Sept. 20), select members of the press, industry and CMA Board members got an exclusive first look on Monday at Nashville's Belcourt Theatre. On hand were video director Joseph Kahn, producer Shane McAnally and CMA Board Member Karen Fairchild of Little Big Town to share their experiences throughout the process of the creation of "Forever Country," with a short panel led by Country Countdown USA host Lon Helton.
Moments after watching the video for "Forever Country" — which includes all of the 30 artists together singing the three songs together — producer McAnally said he was completely entranced.
"I felt like I could take it in and feel the love in the room," he remarked. "It looks like I'm watching a dream of my life, watching what I have grown up loving and the reason that I'm here. It's the wildest dream of mine to be any part of it."
The video intersperses each songwriter together, and poignant moments from Randy Travis, Ronnie Milsap and Parton are at the heart of the emotional video. Travis, who was in attendance Monday evening (Sept. 19), got a round of applause for his participation, while Fairchild thanked him personally for being a part of "Forever Country."
"I can't tell you what a treasure it is, Randy, to be in this piece with you. It means more than you'll ever know," Fairchild said. "It makes me very emotional and it makes me very proud ... that [we] could honor the great icons of this format and take us into the next generation."
While McAnally revealed that the project started with 40 songs, he initially only envisioned one song being the focus. It wasn't until director Kahn suggested a three-song mashup that he started to see things differently.
"He proposed the idea of a mashup. We felt pretty strongly about not messing with any of the stories of country music. How do you chop up a country song that tells these stories? Every line matters," McAnally explained to those in attendance on Monday.
Now, after seeing the final product, he couldn't imagine not using Parton's "I Will Always Love You" beside Denver's "Take Me Home, Country Roads" and Nelson's "On the Road Again." Kahn said he first pitched the idea of three songs because he thought it'd be too difficult to feature 50 years of country music history in one song.
"All the harmonies and chords fit together so well and it actually told a story and had a great emotional payoff," Kahn shared. "It was basically a movie he wrote and I had to put visuals to it."
Kahn, an Los Angeles based Grammy-award winning film and music video director who is the mastermind behind videos by Taylor Swift, Janet Jackson, Lady Gaga and Snoop Dogg, among others, was born in Texas and is a fan of the country genre. Well versed in every genre of music, he says it was unlikely he could pull off this kind of video anywhere besides country.
"This would have never been able to be done in any other genre of music. It blew my mind. We didn't have one temper tantrum, we didn't have one person late. Everybody came, did their job," he said. "The reason why country resonates is because it's truthful. Songs are stories, they're forms of communication. We think songs are just for dancing but actually, dance is a form of communication. Songs convey a story into something. Music videos are just a visual expression of that."
The music video for "Forever Country" will be available for streaming following Tuesday's results episode of Dancing With the Stars on forevercountry50.com.
Top Country Songs of the Century
More From Taste of Country