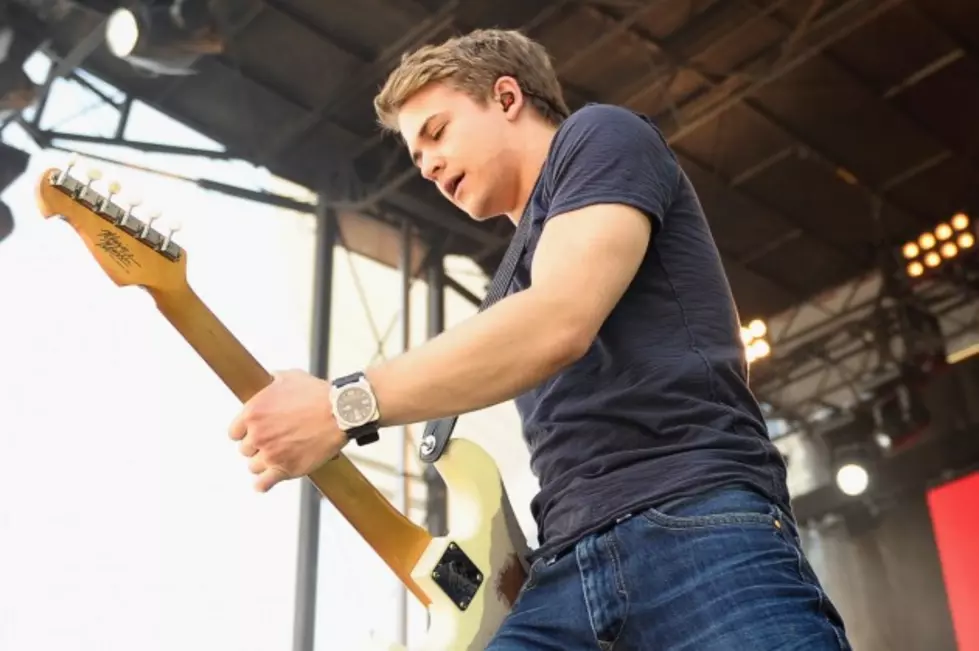 Hunter Hayes, 'I Want Crazy' – Lyrics Uncovered
Michael Loccisano, Getty Images
Judging by his success on the charts, when Hunter Hayes sits down to write with his fellow songwriters, amazing things happen. That pattern was no different when Hayes penned the 'I Want Crazy' lyrics that have been driving his fans wild. The 21-year-old country star tapped fellow songwriters Troy Verges and Lori McKenna for help when writing the fourth single from his self-titled debut.
Hayes and Verges had already worked together once before they sat down to create 'I Want Crazy.' The two had collaborated on the 'Wanted' lyrics and composition that ended up bringing Hayes his very first chart-topper. To add another dimension and a fresh perspective to 'I Want Crazy,' successful songwriter Lori McKenna stepped in to help, as well.
"This was the first time the three of us wrote together," Verges tells Roughstock. "I don't know how long he had been there, but Hunter had just set up his little studio at Universal. It was right as 'Wanted' was kind of taking off. I hadn't seen Hunter because he'd been on the road. There was a little bit of a celebration when we got there because the single was rockin'!"
Once Verges, Hayes and McKenna sat down to write, they decided to create a song that would feature the young singer's expert guitar playing. Although Hayes is just 21, he's been playing the guitar for more than 15 years, and he's developed a serious talent for picking and grinning. With that in mind, the co-writers started with a solid guitar intro and everything else just fell into place.
"I'd gotten to know Hunter so well from writing for that last record, and I knew that he was a great guitar player, so we were trying to find a song to feature what he can do on guitar," Verges explains. "It was just an easy write. It only took a couple of hours because the song was there."
Even though Hayes and Verges had already forged a solid relationship from from writing 'Wanted' together, Verges insists that McKenna added a vital perspective to writing the 'I Want Crazy' lyrics.
"Lori was such a great presence in the room. I've always loved writing with her, and I've always been a massive fan of hers," the songwriter says. "It was a real natural, back and forth, easy day. It was more about the groove and the feel of the song for me to get rolling, then the lyrics just came. Everybody in the room was just kind of shouting stuff out. It was a rapid fire back and forth, where it feels like you're not writing it."
The upbeat melody and warmth in Hunter Hayes' 'I Want Crazy' lyrics seem to reflect the easy writing process. "Who cares if you're all I think about / I've searched the world and I know now / It ain't right if you ain't lost your mind / Yea I don't want easy, I want crazy / Are you with me baby? Let's be crazy," he sings in the chorus, which has proven to be a seriously fun earworm.
As soon as the trio of songwriters finished writing the words and melody, Hayes and Verges found out that 'Wanted' had achieved certified Gold status. They ended another successful writing day by celebrating together at a Nashville restaurant.
"It was really cool that we wrote this single the same day that we received the first bit of good news about 'Wanted,'" Verges adds. "It's been like riding a wave ever since. It's been cool."
Hayes has definitely been riding a wave of success since 'Wanted' topped the charts. 'Somebody's Heartbreak' peaked at No. 7 on the Hot Country Songs chart and hit No. 1 on the U.S. Country Airplay charts. Now, 'I Want Crazy' has spent several weeks near the top of the country charts, and it looks like the tune isn't going anywhere soon.
More From Taste of Country