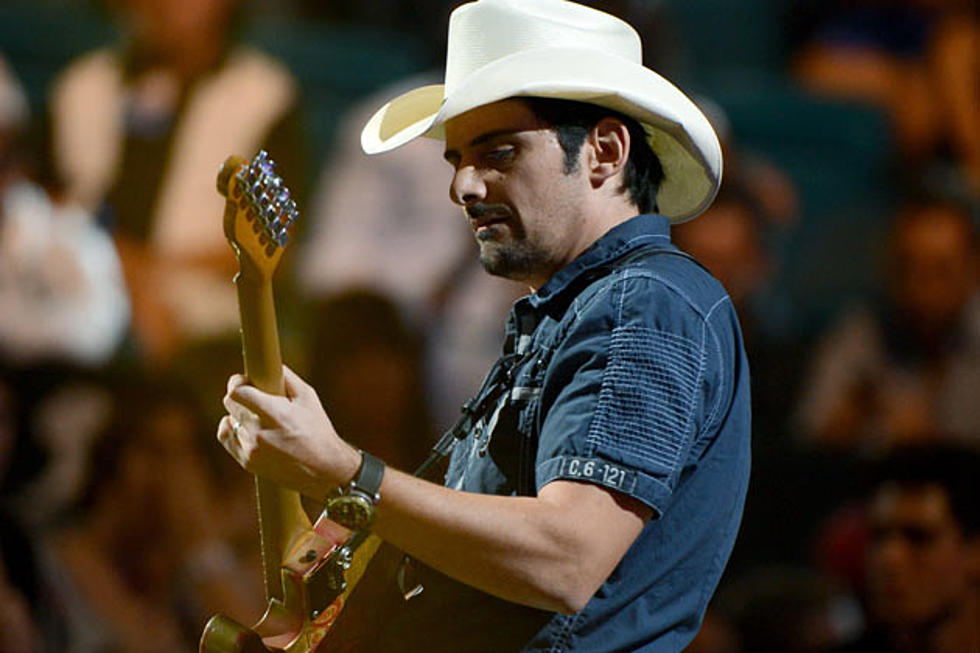 Brad Paisley, 'Southern Comfort Zone' – Lyrics Uncovered
Michael Kovac, Getty Images
Brad Paisley -- simply put -- is a musical genius, especially when it comes to creating lyrics to some of his biggest hits. Paisley's 'Southern Comfort Zone' lyrics are no exception. The singer took his time penning the tune with two of his best songwriting pals, Kelley Lovelace and Chris DuBois, for his forthcoming album, which is slated for release in April.
"When the three of us got together to write at my office, Brad asked if anybody had an ideas working,"  Lovelace tells Taste of Country. "I said yes, I've got one. I told them, and Brad said, 'That's pretty good ... what do you think, Chris?' Chris said, 'Yeah, it's pretty good.' I said, 'No, it's great,' but I was kind of kidding. Brad said, 'No, it is great; only thing is let's think about how we would write that and write it completely opposite of how we would think to write it... let's not write it typically, where when you hear a song called 'Southern Comfort Zone,' you can predict where it's going to go.'"
The three started going to work on Lovelace's idea, slowly birthing Paisley's 'Southern Comfort Zone' lyrics. "It had a different feel to it," recalls Lovelace. "It had a more southern rock to it. We chased it in one direction for a while, but it wasn't really working. We got together a couple more times to work on it, but it wasn't feeling right for Brad. When that happens, we have to wait on him to find that direction so we can work on going that direction, too."
After another couple of shots at getting the song right, the three put 'Southern Comfort Zone' on the back burner so they could focus on other songs Paisley was preparing to record for his new album.
"One night he was cutting another song we'd written," Lovelace explains. "It was late, probably around 10:30 at night. I picked up my bag, and Brad said, 'Where are you going? I'm going to track something else in a minute, and I want you here for it.' We went downstairs in his guitar room, and he started playing this groove. I said, 'What's that?' He said, 'That is 'Southern Comfort Zone.' I was thinking about it while we were working on that other song.' He threw out a couple of lines and said, 'What do you think if we write in this direction?'"
"Dixieland, I hope you understand / When I miss my Tennessee home / And I've been away way too long / I can't see this world unless I go / Outside my southern comfort zone," they later wrote in the song's chorus.
"We went back upstairs to the control room and cut the entire song with no words -- just the melody of what he thought it should sound like," notes Lovelace. "Later on we wrote the words to it."
"I have walked the streets of Rome / I have been to foreign lands / I know what it's like to talk and have nobody understand / I have seen the Eiffel Tower lit up on a Paris night / I have kissed a west coast girl underneath the northern lights," Paisley, Lovelace and DuBois wrote in the 'Southern Comfort Zone' lyrics.
"You always need to trust him," Lovelace says of Paisley, who has helped the singer pen several of his biggest hits to date. "You just learn to trust that it will come out the right way. I've got to give him all props on 'Southern Comfort Zone.'"
More From Taste of Country