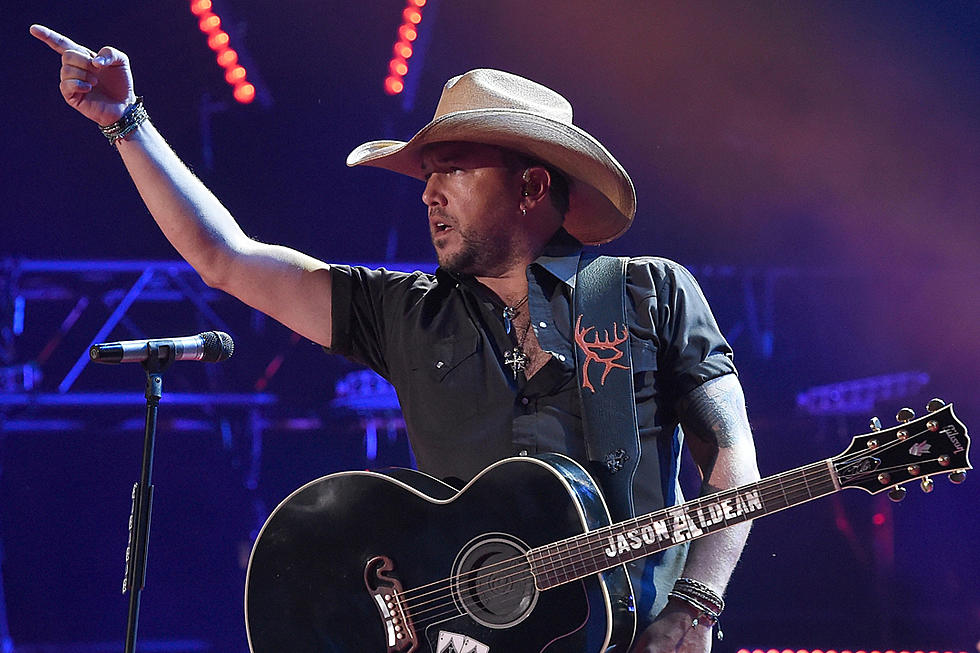 Jason Aldean Releases 'I Won't Back Down' Performance to Support Las Vegas Shooting Victims
Rick Diamond, Getty Images
Jason Aldean is releasing his live performance of "I Won't Back Down" to digital services to raise money for the victims of the mass shooting that took place in Las Vegas on Oct. 1.
Aldean and his band were in the middle of their set during the closing night of the Route 91 Harvest Festival when a lone gunman opened fire on the crowd from his hotel room overlooking the venue, killing at least 58 people and wounding more than 500 other concertgoers before taking his own life with a gunshot to the head. Legendary rocker Tom Petty died the following day, and Aldean paid tribute to Petty while sending a defiant message when he performed "I Won't Back Down" on Saturday Night Live the following Saturday (Oct. 7), less than one week after the tragedy.
"This week, we witnessed one of the worst tragedies in American history," Aldean reflected during the show's opening. "Like everyone, I'm struggling to understand what happened that night and how to pick up the pieces and start to heal."
Las Vegas Survivors Share Incredible Memorial Tattoos
"So many people are hurting. There are children, parents, brothers, sisters, friends — they're all part of our family. So I want to say to them: We hurt for you and we hurt with you. But you can be sure we're going to walk through these tough times together, every step of the way, because when America is at its best, our bond and our spirit, it's unbreakable."
Aldean's stirring performance of "I Won't Back Down" is available beginning Friday (Oct. 20) on Spotify, Apple Music, Google Play, Pandora, Napster, Tidal and Deezer via a special portal on his website, with more services to be added in the coming days. All proceeds from the digital release of the song will go to the Direct Impact Fund to benefit victims of the Las Vegas shooting.
Photos From the Route 91 Shooting Show Kindness Amidst Chaos
Country Singers Are Praying for Vegas
More From Taste of Country