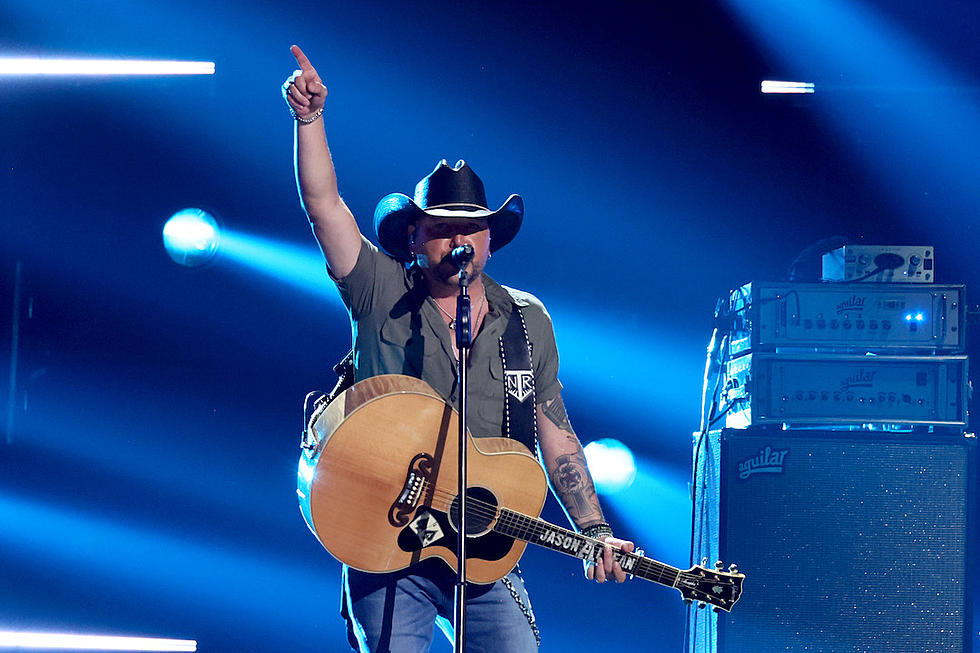 Jason Aldean Says 'Try That in a Small Town' Accusations Are 'Meritless,' 'Dangerous'
Theo Wargo, Getty Images
Jason Aldean issued a lengthy social media statement on Tuesday (July 18) in response to the controversy surrounding his new single, "Try That in a Small Town," as well as the song's new music video.
"In the past 24 hours, I have been accused of releasing a pro-lynching song (a song that has been out since May) and was subject to the comparison that I (direct quote) was not too pleased with the nationwide BLM protests," Aldean writes via Twitter.
Related: Jason Aldean's Video Pulled From CMT Amid Outrage Around Racism, Gun Violence
"These references are not only meritless, but dangerous," he continues. "There is not a single lyric in the song that references race or points to it — and there isn't a single video clip that isn't real news footage — and while I can try and respect others to have their own interpretation of a song with music — this one goes too far."
Many listeners have criticized the lyrics of the song as racist dog-whistling and a glorification of "sundown towns," a term that refers to towns or neighborhoods that practice racial discrimination via discriminatory local laws or outright intimidation and violence.
The "pro-lynching" criticism that Aldean refers to stems from the song's music video, much of which was shot in front of the Maury County courthouse in Columbia, Tenn. In 1927, the body of an 18-year-old Black man named Henry Choate was hung in front of that courthouse after he was lynched and killed by a mob.
The song and video's critics also point out the fact that Aldean was performing onstage during the 2017 Route 91 Harvest Festival mass shooting — a tragedy that killed 60 people and injured more than 400 others. Given that backstory, many listeners felt that it was irresponsible for Aldean to release a song with pro-Second Amendment lyrics that seem to glorify gun-based vigilante justice, including the line, "Got a gun that my granddad gave me / They say one day they're gonna round up / Well, that s--t might fly in the city, good luck."
"As so many pointed out, I was present at Route 91 — where so many lost their lives — and our community recently suffered another heartbreaking tragedy," Aldean's statement continues, likely in reference to the mass shooting that took place at Nashville's Covenant School in March 2023. The massacre claimed the lives of six people, including three nine-year-old children, and Aldean is on the bill to play an Aug. 7 benefit for those affected by the tragedy.
"NO ONE, including me, wants to continue to see senseless headlines or families ripped apart," the country singer goes on to say.
"'Try That in a Small Town,' for me, refers to the feeling of a community that I had growing up, where we took care of our neighbors, regardless of differences of background or belief," Aldean continues. "My political views have never been something I've hidden from, and I know that a lot of us in this country don't agree on how we get back to a sense of normalcy where we go at least a day without a headline that keeps us up at night. But the desire for it to — that's what this song is about."
Remember Country Music's Most Well-Known Feuds?
More From Taste of Country