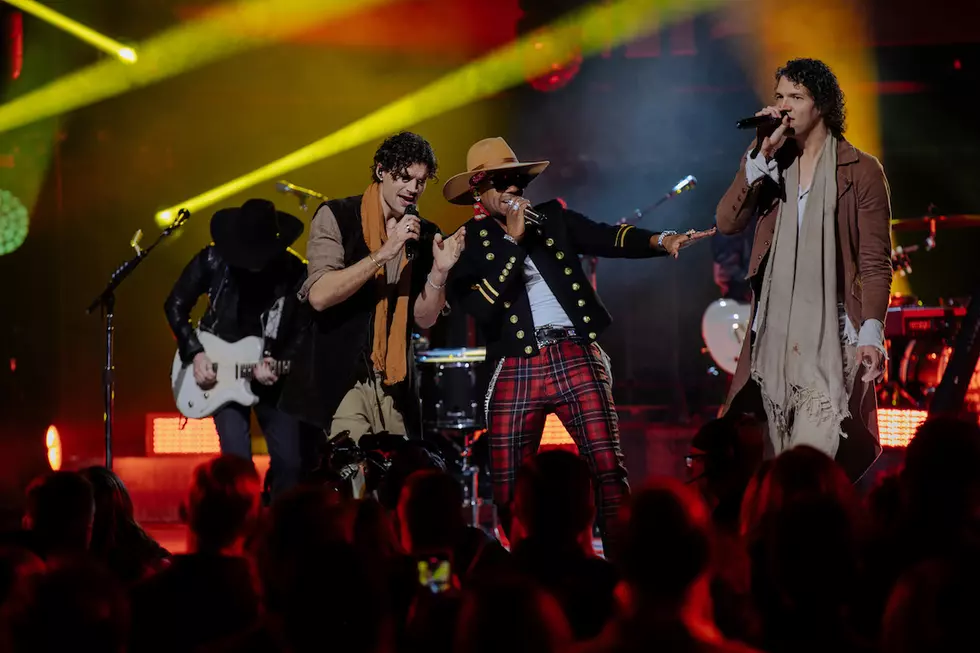 Sneak Peek: Jimmie Allen, For King + Country Soar With 'God Only Knows' on 'CMT Crossroads' [Watch]
Catherine Powell, Getty Images
Jimmie Allen and For King + Country lock in an inspiring performance of "God Only Knows," a hit that the Christian duo originally released with Dolly Parton, as part of the upcoming episode of CMT Crossroads that is scheduled to premiere on Tuesday night (Feb. 28).
Before the episode airs, get a sneak peek of this R&B-flavored live duet, which finds brothers and bandmates Joel and Luke Smallbone trading verses with the "Freedom Was a Highway" star. Shimmering piano and heart-pounding electronic drumbeats back this emotional performance of a song about finding love and solace in God — even when no one else in the world sees the full extent of the struggles and secrets that you might be hiding under the surface.
"God only knows what you've been through / God only knows what they say about you / God only knows the real you / But there's a kind of love that God only knows," the three vocalists sing in harmony, bringing the final chorus of the song to its emotional climax.
Each episode of CMT Crossroads pairs two artists from different genres for a one-hour performance special, in which they share a stage and deliver live renditions of some of each other's biggest hits. Allen's episode with For King + Country is set to include performances of hits like "Down Home" and "Best Shot," plus standout tracks from the Christian pop group such as "Joy" and "Relate."
According to a press release, this episode of CMT Crossroads will also feature the debut of a brand new song, though it isn't clear which artists' catalog that song will come from.
When they announced their joint CMT Crossroads special, Allen and For King + Country shared another preview from the episode: A performance of Allen's freewheeling hit, "Freedom Was a Highway."
The upcoming CMT Crossroads episode will air on CMT on Tuesday (Feb. 28), with encore performances scheduled on on Sunday, March 5 at 11AM ET, Friday, March 10 at 8PM ET and Saturday, March 11 at 10AM ET and 6PM ET.
35 Songs That Prove Country and Rock Music Go Hand in Hand
With Dolly Parton's recent induction into the Rock & Roll Hall of Fame, the country and rock genres are closer than ever before — but she's far from the first country artist to venture into rock territory, or vice versa. Here are 35 songs that show just how great the musical crossover between country and rock can be.
More From Taste of Country