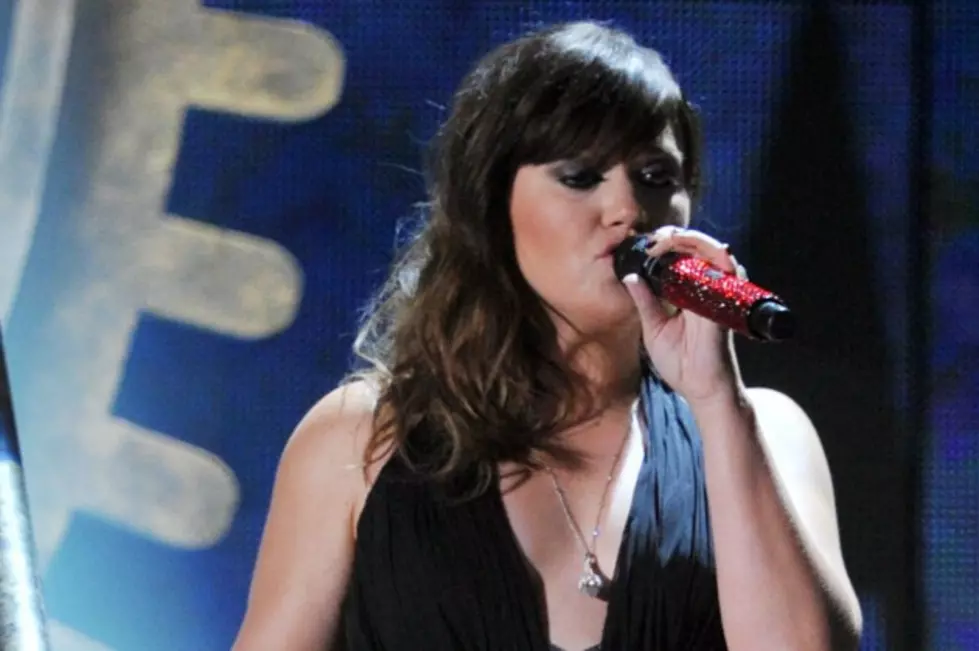 Kelly Clarkson Covers Dixie Chicks' 'Wide Open Spaces'
Kelly Clarkson might have gotten her start in pop music, but she's inching closer and closer to taking over country, too. Last weekend, Clarkson showed that she's worth her weight in gold as a crossover artist when she put on a rendition of Dixie Chicks' 'Wide Open Spaces' during a performance in Murphy, CA.
Before playing the classic country hit, Clarkson explained that each night, she and her manager pick a member of the audience and take a request from them. The chosen one can pick a song from any genre or era, and the 'American Idol' winner will play it. Over the weekend, one fan asked to hear 'Wide Open Spaces.'
"Anybody like country music?" she called to her audience, who hooted and hollered.
"I do too!" Clarkson continued once the crowd quieted. "I'm Texan, so you kinda come out of the womb liking cowboys and Texas music."
With just an acoustic guitar backing her powerhouse vocals, the fan favorite singer launched into the Chicks' 1998 smash (with plenty of audience members chiming in to contribute to the song).
This isn't the first time the Clarkson has turned entirely to country. In addition to releasing a twangy version of her hit song 'Mr. Know It All,' Clarkson is actually dating Brandon Blackstock--who just happens to be Reba McEntire's stepson and Blake Shelton's manager.
Should the pop princess decide that she'd like to take the plunge into country music 100 percent -- rather than dip her toes in -- we're sure that country stars would welcome her with open arms. Both Jason Aldean and McEntire have gushed over Clarkson in the press recently.
"We always have a good time hanging backstage," Aldean says about his 'Don't You Wanna Stay' duet partner. The two singers teamed up for the smash hit last year, which spent multiple weeks at No. 1 and was named Single of the Year and Vocal Event of the Year at this year's ACM ceremony.
"She's like a little sister to me and fits in with our business team and our family terrifically," adds McEntire, who has served as Clarkson's singing partner in the past.
We're not sure what's next for Clarkson, but we know one thing: She has the pipes to become country's next 'it' girl.
Watch Kelly Clarkson Cover Dixie Chicks' 'Wide Open Spaces'
More From Taste of Country