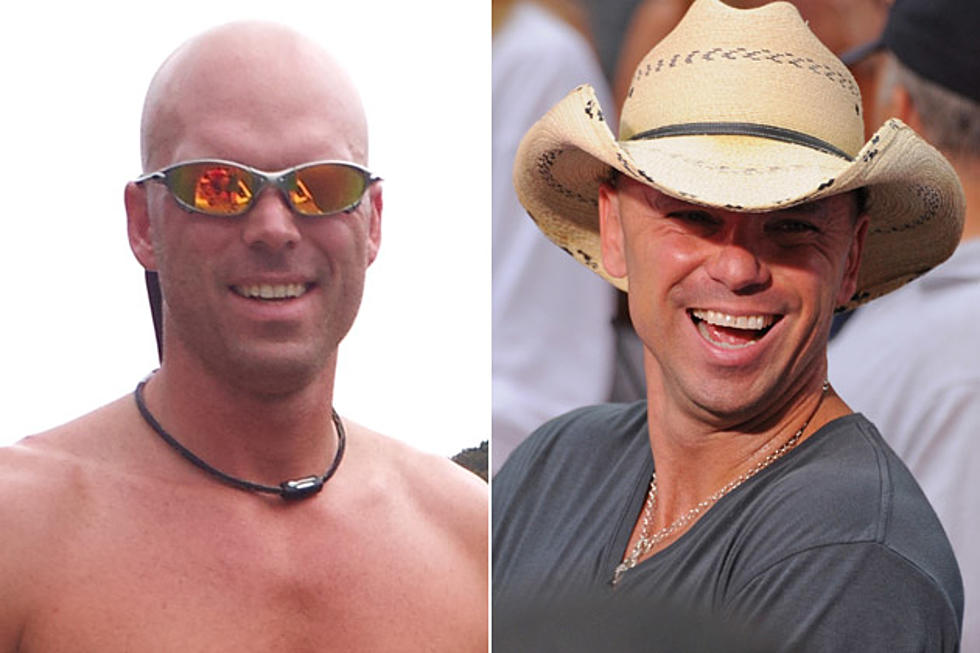 Fan Kicked Out of Kenny Chesney Show for Looking Too Much Like the Singer
If you look anything like Kenny Chesney, you may want to steer clear from the singer's Brothers of the Sun headlining tour! A Tennessee fan learned that the hard way over the weekend when he was escorted out of a Nashville tour stop for apparently looking too similar to the 'Come Over' singer.
"Just got kicked out of K.C concert because drunk people thought I was actually him. no refund. ch 4 &fox want to talk2me. so mad," Nathan Blankenship, the singer's 'spitting image,' tweeted following the ordeal.
"I think the way they handled it made it seem worse, like they were really escorting Kenny Chesney through the crowd," the concert-goer tells Nashville TV station WKRN of his being kicked out. The fan was approached by LP Security four hours after arriving to the arena, with officials claiming he was "purposefully trying to impersonate a celebrity."
However, it doesn't seem that Blankenship's intention was to fool fans into thinking he's actually Chesney.
"Is it because I wear the hat?" asks the fan, who was wearing a blue cut-off shirt and straw cowboy hat at the concert. "I see a million of these hats here. I've worn baseball caps before and people still want to have pictures made [with me], but it's never caused a problem. I can't believe they think I'm actually him. Why would Mr. Chesney be in the crowd when Tim McGraw is singing?"
Despite the public humiliation and the $200 ticket value loss, Blankenship says a comment made by a security guards troubles him most. "I would like to know what it meant when the security said, 'This is coming straight from the top,'" he wonders. WKRN later contacted LP Field officials, who explained that they'd been "tipped off" about the lookalike by an unnamed source.
While upset, it seems Blankenship is looking at the whole ordeal with humor. "I hope they do me justice. I should change my twitter to @notkennychesney," he tweeted Sunday.
The official word from Chesney's camp is that they were unaware about the fan's unexpected exit until it was reported by the media. "We never want our fans to leave disappointed and we are reaching out to him [Blankenship] to make this situation right," Kate McMahon, VP of Marketing for the the Messina Group said Monday.
Chesney and pal Tim McGraw continue to entertain fans on their Brothers of the Sun all-arena tour. Click here to see remaining dates and buy tickets.
More From Taste of Country