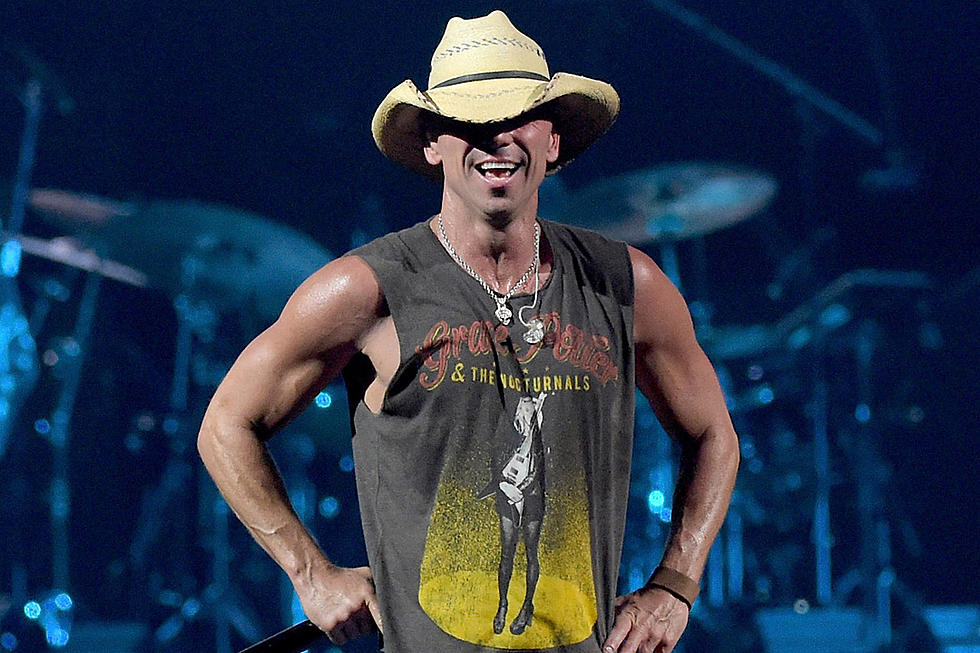 Kenny Chesney Crosses Rose Bowl Gig Off Bucket List
Rick Diamond, Getty Images
Kenny Chesney made a longtime dream come true when he headlined a gig at the Rose Bowl in Pasadena, Calif. on Saturday (July 25).
Chesney's The Big Revival tour and Jason Aldean's Burn It Down tour intersected at the legendary venue, which sportscaster Keith Jackson once famously dubbed "the granddaddy of them all." The gig brought together two of the hottest road shows in country music for one amazing day of music.
"You know when you wake up and you see that sign, you're on hallowed ground," Chesney says in a press release. "I've seen so many games played there, so much history — and I understand the heart it took from every athlete who's ever come out of those tunnels. To stand on that stage, I knew I wanted to try to honor all those folks who've come before us."
Chesney turned in a set that included "Wild Child" and "American Kids," two hits from his current album, The Big Revival. One of the highlights of the day was when Keith Jackson himself turned up backstage to honor the superstar with a commemorative brick to be placed in the Brick Walk at the South Main Entrance.
"There is so much history just hearing that voice," Chesney shares. "Let alone seeing that face: all those games, all those plays he called. That's the sound of me growing up! And what an honor to get to sit a bit on the bus and talk to him about everything he's seen… even before the show started, I was having a pretty high-powered time."
Reese Witherspoon, Vince Vaughn, Ashton Kutcher and Mila Kunis were all seated at the side of the stage for the once-in-a-lifetime gig. Withersoon shared a picture of herself with Chesney via social media.
Chesney played 19 songs, and then returned to the stage with Aldean for four more, including John Mellencamp's "Hurt So Good" and Bryan Adams' "Summer of '69."
"Those folks had had a long day in all that heat, but man, they were so ready for us… ready to hear the music, to sing along, to make every single song matter," Chesney says. "When I dropped out during 'Anything But Mine,' they sang so clear and so true, you could've made a record out of it — and for me, they made a memory that will last a lifetime. To play a place where football means so much, especially to an audience that live, I'll never forget it."
Chesney is slated to headline the Taste of Country Music Festival in 2016, so don't hesitate to buy tickets.
Your 2016 Taste of Country Music Festival Headliner
More From Taste of Country