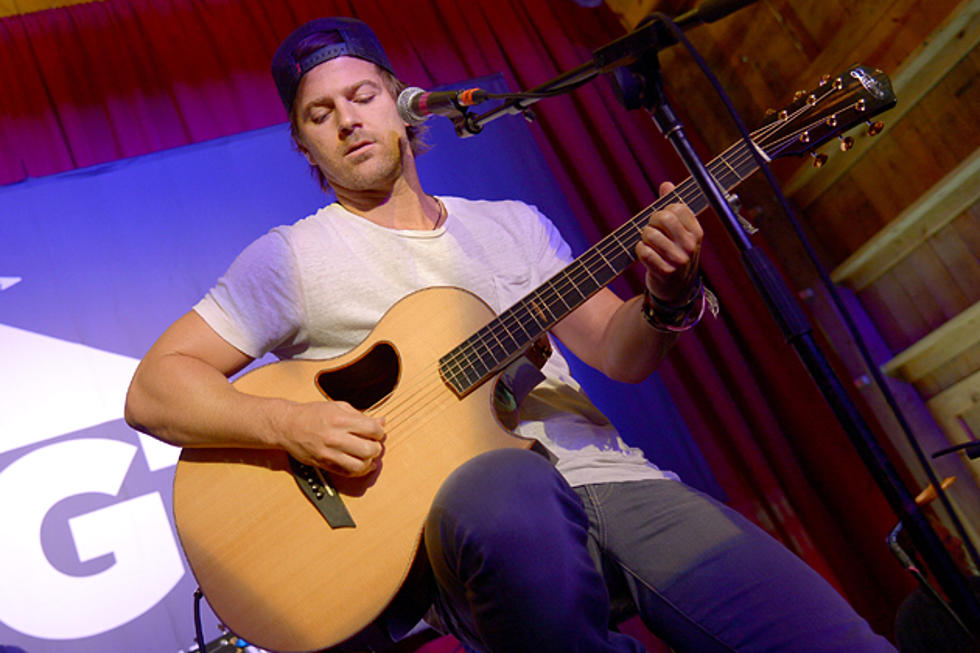 Kip Moore Says 'Dirt Road' Explores His Own Questions of Faith
Michael Loccisano, Getty Images
Kip Moore says his new single 'Dirt Road' is the song that should have been released as the first single from his upcoming album. That's not sour grapes, or a jab at his record label. The Georgia-born singer says it was a collective decision to go with 'Young Love,' but in hindsight the new song -- currently nearing the Top 40 -- is more representative of his new studio album.
'But unless it's got a dirt road, leading down to a fishing hole / With a little piece of moonlight, a couple cans of Bud Light / Where I can cuddle with my baby and I can pull her real close / No, I don't wanna go unless heaven's got a dirt road,' Moore sings on 'Dirt Road.'
Moore isn't a man afraid to share his opinion, or bare his scars. 'Dirt Road' is a personal reflection of his Baptist rearing, a journey he struggled with at times growing up. During an interview with Taste of Country the 34-year-old said he understands why fans will love his songs, and he gets why some will hate it. He just hopes they'll listen to his message before jumping to conclusions.
ToC: Why have some people misinterpreted 'Dirt Road?'
Kip Moore: You know you're gonna always have people that just ... they're not really listening to the song. They'll hear the chorus whatever and be like, "OK he's singing about a dirt road." But this song really has nothing to do with that. It's not about a dirt road and it's not about beer. And it's more about the rebellion of that youth ... when you have that youth and you're trying to figure out who you are. And it's that rebellion against what theories and beliefs are being pushed on you kind of thing.
And I know that me personally, it's something that maybe fans can't understand if they didn't grow up like that. But I was very content at a young age with those fishin' holes and hanging out with my buddies and riding dirt roads. And that was a way of life kind of thing. And when somebody was describing, you know, golden streets and these kind of things ... well you know I like what's here.
It's not about not believing. Of course you don't take it literal. I mean if I'm at the pearly gates and God says come on in, I'm not gonna say, 'Nope not coming in unless you got a dirt road.'
I think anyone of faith goes through a phase, especially when they're young, where they question what they've been taught. Maybe they do a three sixty, or come to their natural conclusions.
The good thing about this song, at least it is pushing some buttons. It's pushing buttons in a good way and a bad way. That's fine with me.
Can we expect a heavier album overall?
This is what we should've come with all along -- this single. This was the single I wanted to introduce the sound of this record (with) but it's definitely a very intense record but there's also a lot of really good-feeling songs on this record you know. And I think that even some of the ones that might carry heavier subjects still make ya feel good ... which is kind of what 'Hey Pretty Girl' kind of did but this is in another kind of light. But nah man this record is a really good-feeling record. It's just a very intense record.
What's an example of one of the lighter songs?
There's a song called 'Cigarette' on the record. And I got the idea when I stepped outside and saw this girl smoking a cigarette. I was writing a ballad with Jared Johnson and Chris Stapleton and we were kind of writing this really heavy lyric. And I stepped outside and saw this cute girl smoking a cigarette and she put the cigarette in the ashtray. And then when I went over there to look at it you know it had the red lipstick all around the cigarette butt. And it's just man, it's just a song that's killing live right now. People are loving it and it's just all about, "I just want to be that cigarette butt that's in your mouth. I don't want to be your boyfriend. I don't want to be anything serious. I just to want to ... basically I want to get a hold of your lips."
Did you introduce yourself?
No I didn't. I just let her ... I let her hit that smoke and walk off. I don't need to. She gave me a great idea that hopefully puts a little change in my pocket.
Look for Moore on Tim McGraw's Sundown Heaven Town tour this summer. In September he'll begin his headlining CMT on Tour: Up in Smoke dates.
More From Taste of Country