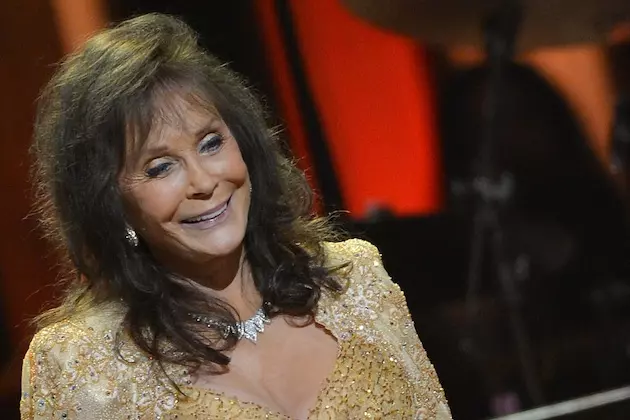 Loretta Lynn Receives Billboard's First-Ever Women in Music Legend Award
Rick Diamond, Getty Images
Loretta Lynn is an inspiration not just to country fans, but for any woman who aspires to have a career in music. The icon is being honored with Billboard's inaugural Women in Music Legend Award, recognizing her "historic contributions to the industry and artistry of American music, which has established her among the highest class of performers."
The award will be presented to Lynn Dec. 11 at the Women in Music event in New York City, where pop star Lady Gaga will also be receiving the Woman of the Year award. The ceremony will air on Lifetime on Dec. 18.
"From the moment she broke through more than five decades ago, Loretta Lynn has been an unstoppable musical force who writes and performs with a breathtaking fearlessness and honesty," explains Janice Min, co-president and chief creative officer of Guggenheim Media's Entertainment Group, which consists of Billboard and the Hollywood Reporter. "As a musical pioneer, author, and inspiration to everyone from Jack White to Miranda Lambert, Loretta Lynn has pushed every boundary in music and is the definition of a legend. We are honored to present this award to her."
Lynn is also gearing up to release her first new record in more than a decade, titled Full Circle, which will feature guest vocals from Elvis Costello and Willie Nelson. It's slated for release March 4, 2016, and will be a compilation of folk and gospel tunes, songs reminiscent of Lynn's upbringing in Appalachia, a few new takes on Lynn's hits and country standards and some brand new songs.
Full Circle is the first in a multi-album deal for the artist. It was recorded at Cash Cabin Studios in Hendersonville, Tenn., produced by Patsy Lynn Russell and John Carter Cash. It will be released simultaneously with a documentary about Lynn's life and career, Loretta Lynn: Still a Mountain Girl, which will air on PBS.
The 82-year-old singer's most recent release is a Grammy-winning collaboration with indie rocker Jack White titled Van Lear Rose from 2004. The unlikely duo recently received stars on the Music City Walk of Fame together.
Startling Facts About Women in Country Music
Country Stars Who've Suffered Terrible Tragedy
More From Taste of Country