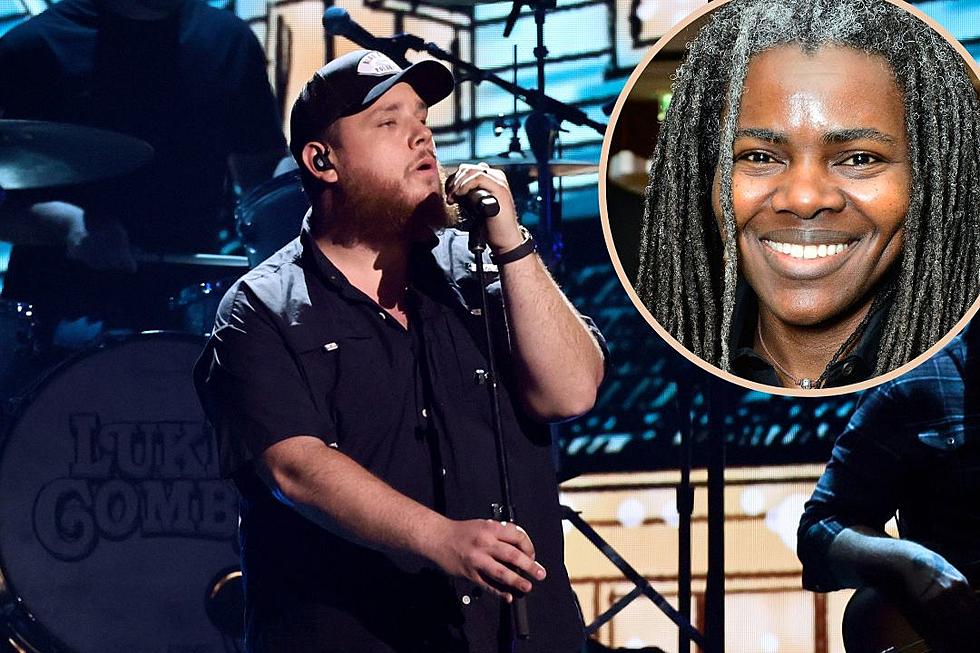 Luke Combs Hasn't Heard From Tracy Chapman About His 'Fast Car' Cover
Jerod Harris / Theo Wargo, Getty Images
Luke Combs has found major success with his cover of Tracy Chapman's 1988 hit, "Fast Car." His rendition seems to have everyone talking — everyone, that is, except for Chapman herself.
In fact, Combs has yet to receive any word from the songwriter and original hitmaker.
"I have not," the country megastar says when asked during an interview with Grady Smith if he has heard from Chapman. "I have not."
Nowhere in the song's process — recording, release, chart ascent — has Chapman been in communication with Combs, not even to approve the recording. However, the country singer says prior approval was not required for this cover.
"For a cover you don't have to seek approval, but it's very, very specific what you can and can't do," Combs explains. "There are licenses for a lot of things. I can't make any videos — I can't do a music video."
"I couldn't promo that before the album came out," he continues. "I couldn't be like 'it's gonna have "Fast Car" on it and it's gonna be sick.'"
Combs did not say if he had reached out to Chapman prior to recording the song. He did, however, reveal that royalties must be paid to a song's writer, even with a cover.
"You just have to, you know, pay the royalties to the writer to do a cover, because once the song is released, it's kind of ... it's out in the free market in the sense of you can cover it and you just have to pay the royalties on it," he details.
"But there are so many things, like I can't license it to a TV show, because I don't own the publishing on it," he explains.
This may prevent Combs from performing what has become one of his biggest releases at any upcoming awards shows, unless he gets the green light from Chapman. Of course, there's still a chance he could persuade her to join him for the performance, or even a new duet version of the song.
Combs' version of "Fast Car" has put Chapman back on the Billboard charts in 2023. She now has her first No. 1 on the Billboard Country Songwriters chart as the sole credited writer. The song also topped Billboard's Country Airplay chart, also a first for her.
The cover is also tracking to be a No. 1 on Billboard's all-genre Hot 100 chart.
The "Love You Anyway" singer has been a fan of the song since he was a child listening to Chapman's album on cassette with his father. Combs has been covering the song on social media since 2020, and he included the official recording on his Gettin' Old album.
"It was never the goal for it to blow up the way that it did," he confesses.
"You can't really predict, you know, what's gonna take off," Combs continues, "And then in the age of TikTok, man, things can take off so much faster than ever before. I mean, they can cake off truly overnight."
Top 20 Luke Combs Songs That Prove 'Em All Wrong
Check out Luke Combs' best songs, and the songs that changed his life when so many thought he wasn't good enough to be a country star.
More From Taste of Country