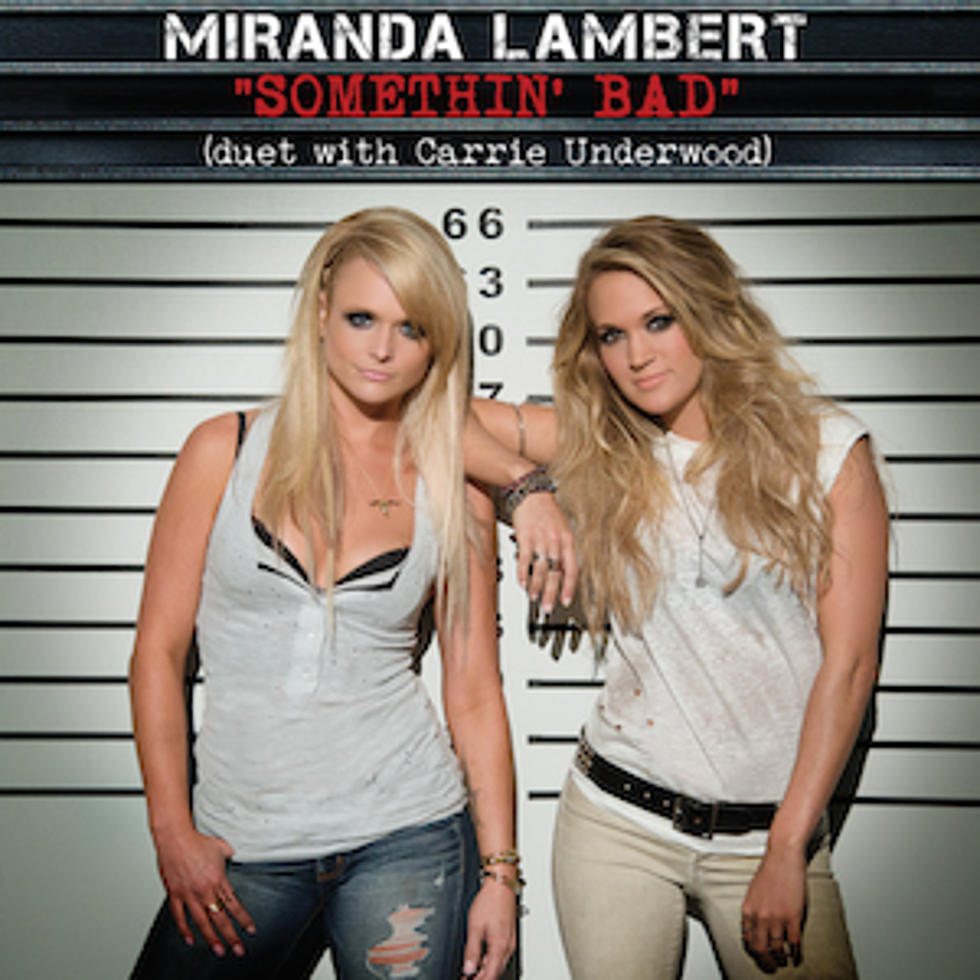 Miranda Lambert (Feat. Carrie Underwood), 'Somethin' Bad' [Listen]
RCA Records
Miranda Lambert's new single, 'Somethin' Bad' is certainly one that leaves an impression. Enlisting the assistance of her fellow country superstar Carrie Underwood, Lambert goes full-tilt diva for a song that's just about as much fun as a song can be.
'Somethin' Bad' begins with Lambert's character ditching her wedding right before the ceremony and heading out on the run. This runaway bride is ready for some mischief and Underwood's character is just the right Thelma to her Louise. The girls are ready to cause some trouble -- from the local bar of the bride's small town all the way to the streets of New Orleans.
"Pulled up to the church but I got so nervous / Had to back it on up, couldn't make it to the service / Grabbed all the cash underneath my mattress / Got a real good feeling somethin' bad about to happen," sings Lambert in the first verse, setting the scene for a girl who's not ready to settle down just yet.
It's obvious when they say something bad is about to happen, the dynamic duo really means something devilishly good. Neither star's full vocal ability or range is on display here; it's also clear their main priority is just to have a rip-roaring time. The ready-for-anything lyrics and the way that Lambert and Underwood belt them out with such power, make 'Somethin' Bad' a catchy girl-power anthem.
Full of heavy beats and a hard rock sound, 'Somethin' Bad' is quite a departure from the twangy nostalgia of 'Automatic,' Lambert's first single off her fifth studio album, 'Platinum.' She's done reminiscing about the past -- this girl's ready for some good, old-fashioned trouble-making and fans will be more than happy to join her.
Why Fans Will Love It: 'Somethin' Bad' is a powerhouse anthem for girls who aren't ready to let boys have all the fun. Plus, it puts together two of country's biggest superstars, which, in an industry saturated by men, not even the most critical listeners can resist.
Key Lyrics: "Stand on the bar, stomp your feet, start clapping / I got a real good feeling somethin' bad about happen / The drinks keep comin', throw my head back laughing / Wake up in the morning, don't know what happened / Whoa, somethin' bad, whoa, somethin' bad."
Did You Know?: In honor of their first (and hopefully not last) duet, Lambert bought Underwood the ultimate bad-girl gift -- a motorcycle!
Listen to Miranda Lambert (with Carrie Underwood), 'Somethin' Bad'
More From Taste of Country