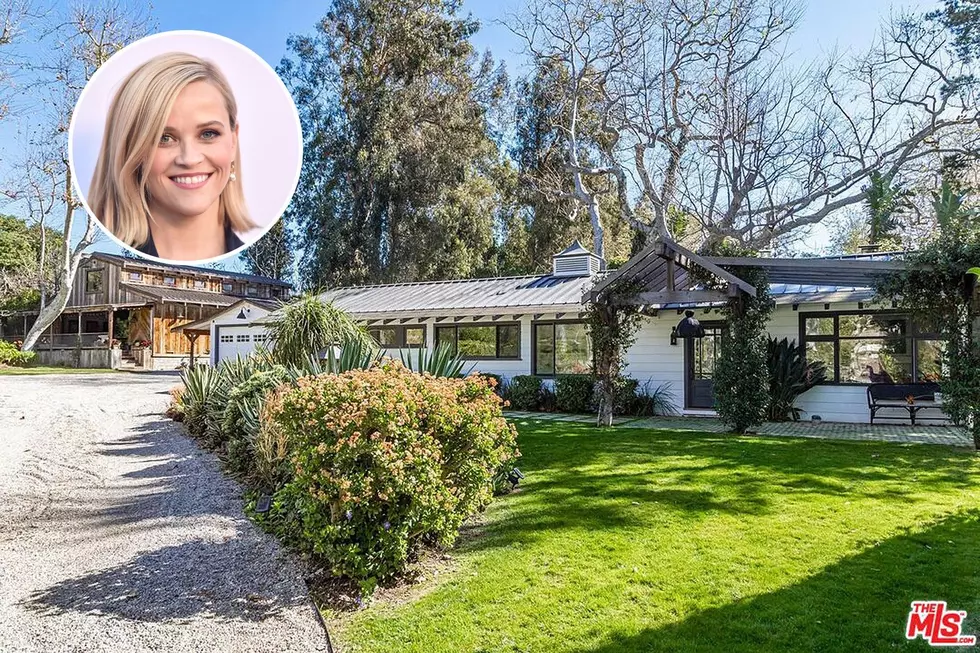 Reese Witherspoon's Spectacular Malibu Retreat Is Back on the Market — See Inside! [Pictures]
Albrto E. Rodriguez, Getty Images/Sothebys International Real Estate/Redfin.com
Reese Witherspoon's luxurious 5-bedroom, 5-bathroom, 4,000-square-foot Malibu retreat is back on the market, and pictures show a property that looks ready for a magazine shoot.
Witherspoon's former Malibu home is currently for sale again for $8 million, just over two years after the actor and producer and her husband, Hollywood talent agent Jim Toth, sold it for $6.7 million.
Originally built in 1949, the stunning farmhouse, dubbed Zuma Farms, has been fully modernized. The luxury residence offers an open floor plan with a fully updated galley kitchen, beams and high ceilings in the main living areas, a screening room with a wet bar and more, while the nearly two acres of grounds include outdoor dining and lounging areas, gardens and paths, a stream and a walking bridge, a stable and riding arena, a detached studio and a barn-themed guest house with its own kitchen.
The gated, very private property also includes a sports court and an Airstream that will sleep four.
According to online property sites, the $8 million asking price breaks down to $2,000 per square foot and a monthly payment of $49,943. Graham J. Larson with Sotheby's International Realty holds the listing on Witherspoon and Toth's former Malibu estate.
Scroll through the pictures below to see inside Reese Witherspoon's former Malibu retreat, and keep scrolling to see more pictures of the property from a few years back, as well as Witherspoon's other homes in California and Tennessee.
PICTURES: See Inside Reese Witherspoon's Spectacular Malibu Retreat
Reese Witherspoon's 5-bedroom, 5-bathroom Malibu getaway is listed for $8 million, and pictures show a luxury home that is magazine-worthy.
See Inside Reese Witherspoon's Malibu Retreat:
PICTURES: See Inside Reese Witherspoon's Stunning Nashville Manor Home
Reese Witherspoon has sold her historic manor home in Nashville, and pictures show a stunning historic property. Her 6-bedroom, 8-bathroom, 8,399-square-foot estate in one of the highest-dollar areas of Music City sold for $7.35 million.
PICTURES: See Inside Reese Witherspoon's Spectacular $21.5 Million Estate
Reese Witherspoon has sold her spectacular mansion in one of the most exclusive areas of Los Angeles.
The Oscar-winning actor got $21.5 million for her newly renovated 7-bedroom, 10-bathroom, 10,343-square-foot mansion in Mandeville Canyon, which is $5.5 million more than she paid for it in March of 2020. Pictures show an ultra-luxurious property that is spectacular even by the standards of celebrity mansions, but in an elegant way that's not gaudy or too showy.
See Inside Reese Witherspoon's Historic Nashville Mansion:
More From Taste of Country