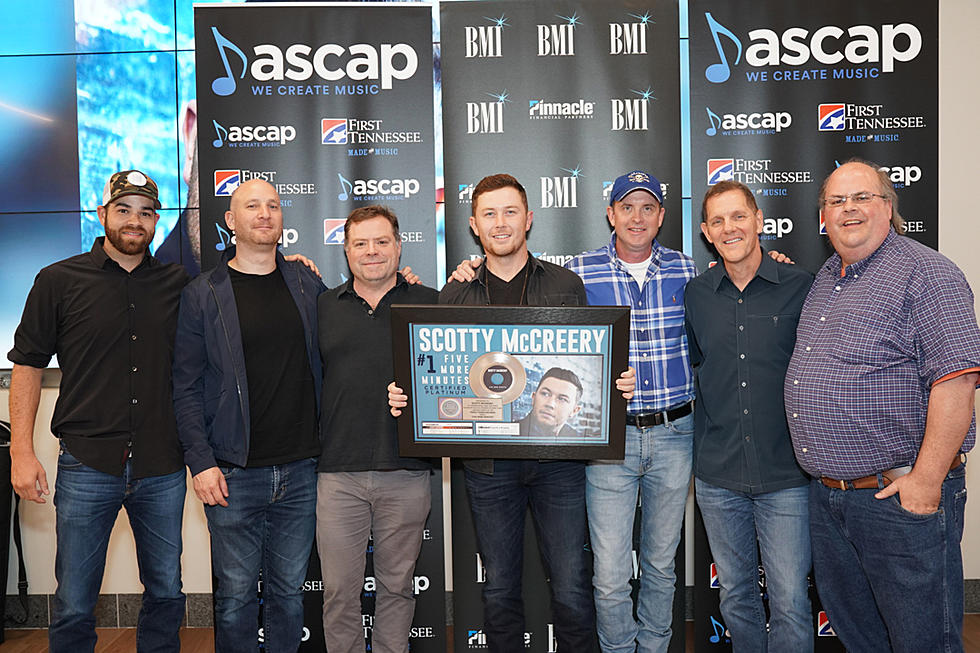 Scotty McCreery Strikes Platinum With 'Five More Minutes'
Steve Lowry for BMI
Scotty McCreery's resurrection in country music is complete. Two years after being dropped from his record deal with Mercury Nashville, the singer has seen his smash hit single, "Five More Minutes," certified platinum.
"Five More Minutes" reached No. 1 on both the Mediabase Country Aircheck and Billboard Country Airplay charts in February. The former American Idol champion was celebrating that success at his first-ever No. 1 party on Wednesday (May 23) when he was surprised with the news that the career-changing song had been certified platinum by the Recording Industry Association of America for combined streams and sales in excess of one million units.
"Five More Minutes" Had a Deep Impact on Scotty's Dad
"2018 is my favorite year ever!" McCreery says in a press release. "Thank you to all the fans who bought the song, who streamed it, who requested it at radio and who come out to the shows — watching your reaction to 'Five More Minutes' recharges me each night on the road. You guys mean everything to me."
McCreery recently released "This Is It" as the second single from Seasons Change. He wrote the song with Rogers and Aaron Eshuis just two weeks before proposing to his longtime girlfriend, Gabi Dugal, in the mountains of North Carolina, and the lyrics actually detail his proposal. The couple have known each other since kindergarten and have dated for six years. They will be married in the summer of 2018.
Y'all Know Scotty Made the List of Sexiest Male Voices, Right?
Where Are Country Music's Idol Finalists Now?
More From Taste of Country