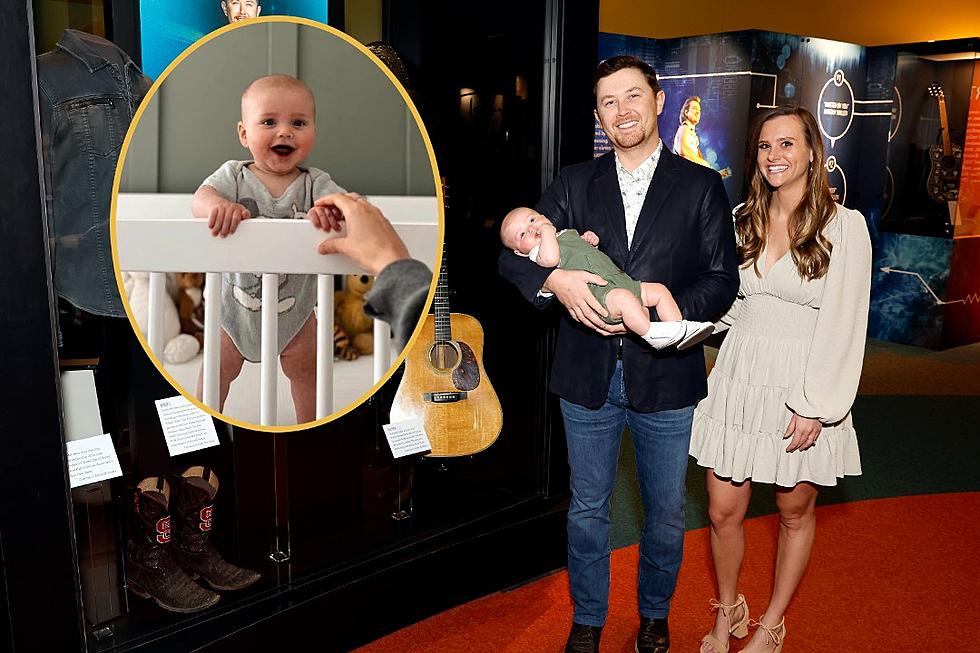 Scotty McCreery Celebrates Baby Boy Avery Turning 5 Months Old [Pictures]
Facebook / Jason Kempin, Getty Images
Scotty McCreery and his wife Gabi Dugal now have a 5-month old on their hands. The "Damn Strait" singer took to social media to share the news of his son's latest milestone and included some adorable new pictures.
The photos shows Merrick Avery McCreery — whom they call Avery — in his crib next to the same letter board mom and dad have used for all of his month-iversary shots. He's wearing a Mickey Mouse onesie as he smiles and cuddles some of his stuffed animals.
In another shot, Avery shows off how big he is by standing on his own two feet, holding onto the crib's railing for support. The look on his face shows how proud he is of himself.
The couple welcomed Avery, their first child, on Oct. 24. Although he arrived 11 days early, he is a healthy baby.
Since his son's arrival, McCreery has been in full dad mode taking his son to the beach, introducing him to his favorite football team, and even bringing him along on his tour. Avery has already made an onstage appearance with his father and is likely to pop up on other shows this year.
In fact, the McCreery family has turned a typical tour bus into a baby bus to accommodate their song on the road.
"We've got a little crib set up for Avery in one of the bunks. First night he slept in there, me and Gabi did not sleep much on the bus, because we were constantly checking the monitor to see how he was doing. But he was a rock star," McCreery tells Taste of Country Nights host Evan Paul. "He slept the whole way through."
"I think he's liking the bus, and I'm glad, because I don't think he's gonna have much of a choice but to be a road baby," he jokes. "But so far, so good."
The "It Matters to Her" singer is currently on his Damn Strait Tour which runs through April 30. Up next, he'll join Brooks & Dunn on the Reboot 2023 Tour.
Top 10 Scotty McCreery Songs
More From Taste of Country