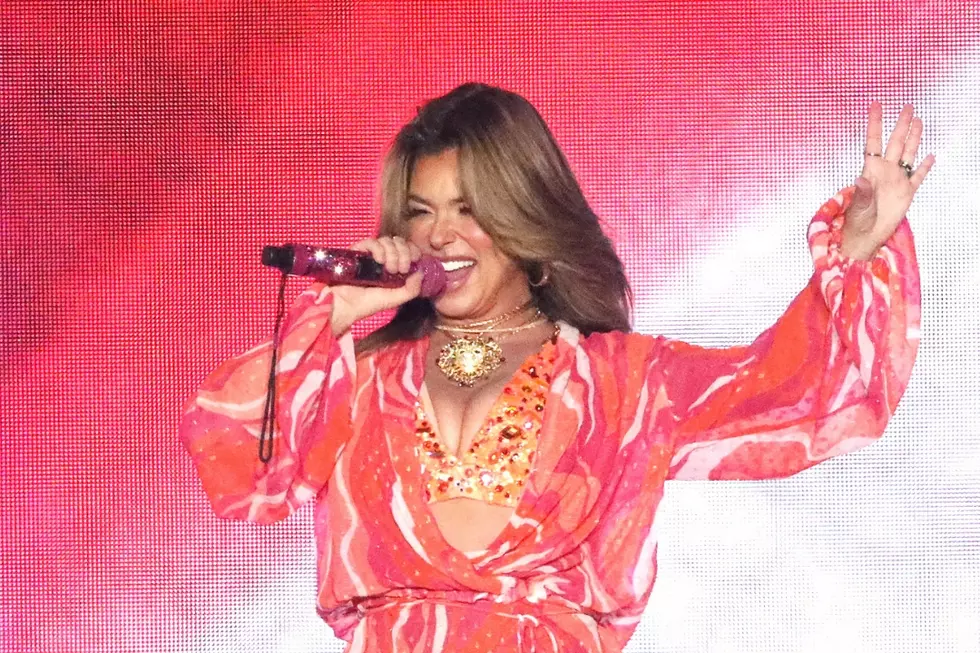 Shania Twain Celebrates Enduring Love on New Song, 'Got It Good' [Listen]
Jeremy Chan, Getty Images
Shania Twain is deeply appreciative of the love she's got, and she's sharing it on her new song, "Got It Good."
Twain wrote "Got It Good" with Georgia Barnes and Mark Ralph, and the bouncy love anthem finds her reflecting on how she's truly lucked out with a great partner who, like her, is willing to give of himself selflessly.
"I've got it good / Better than I thought I ever would / 'Cause you gave me love / When I wasn't feeling strong enough / But you've been down lately / I got your back baby," Twain sings in the opening verse, before offering a heartfelt acknowledgment of the good fortune she has.
"I got it good / I got it good / I'm not letting go of your heart / You should know me, I got it good / Got it good, I got it good, got it good / I got it," she sings in the roll-your-windows-down, synth-pop and dance beat-driven chorus.
"Got It Good" appears on Twain's brand-new sixth studio album, Queen of Me. It's also her first on her new label home, Republic Nashville, a division of Republic Records. Out now, the 12-track record includes earlier-released tracks "Giddy Up,!, "Wake Up Dreaming," "Last Day of Summer" and the autobiographical "Not Just a Girl," which also served as the theme song and title of her 2022 Netflix documentary.
"These days, I'm feeling very comfortable in my own skin — and I think this album reflects that musically. Life is short and I want to be uplifted, colorful, unapologetic and empowered," Twain wrote on Instagram. "I want to carry a clear message, particularly as a woman, to always remember my power and I hope the songs are a reminder to you, of that same power inside you!"
"I want to celebrate this new chapter with you all on my tour!" Twain adds. "Vegas has been a dream, but I'm ready to be on the road and sing with you, dance with you and have a kick ass night out with you! This one's gonna be a big party — no inhibitions, no conditions, let's get a little out of line!!"
Fans can catch the "Man! I Feel Like a Woman" hitmaker on her Queen of Me Tour in 2023. The multi-country trek will kick off in Spokane, Wash., on April 28 and include stops in the U.S., Canada and Europe. The tour will wrap on Nov. 14 in Vancouver, British Columbia.
Find Shania Twain Concert Tickets Here
Twain will appear on the 2023 Grammy Awards as a presenter on Sunday (Feb. 5). The show will broadcast live on CBS and stream both live and on-demand on Paramount+.
See Inside Shania Twain's Spectacular Beachfront Mansion
More From Taste of Country