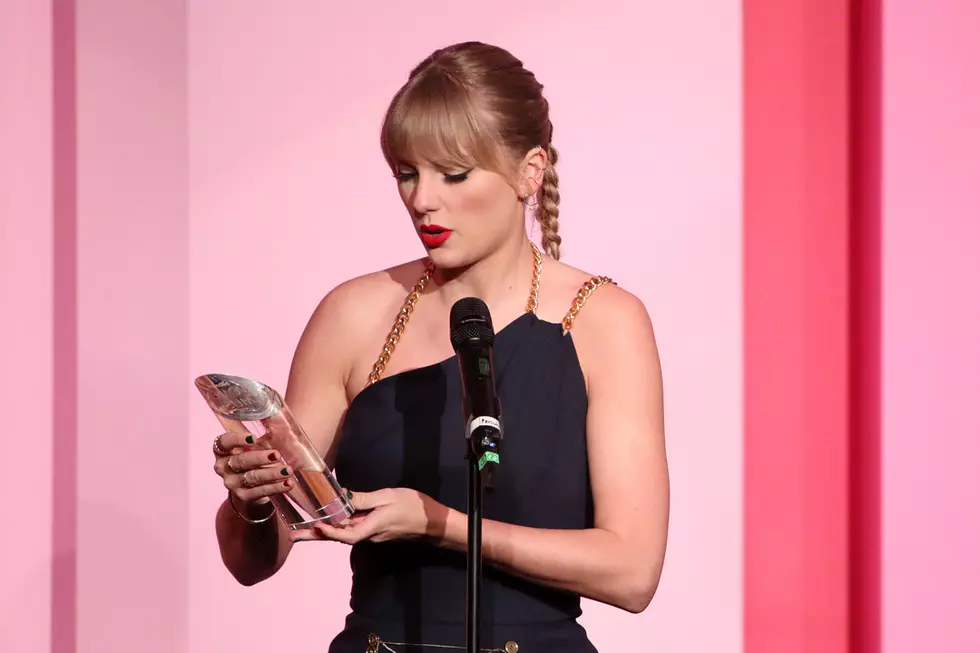 Taylor Swift Calls Out 'Toxic Male Privilege' in Music Industry at Billboard Women in Music 2019
Rich Fury, Getty Images
Taylor Swift gave an impressive 15-minute acceptance speech for her Billboard Woman of the Decade award at the Billboard Women in Music 2019 ceremony on Thursday night (Dec. 12), where she called out injustices and sexism in the music industry.
The 29-year-old accepted the honor at the awards ceremony at the Hollywood Palladium. The "Lover" singer spoke at length about her own battles and problems in the music industry over the span of her career, including her current issues with her former label, Big Machine.
"As a female in this industry, some people will always have some slight reservations about you, whether you deserve to be there, whether your male producer or co-writer is the reason for your success, or whether it was a savvy record label... it wasn't," she said, seemingly referring to Big Machine Label Group.
"I saw that people love to explain away a woman's success in the music industry and I saw something in me change due to this realization," she continued. This is where she became a "mirror for her detractors," where she took the criticism to create songs such as "Mean," "Blank Space" and "Shake It Off."
Swift went on to explain that her Grammy win for Album of the Year for Fearless in 2010 gave her backlash and criticism that she "had never experienced before." People had doubts about her musicianship from all aspects of her career. "This is just what happens to a woman in music if she achieves success or power beyond people's comfort level," she told the audience. Unfortunately, Swift admitted that she now comes to expect backlash or something negative when something positive happens to her.
After the harsh criticism, she decided to work on every aspect of her career and even decided to write her third studio album, Fearless, completely solo to combat critics' thoughts. Even after working on her live performance, and "over correcting" herself, she says she soon realized that it was an endless circle and that the critics would find something else about her to pick on. After trying to appease these people in more ways than one, she truly found her voice.
Taylor Swift Fans Will Love Caylee Hammack!
Swift then described the injustices and sexism she's seen over the years when it comes to pitting women against each other and picking at themt in every aspect of their lives in the music industry. "Have you ever heard someone say about a male artist, 'I really like his songs, but I don't know what it is, there's just something about him I don't like?'" she asked rhetorically. "No. That criticism is reserved for us," she said to applause.
The songstress said that people can either let scrutiny break them or just keep making art, even when held to an impossible standard. She said that the industry needs to advocate for women behind the scenes in the recording studios.
"Lately there's been a new shift that has affected me personally and that I feel like is a potential harmful force in our industry, and as your resident loud person, I feel the need to bring it up," Swift added. "That is the unregulated world of private equity coming in and buying our music as if it is real estate, as if it's an app or a shoe line."
You'll recall that Swift's former record label, Big Machine, was sold to Scooter Braun's company, Ithaca Holdings, which leaves Braun currently owning the rghts to Swift's first six albums.
"This just happened to me without my approval, consultation or consent," she continued. She confirmed that she was denied the chance to purchase her music rights back from the company. "My entire catalog was sold to Scooter Braun's Ithaca Holdings, a deal I'm told was entirely funded by the Soros family, 23 Capital and the Carlile Group."
"Yet to this day, none of these investors have ever bothered to contact me or my team directly... to perform their due diligence on their investment," Swift said, shaking her head. "Scooter never contacted me or my team to discuss it prior to the sale or even when it was announced."
"I'm fairly certain he knew exactly how I would feel about it though," she clarified. "The definition of the toxic male privilege in our industry is people saying, 'But he's always been nice to me,' when I'm raising valid concerns about artists and their rights to own their music. Of course he's nice to you; if you're in this room, you have something he needs."
"The fact is that private equity is what enabled this man to think, according to his own social media post, that he could buy me," Swift stated. She obviously is not going willingly and shared that the women in the industry have had her back during this trying time.
Her speech earned tears and cheers from the audience and a standing ovation.
See Taylor Swift at the 2019 Billboard Women in Music Event
More From Taste of Country