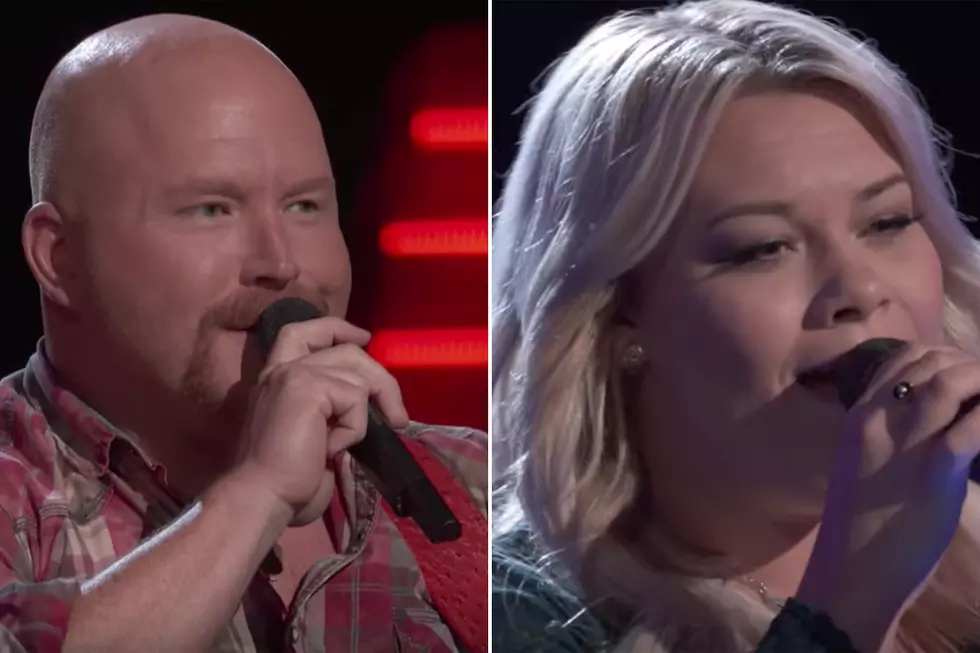 'The Voice': Two Country Hopefuls Take the Stage, Blake Shelton Lands One
The Voice on YouTube
The Voice Season 13 Blind Auditions night two aired Tuesday night (Sept. 26) with coaches Adam Levine, Blake Shelton, Miley Cyrus and new girl on the block Jennifer Hudson — and there were two undeniably country performances up for scrutiny.
First up: Red Marlow, 40, from Tennessee by way of Alabama, who delivered an authentic rendition of John Anderson's 1983 hit "Swingin'" — the quintessential down-home ode to making the moves on the girl next door.
Both Shelton and Cyrus turned around for the performance. "I don't know when I get to see someone who's more country than Blake," Levine noted dryly, to which Marlow retorted, "Well, it is what it is!"
Cyrus seemed to have her mind made up that this country hopeful would be on her team rather than the obvious (i.e. Shelton's). "You may already have this set that you want to go to Blake, but I'm a strong fighter," she asserted. "I came here to this season because I want to bring a new face to country music. When I grew up, I sat with Waylon Jennings. I sat with Dolly Parton. I took notes. I'm here to win The Voice with a country artist, and Red, you're as country as they get."
Alas for Cyrus, Marlow already had his path planned, relating an incident in the past when he'd met Shelton back in the days when the country star had a mullet. To which Levine asked incredulously to Shelton: "How many people do you know?"
"I know everybody," answered Shelton calmly. Marlow, Team Blake, sorted.
Next up was Ashland Craft, a 21-year-old from South Carolina who caught Shelton's attention from her first line of "You Are My Sunshine" (in the style of Chris Stapleton). Shelton immediately yelled "Oh!" then added, "MILEY!" as the singer belted out the first few words.
"This is it," said Cyrus, as she, Shelton, and Levine all turned around before the first verse was even over. "I love, love love love love love it."
Craft was initially and unsurprisingly set on Team Shelton, but a concerted and appreciative swarm from Cyrus eventually won her over. "Blake, he may be the king of country, but they need a queen," she said, adding that she wanted to helm the path of a "punk-rock Dolly Parton." Say no more? Craft was sold.
Season 13 of The Voice will air on Monday and Tuesday nights at 8PM ET on NBC.
Country's Most Successful The Voice Contestants!
We Promise You've Never Seen a Cover Quite Like This!
More From Taste of Country