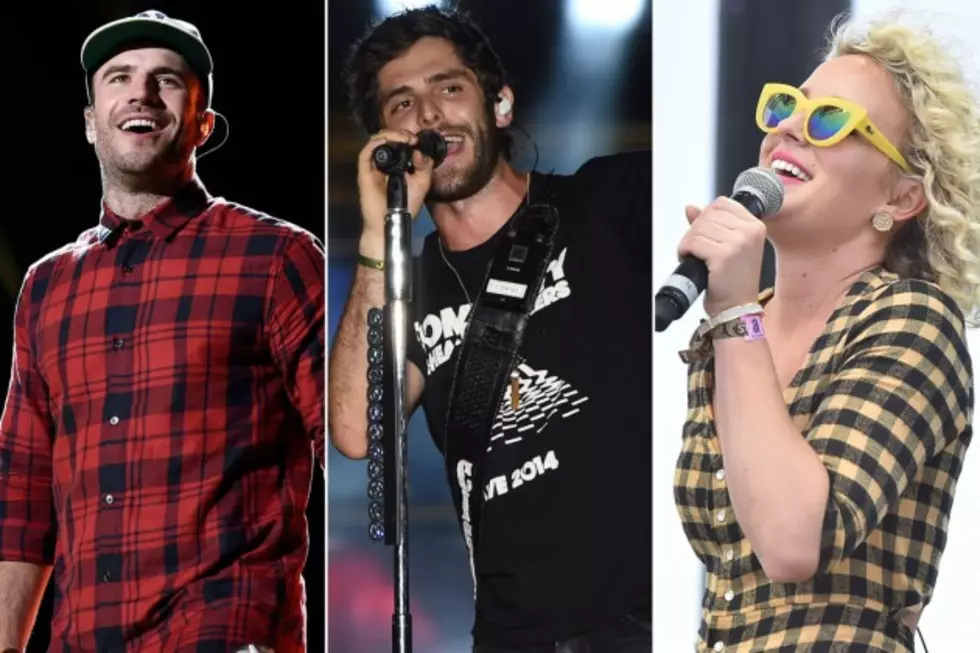 Top 40 Country Songs – September 2015
Kevin Winter / Rick Diamond (2), Getty Images
Two years ago, few had heard of any of the top artists on the September 2015 Top 40 Country Songs list. Two are enjoying their first taste of radio success, while two others are showing enough promise that some are labeling them tomorrow's superstars.
There are plenty of already-superstars with songs on this Top 40 list. Country hitmakers like Keith Urban, Eric Church and Carrie Underwood make the Top 10. For Underwood, "Smoke Break" debuts at No. 9, but she's bested on the highest debut ranking by Bryan's "Strip It Down." That song is just a little bit hotter, in more ways than one.
Reba McEntire and the Band Perry are two other artists with impressive September 2015 debuts. Find out who's No. 1 and see which superstar landed the highest debut. Disagree with our picks? Tell us about it in the comments section below!
The list of Top 40 Country Songs of September 2015 is compiled from Billboard chart data and sales figures, in addition to staff opinion and reader feedback.
Top 40 Country Songs for September 2015:
40. The Cadillac Three, "White Lightning"
39. A Thousand Horses, "(This Ain't No) Drunk Dial"
38. Chase Bryant, "Little Bit of You"
37. Reba McEntire, "Until They Don't Love You"
36. Jana Kramer, "I Got the Boy"
35. Tim McGraw, "Top of the World"
34. Dierks Bentley, "Riser"
33. Big & Rich, "Run Away With You"
32. Randy Houser, "We Went"
31. Dan + Shay, "Nothing Like You"
30. Parmalee, "Already Callin' You Mine"
29. The Band Perry, "Live Forever"
28. LoCash, "I Love This Life"
27. Miranda Lambert (Feat. Little Big Town), "Smokin' and Drinkin'"
26. Cole Swindell, "Let Me See Ya Girl"
25. Chase Rice, "Gonna Wanna Tonight"
24. Lady Antebellum, "Long Stretch of Love"
23. Blake Shelton, "Gonna"
22. Kip Moore, "I'm to Blame"
21. Chris Young, "I'm Comin' Over" - BIGGEST JUMP!
20. Frankie Ballard, "Young & Crazy"
19. Kelsea Ballerini, "Dibs"
18. Brothers Osborne, "Stay a Little Longer"
17. Kenny Chesney, "Save It for a Rainy Day"
16. Jake Owen, "Real Life"
15. Jason Aldean, "Gonna Know We Were Here"
14. Maddie & Tae, "Fly"
13. Florida Georgia Line, "Anything Goes"
12. Old Dominion, "Break Up With Him"
11. Dustin Lynch, "Hell of a Night"
10. Zac Brown Band, "Loving You Easy"
9. Carrie Underwood, "Smoke Break"
8. Brett Eldredge, "Lose My Mind" - ALBUM DROPS ON SEPTEMBER 11!
7. Luke Bryan, "Strip It Down" - HIGHEST DEBUT!
6. Keith Urban, "John Cougar, John Deere, John 3:16"
5. Eric Church, "Like a Wrecking Ball"
4. Cam, "Burning House"
3. Thomas Rhett, Crash and Burn" - ALBUM DROPS ON SEPTEMBER 25!
2. Chris Janson, "Buy Me a Boat"
1. Sam Hunt, "House Party" - A NEW NO. 1!
Did Your Favorite Song Make Our Top 40 Country Songs List for September 2015?
What would you add to our list of the Top 40 country songs for September 2015? Share your opinions on this list — as well as the songs that deserve to be included, but weren't — in the comments section below.
The Best Album of 2015? It's Obvious, Isn't It?
More From Taste of Country