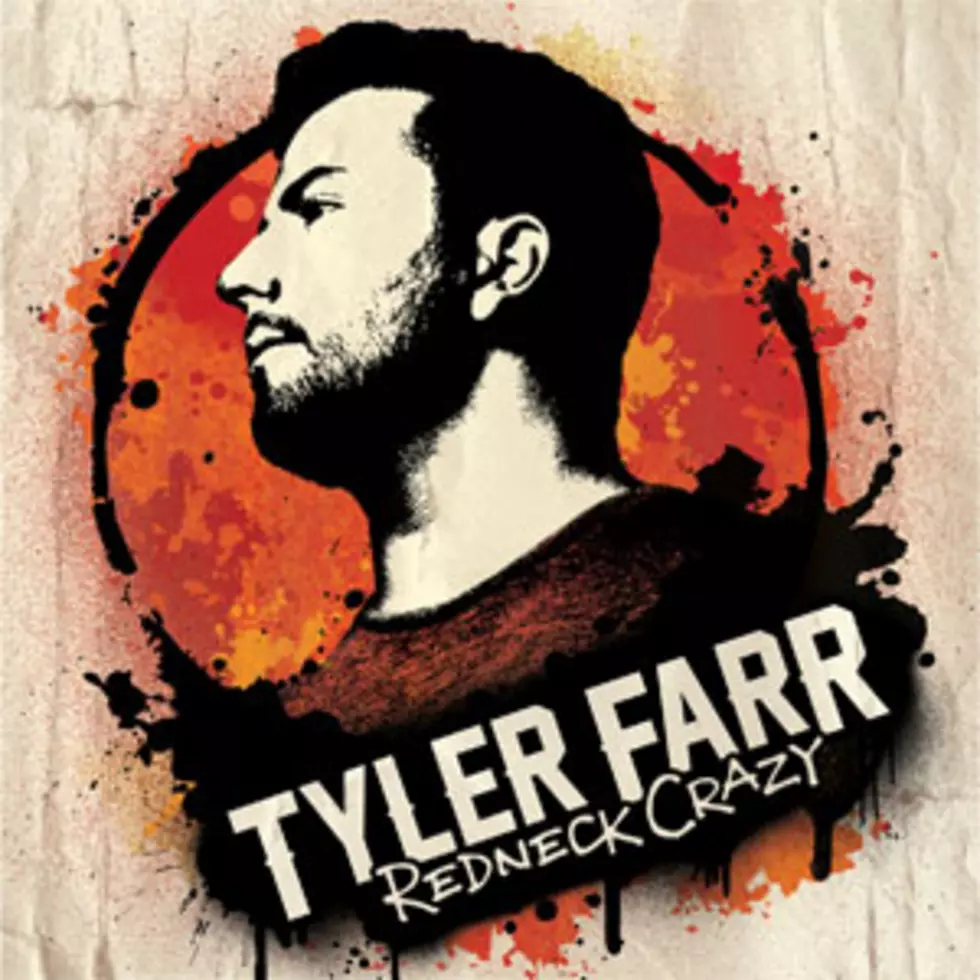 Album Spotlight: Tyler Farr, 'Redneck Crazy'
Columbia Nashville
Tyler Farr's first three singles are a fair representation of his debut album 'Redneck Crazy.' There's a little pain, a little heart and a little cray-cray. The singer relies on his unique voice, but nothing about the project feels self-indulgent.
'Whiskey in My Water' and 'Ain't Even Drinkin'' are two of the more familiar songs on 'Redneck Crazy.' Both are love songs that use booze as a metaphor for that tingle the touch of someone special can elicit. On 'Whiskey,' we find Farr driving down a country road with a girl and something good for sippin' hidden beneath the seat -- a well-told story in 2013.
Farr takes risks elsewhere, however. The album opens with 'Dirty,' a hard-driving bluesy cut about a woman allergic to frilly dresses and glitter (presumably). The next cut is the hip-hop influenced 'Makes You Wanna Drink.' Colt Ford appears later on another rock-inspired, hip-hop spiced country song called 'Chicks, Trucks and Beer.' Drinking is referenced on four of the 11 song titles, but a number of others include sudsy lyrics.
'Cowgirl' is a more straight-forward love song that has potential to become the album's fourth single. Fans already know the title track, 'Hot Mess' and the one true vocal showcase 'Hello Goodbye.' 'Redneck Crazy' is a cohesive effort until the final song, 'Living With the Blues.' This delicate ballad doesn't quite fit, but that doesn't means fans will object to its inclusion.
Tracks to Remember: 'Dirty,' 'Redneck Crazy,' 'Cowgirl'
No Jail Time, Please: Farr has never thrown cans at an ex-girlfriend's bedroom window, but he had just come off of a bad breakup when he first heard 'Redneck Crazy.' 'Hello Goodbye' is the song inspired by that breakup. Farr found his girlfriend cheating on him. "She was in the wrong driveway at the wrong time of night," he tells Taste of Country.
Did You Know?: Colt Ford is as responsible for Farr's rise as anyone. The two toured together, playing almost 250 shows in a year's time shortly before Farr signed with Sony. The exposure was great, but the workload took its toll. A blood vessel popped on his vocal chords, but because Farr played through it, the damage scarred over, creating his unique, gravely delivery.
More From Taste of Country