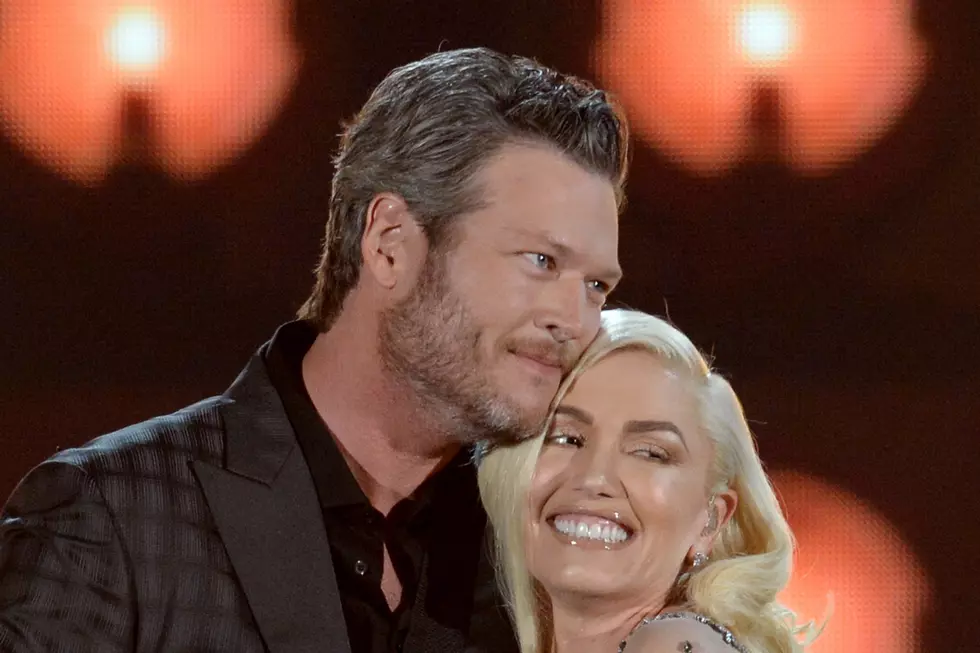 Blake Shelton Shares How He and Gwen Stefani Will Break Wedding News 'When It Happens'
Kevin Winter, Getty Images
Blake Shelton and Gwen Stefani have been together for four years now, and they are the subject of endless tabloid reports and rumors that they're getting married. In a new interview, the "God's Country" singer shares how they'll break the news "when it happens."
The 43-year-old singer tells Entertainment Tonight's Nancy O'Dell that the rumors about him and Stefani don't bother him.
"I've learned over the years just to take that for what it is," Shelton states, calling the reports "complimentary."
"If I am somehow, and Gwen is somehow, newsworthy enough that they have to make up stories about us just to have something to say, then I guess that's a good problem to have," he adds. "You know, I gotta say that we couldn't be happier, and we've never been doing better."
The couple met in 2015 when Stefani joined Shelton as a coach on The Voice, and they began dating after his divorce from Miranda Lambert, revealing their relationship later that year. They've been going strong for four years now, and though they are not sharing any wedding plans publicly, "Obviously, that's gotta lead somewhere," Shelton acknowledges.
"But I promise you, we won't break the news in any of the grocery store trash magazines," he states, telling O'Dell, "When it happens, you'll hear about it from somebody like you. Maybe even you, exclusively. You're credible. You're incredible, and you're credible."
Shelton turned 43 on June 18, and on Thursday (June 20), Stefani threw him a pizza party at her house with family and friends, where she gave him a special homemade sign to hang at his Oklahoma ranch. Stefani's sons — 13-year-old Kingston, 10-year-old Zuma and 5-year-old Apollo — also gave him handmade cards.
Stefani is set to re-join Shelton as one of the judges on the upcoming season of The Voice,  replacing Adam Levine, who left the show by surprise after 16 seasons.
Shelton recently teamed with Garth Brooks on a new duet titled "Dive Bar." They'll give the song its live debut when Shelton joins Brooks onstage at his upcoming concert in Boise, Idaho, on July 19. Shelton is set to open that show, which is part of Brooks' three-year Stadium Tour.
Shelton recently wrapped his own 2019 Friends and Heroes Tour, but there are still Blake Shelton tickets available for shows that he's got booked for 2019.
Gwen Stefani Has the Craziest Celebrity Mansion EVER!
More From Taste of Country