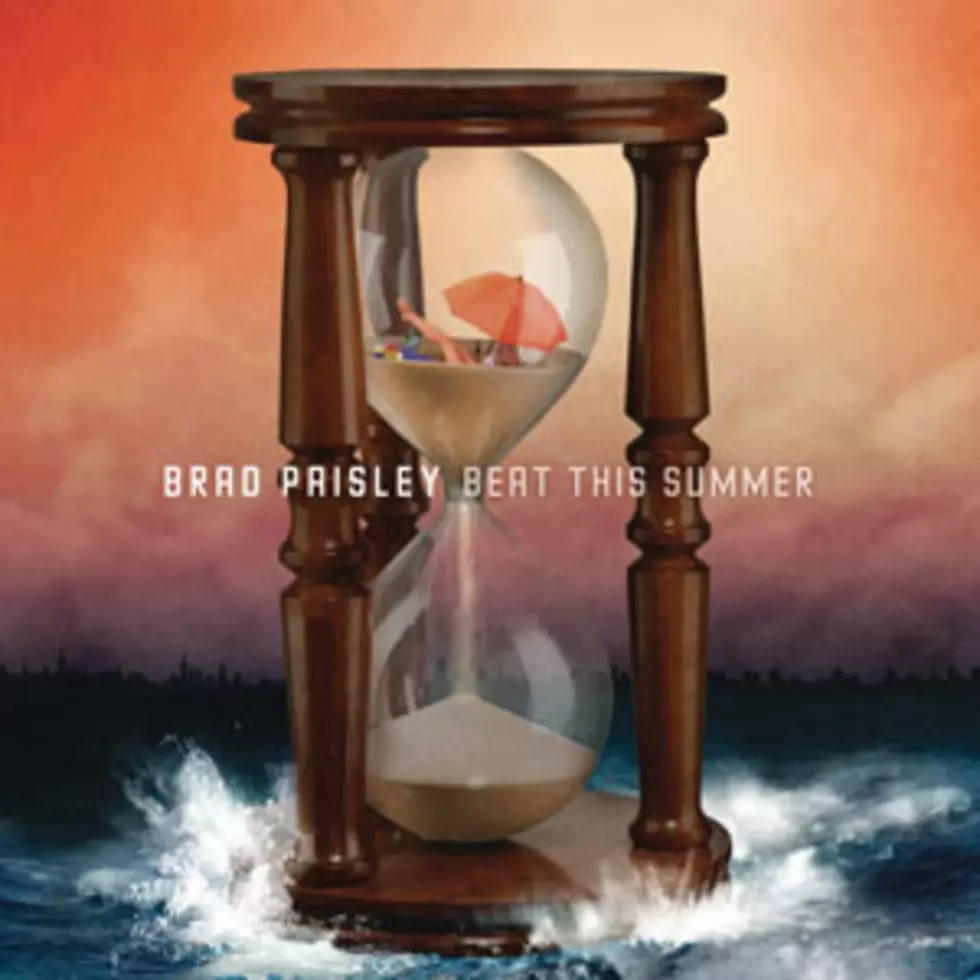 Brad Paisley, 'Beat This Summer' – Song Review
Arista Nashville
Brad Paisley wasn't joking when he said he was working to push himself places never gone before on his upcoming album, 'Wheelhouse.' The second single, 'Beat This Summer,' is a double-take sort of record in that after it begins, you do a double-take toward your stereo or computer to try to make sense of what's going on. 
Like anything new, a first listen of 'Beat This Summer' feels clumsy and unfamiliar. But this is more of a reflection of what we're used to as fans, not a comment on the song's arrangement and production. The track has Paisley's fingerprints all over it, from the guitar work and the singing to the out-of-the-box thinking in the production room. The tone is set early with choppy interplay between electric guitar and banjo. As the song unfolds, both slide nicely into the rhythm.
"Like the ferris wheel goes around and around / Well the trouble with up is there's always a down / First I'm holding your hand and we're on the boardwalk / That's heaven right here on these streets and these docks," Paisley sings to begin the first verse.
Beneath him, a swirl of instruments run chaotically until they all snap together at the chorus like a school of fish running from a predator.
"As long as I live / Whatever I do / As great as it is, you know what's a bummer / I ain't ever gonna beat this summer with you / Baby it's true / The taste of your kiss is so bittersweet / I ain't gonna beat no way I'm gonna beat this summer with you."
It's a strong lyrical effort by Paisley, Luke Laird and Chris DuBois. The second verse is most effective in painting a picture of bittersweet summer love: "Before you know it it's all gonna stop / They'll be rolling up windows and putting up tops / Need a cold wind blowing the leaves through the air and you won't find a tan line anywhere." One is reminded of Keith Urban's ''Til Summer Comes Along.' That was a stronger story, but 'Beat This Summer' is much more fun.
The singer stretches himself vocally, going for notes late in the song that he typically stays away from. As a producer, Paisley and his team add a few effects and techniques that separate this song from anything else he's recorded. Nothing feels gimmicky. Only his trusty Telecaster solo at about 2:25 grounds us to the superstar's catalog -- even that is bluesier than normal -- although the choir from 'Southern Comfort Zone' gets another workout on 'Beat This Summer.' It's the same style, if not the same choir.
'Beat This Summer' is an ambitious undertaking. The same story on top of milquetoast production would fall flat, and there will be some that can't quite make sense of the many layers. But it's worth the effort to figure it out. Like so many of his recent singles, this track not only feels good, it feels important.
Listen to Brad Paisley, 'Beat This Summer'
More From Taste of Country