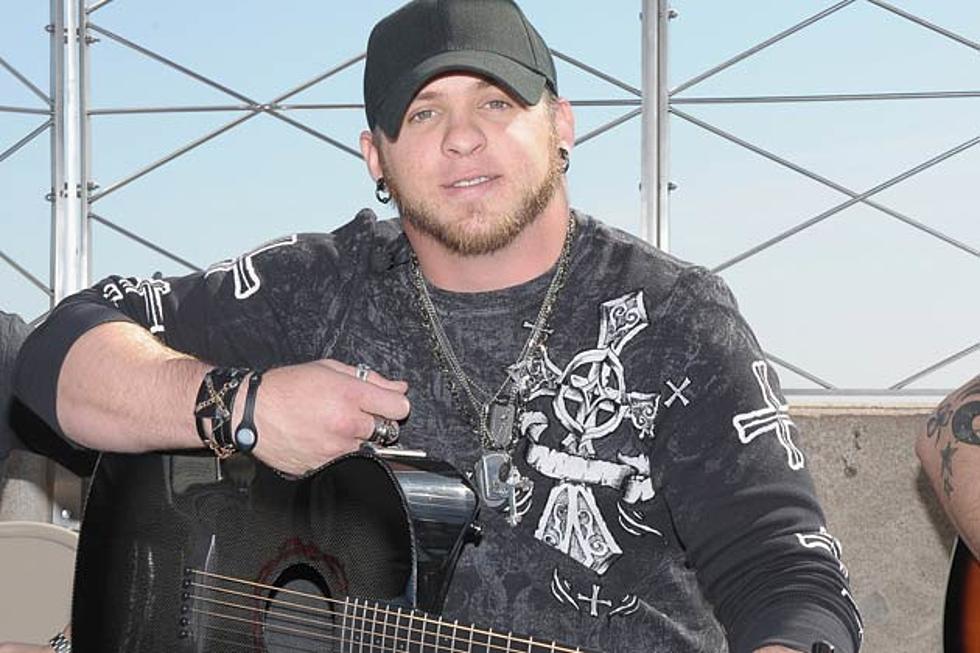 Brantley Gilbert, 'Kick It in the Sticks' – Lyrics Uncovered
Brantley Gilbert 'Kick It in the Sticks' lyrics were penned by the singer and two-thirds of Nashville's hottest writing team, the Peach Pickers (Ben Hayslip and Rhett Akins). While all three have writing credits for crafting the song -- Gilbert's latest single -- Hayslip and Akins were surprised by the outcome, seeing how the threesome were never in the same room together when the hit was born.
"We didn't know much about Brantley at the time," Akins tells Taste of Country. "I had heard a little bit about him, obviously because he is from Georgia. I was playing down around Athens and a lot of the college towns. Kids kept talking about Brantley Gilbert. Then, the next thing you know, our publisher was like you need to write with this kid, Brantley Gilbert. I think [the Peach Pickers] wrote with him a couple of times, and then I wrote with him by myself."
Akins continues, "We went out to this farm where he was staying in Nashville. We rode 4-wheelers and were shooting our guns. We sat down and wrote outside. I don't think we finished the song, but we wrote a verse and the chorus of 'Kick It in the Sticks.'"
"Welcome to the home of the hillbilly / Yeah baby it's the land of barbed wire and moonshine whiskey / Park your car 'fore you get it stuck / Go on and grab you a beer and get on up in the truck / It's going down tonight / It's all on me / It's b.y.o.b. and I got all we need / Yeah boy I'm 'bout to show me a city slicker / How to kick it in the sticks with the critters," they wrote in the opening 'Kick It in the Sticks' lyrics.
"Brantley had to go back to Athens and go on the road," Akins recalls. "He said he would work on it and call me. In the meantime, he got together with Ben by himself and wrote a song called 'Our Side of the Barbed Wire.' Next thing I know, Brantley calls me up and goes, 'Hey man, I think I've got this song. I listened to it, and it was half the lyrics to what I remember writing, but the other lyrics, I was like, 'Where did those come from?' He was like, 'Oh, that's a song me and Ben wrote. I put them together!' [laughs]. He had written two separate songs, and Ben and I didn't know what we had both written with Brantley."
"We basically wrote the same song, just different titles," adds Hayslip. "They fit perfectly together. That never crossed my mind. Only Brantley does stuff like that."
"Our side of the barbed wire / Money grows in rows, if it don't, you go broke / So we ... hang out by the bonfire / We're just some good ol' boys havin' a dang good time / We crank it up / Down here /  We get loud / Down here / We throwin' down in the dirty dirty south / Down here / It'll be an all nighter / With the hippies and the hicks, jocks and bikers / They all came to / Kick it in the sticks," Gilbert sings in the chorus.
"In my experience with Brantley, he never finishes a song until the album is about to be recorded," notes Akins. "He re-writes them, plays them in his shows, decides he doesn't like this line or something bothers him, and he just constantly is re-writing and re-writing and re-writing. Brantley definitely knows what he wants to do, and he doesn't necessarily get it that day. He's not a fast writer, at least with us he's not. He ponders on it. That's what he did with this song. Hopefully it's going to be a big single for him. We were fortunate to get to write with him from the start. I think we were some of the first co-writers he had every written with. He wrote mostly everything by himself or with Colt Ford back home. I think still to this day we're one of the five Nashville writers that he writes with. He doesn't write with a lot of people."
Of penning 'Kick It in the Sticks' with Gilbert, Akins adds, "We were lucky to get in on the ground floor."
More From Taste of Country