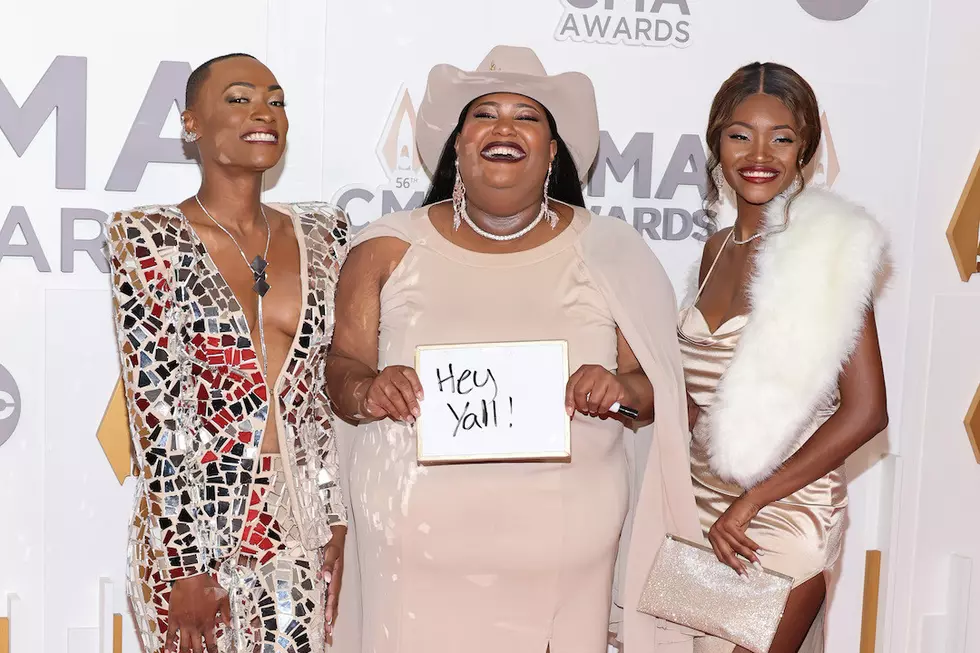 Chapel Hart Are Fulfilling Loretta Lynn's Wish for Them to Remake One of Her Songs
Jason Kempin, Getty Images
Chapel Hart made a big impression on America's Got Talent judges and the fans at home last July, when they performed a barn-burning updated version of Dolly Parton's "Jolene" called "You Can Have Him Jolene." Parton herself even saw and applauded their take on her 1970s hit, and she wasn't the only country legend to be impressed by the video: Loretta Lynn also saw Chapel Hart's TV audition, and requested that the trio put their spin on one of her songs, too.
"I love it, ladies," Lynn wrote on social media at the time. "Now I'm wondering what you might be able to do with one of my songs!"
Now, the trio — made up of sisters Devynn and Danica Hart and their cousin Trea Swindle — is working hard on granting Lynn's wish. At the 2022 CMA Awards, they told Taste of Country that they're planning to expand Lynn's 1968 hit "Fist City" into a new version called "Welcome to Fist City." In the original song, Lynn calls out a woman who's been making romantic moves on her man, and offers a few choice words as to what might happen if she doesn't heed the warning.
As for the premise of Chapel Hart's updated version? "Miss honey girl didn't listen to Miss Loretta," Devynn says drily, "so now she really has to find out what it's like."
For the up-and-coming trio, remaking a classic like "Fist City" is about much more than fulfilling Lynn's wish. "I kind of feel like it's almost a duty [to keep country classics relevant,] especially for the younger generations coming up," Swindle points out.
"They let 'em forget now," Devynn says.
"And you can't," Swindle adds, nodding in agreement. "You gotta remember where you came from in order to know where you're going, and you have to pay homage to all of the women who paved the way for us to even be here today. It's our way to say thank you."
Their tributes likely won't stop with Lynn. The three singers agree that there are scores of female country greats they count as inspirations, and another name at the top of their minds is Gretchen Wilson.
"When I tell you we just love her," Devynn gushes. "When she first came out she wasn't everybody's cup of tea, but she stayed true to herself and she was always her authentic self, and I feel like we kinda took a page out of her book. We are just always gonna be us and some people are gonna like it, some people won't. That's ok. You just keep trudging and keep going."
Country Singers You Forgot Got Their Start on Reality TV:
More From Taste of Country