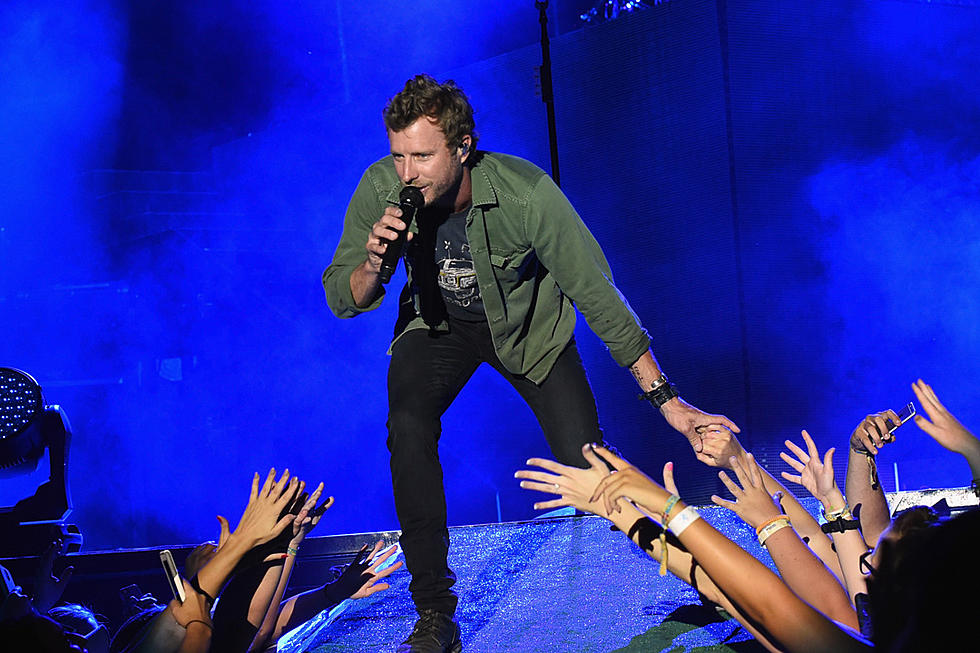 Dierks Bentley Announces 2017 What the Hell World Tour
Rick Diamond, Getty Images
Dierks Bentley has revealed his 2017 headlining tour with special guests Cole Swindell and Jon Pardi. The What the Hell World Tour will kick off Jan. 19 in Dayton, Ohio. A hilariously censored video only hints at the fun the three friends will be having.
"Coming off the electricity and emotion of two nights at Red Rocks last week, it felt right to just go ahead and announce plans for next year and keep this thing rolling," Bentley says in a press release. "There's a song on my album called 'What The Hell Did I Say' and it seemed like an appropriate title for a tour with Cole and Pardi. I have a feeling I'll be asking myself that question the morning after many of our shows and late night hangs because you really don't know what will happen when the three of us get together. There has been a lot of drunk calls and texts between all of us over the last year trying to make this tour happen, and I'm excited we were able to pull it off."
While the official dates of each tour stop have yet to be revealed, fans can get ready to see Bentley in the announced cities below. The star cites Pardi and Swindell as being "a little crazy" and says he can't wait to see what will happen on the road.
"I'm out there away from my family – it's a great sacrifice for them and for the guys in my band, they have family, too. We're out here, life's short, I want to be around good people, good energy, good vibes," Bentley tells People. "And these two are definitely two younger guys that both crack me up and have such great energy."
Dierks Bentley's 2017 What the Hell World Tour Stops:
Dayton, Ohio
Louisville, Ky.
Nashville, Tenn.
Hamilton, Ontario, Canada
Oshawa, Ontario, Canada
Ottawa, Ontario, Canada
London, Ontario, Canada
Winnipeg, Manitoba, Canada
Saskatoon, Sasketchewan, Canada
Calgary, Alberta, Canada
Dawson Creek, British Columbia, Canada
Edmonton, Alberta, Canada
Penticton, British Columbia, Canada
Vancouver, British Columbia, Canada
Cedar Rapids, Iowa
Sioux Falls, S.D.
Columbus, Ga.
Tupelo, Miss.
Knoxville, Tenn.
Billings, Mont.
Rapid City, S.D.
Fresno, Calif.
Reno, Nev.
Dierks Bentley Sings "Different for Girls" With His Daughters
The Best Songs of 2016 So Far? See Our Picks
More From Taste of Country