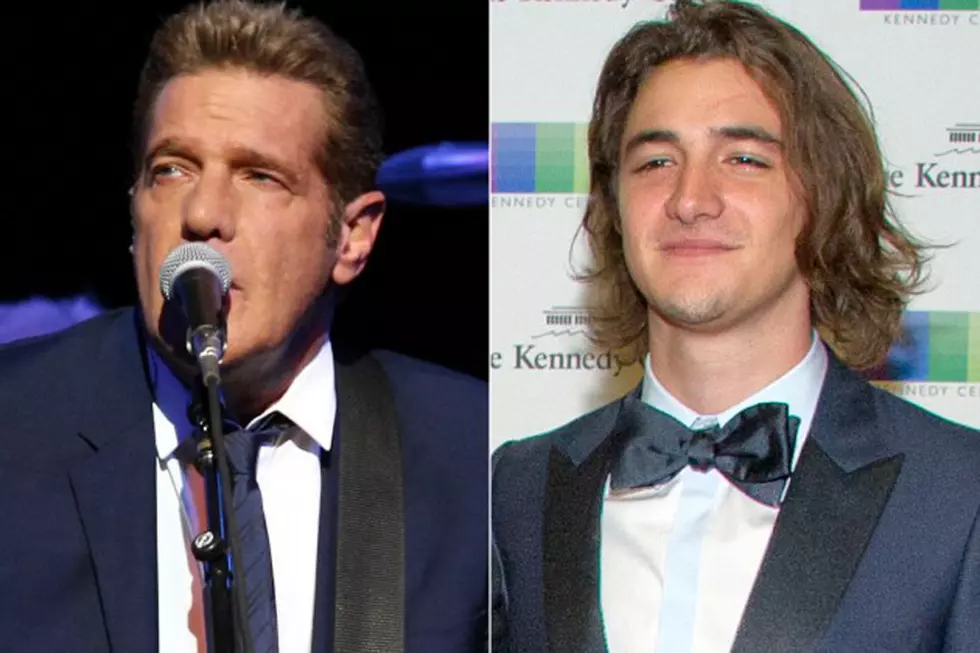 Glenn Frey's Son Will Hit the Stage With the Eagles in 2017
Neilson Barnard / Pool, Getty Images
Glenn Frey is gone, but his legacy lives on.  Frey's son Deacon is set to take the stage in Frey's place with the Eagles in the summer of 2017.
Frey died in January of 2016, and many believed it would spell the end of the iconic country-rock group, whose long list of hits includes "Take It Easy," "Peaceful Easy Feeling," "Take It to the Limit" and "Desperado." But Frey's musical partner in the Eagles, Don Henley, tells sports talk radio station KTCK in Dallas that Deacon Frey is confirmed to perform with the Eagles this summer.
"There's going to be an official announcement in a few days, but let's just do it here. Glenn's son Deacon is a very talented young man, and he seems to be up for the task," Henley reveals (quote via Best Classic Bands).
Country Artists Inspired by Glenn Frey
"[Deacon]'s enthusiastic about it, and he's been working real hard on it, and he's gonna do it with us," Henley adds. "I think that's appropriate."
Henley initially said the Eagles would never tour again after Glenn Frey's death, and later stated that the only way it might happen would be with Frey's son in the lineup.
"I think it's the only appropriate way to carry on. I don't think I'd do it otherwise," he tells the station. "Since it's Glenn's blood, it's his son, I think that's appropriate. There'll be one more musician along for the ride too, but I'm not gonna say who that is."
The Eagles are slated to headline the Classic East festival in New York City and Classic West festival in Los Angeles, Calif., with Fleetwood Mac in the summer of 2017. It is unclear if more concert dates are to be announced. More information is available at Eagles.com.
Learn More About Glenn Frey's Death
More From Taste of Country