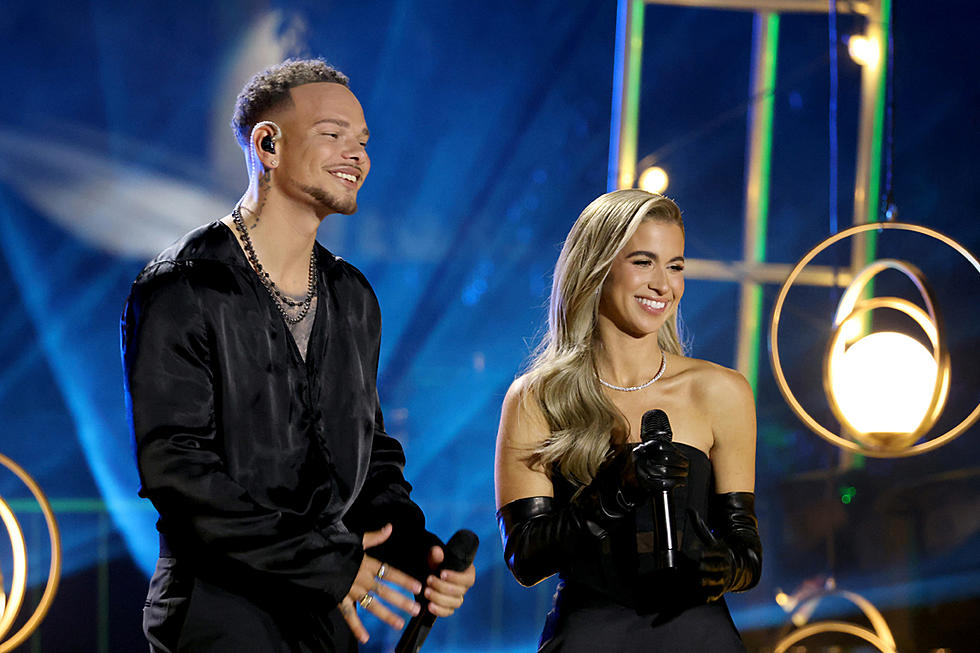 Kane Brown and Katelyn Brown Take Home the CMT Award for Video of the Year
Rick Kern, Getty Images
Kane Brown and his wife, Katelyn Brown, snagged the biggest award of the night at the 2023 CMT Music Awards on Sunday night (April 2). The married couple took home the highly-sought after trophy for Video of the Year for their romantic duet, "Thank God."
Darius Rucker presented the lovebirds with their award, which marks their first-ever in the category. And the pair went up together to accept their win — a moment that took place at the end of the broadcast and before the two launched into a live performance of the hit.
"Oh my gosh!" Katelyn began. "First off. I'm so nervous. This is all so new to me, and when we recorded this song a year ago, I never would have ever thought this was going to happen. I just want to say, thank you so much to my amazing husband. I love you. This is so special that we get to share this together every night and I love you so much."
The two, shared a kiss before Brown introduced the person standing alongside them.
"I just want to say, thank you to the fans that voted.... this is Alex standing beside me. He moved here from Barcelona. He wanted to be a video director. He's done all of my music videos. He's making the American dream come true. I love you all. Thank you CMT."
The winning video beat out Carrie Underwood's "Hate My Heart" and Hardy and Lainey Wilson's "Wait in the Truck," The category started with 16 nominations before being whittled down to six on Tuesday, March 28. The morning of the show, fans could vote for their favorites in a field of just three contenders.
Brown's fans had long been requesting a collaboration between the country star and his wife -- a talented vocalist who pursued an R&B career before meeting him -- but they had to find just the right song to record together, and that process took quite a while. But the wait paid off: Both members of the husband-and-wife team say they knew right away that "Thank God" was the perfect fit, and country radio agreed, with the song skyrocketing up the charts upon its release.
The Browns made a trip out to Hawaii to film this dreamy clip, which finds them swimming in an idyllic lagoon, running on the beach and slow-dancing beside a campfire. It's a sweet glimpse into the couple's real-life love story, and has provided fans with a chance to get to know Katelyn better, since she has appeared onstage with her country star husband several times to perform their duet.
The 2023 CMT Music Awards aired on Sunday (April 2) live from Austin, Texas, on CBS. It streamed live and on demand on Paramount+. Kelsea Ballerini and Kane Brown co-hosted the show.
2023 CMT Music Awards Red Carpet
The best dressed at the
2023 CMT Music Awards
took a slight risk on an established personal style. Country singers and their significant others walked the red carpet prior to the Sunday (April 2) show in Austin, Texas. See pictures of the hottest country fashions as worn by the biggest hitmakers, most-talked-about newcomers and more.
Who gets your vote for best and worst dressed at the 2023 CMT Music Awards?
More From Taste of Country