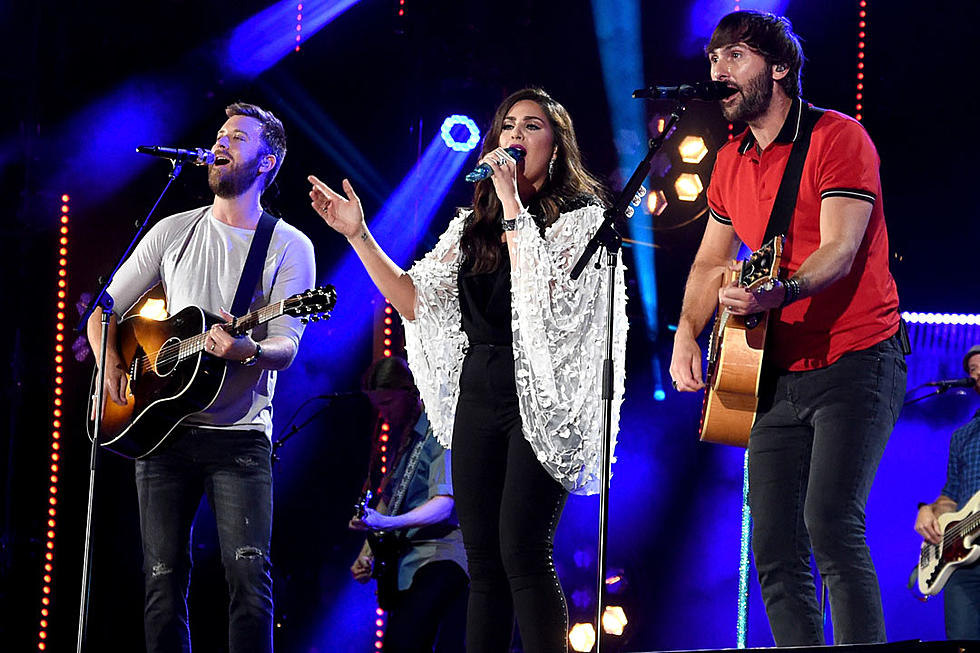 Lady Antebellum Announce 2019 Las Vegas Residency
Rick Diamond, Getty Images
The trio of Hillary Scott, Charles Kelley and Dave Haywood are the latest country act to set up shop in Sin City for a multi-date residency, titled Our Kind of Vegas at the Pearl Concert Theatre inside the Palms Casino Resort. The show takes place across 15 dates in 2019 throughout the months of February, May and August.
Sitting down with the Nashville media, the trio reveals they were approached by the Pearl Theatre with the idea for the residency, serving as the first country act to headline the 2,500-seat venue. The band note they're always looking for ways to evolve their tours, and this new opportunity allows them to add an acoustic element to their live show, which they've been wanting to do for years.
"It just seemed to be not only an incredible opportunity, but a way for us to continue to grow our live show in a different way," Scott shares. The trio's goal is to create a multi-faceted show that balances the glamour of Vegas with the spirit of Nashville, particularly the atmosphere of the intimate songwriters' venue, Bluebird Cafe. In addition to performing their biggest hits and re-introducing fan favorites, Lady Antebellum also plan to invite the songwriters who've penned many of those hits to perform alongside them in Vegas.
"We still want to make it big and have a Vegas explosion of a show, but then really try to have an extended, stripped down moment, almost like a Bluebird moment, where we can really talk about how we wrote these songs and have that connection with the audience," Kelley explains. "I think in a theatre like this, we're going to be able to stretch ourselves and create some more connections."
The show will essentially serve as a timeline of their career, showcasing the catalog of hits they've amassed over the past decade while sharing the defining moments of their journey with fans.
"It provides a whole new way for us to approach the Lady Antebellum show, and I hope fans feel like it's a totally different experience as well," says Haywood.
"It feels like a big milestone moment for us. It's kind of a humbling thing," adds Kelley. "We're really excited."
Lady Antebellum are set to perform Our Kind of Vegas on Feb. 8-9, 13, 15, 16; May 10-11, 15, 17, 18; and August 23-24, 28, 30, 31. Tickets go on sale Friday (Nov. 2) at 10AM PT.
Morgan Wallen's "Whiskey Glasses" Performance Is a Must-Watch
Here Are the 100 Best Country Albums of the 2000s:
More From Taste of Country