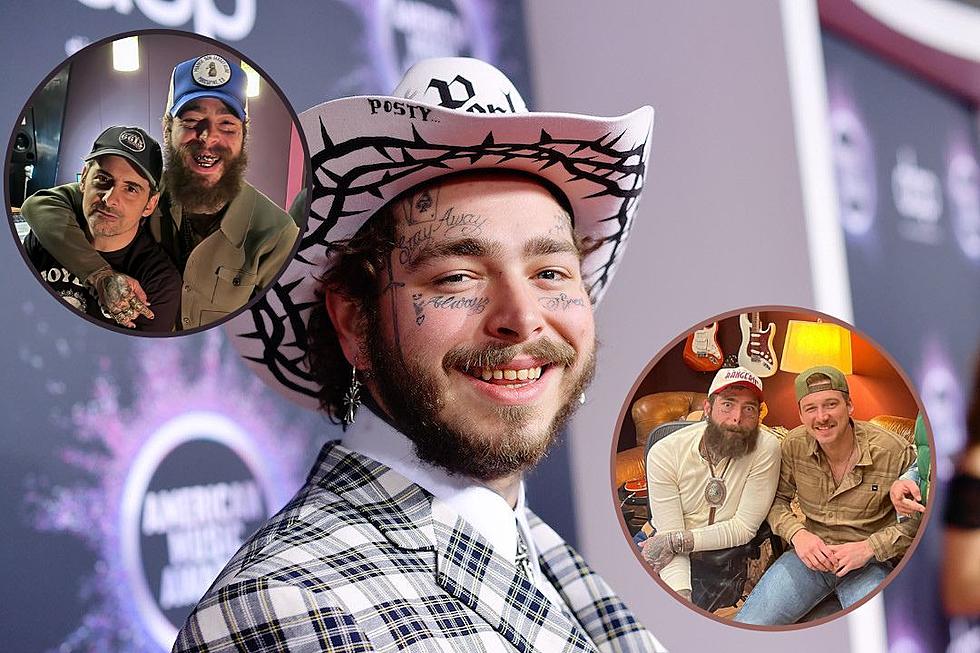 Is Post Malone About to Announce a Country Album?
Matt Winkelmeyer, Getty Images
What exactly is rapper Post Malone planning for his big moment onstage at the 2023 CMA Awards? The answer isn't clear yet, but one thing's for sure: A lot of country stars are in on the secret.
On Wednesday (Nov. 8), Brad Paisley shared a studio snapshot of himself with Posty on Instagram, captioning the image, "People at the Nashville Post Office are just absolutely crazy."
Fans flooded the comments section to gush over the unlikely superstar pairing, and several commenters speculated that this means a country album from Malone is finally on its way.
Here's why they've got good reason to think so:
The rapper himself has strongly hinted that he might like to put out a country album one day.
"To be honest, there's nothing stopping me from taking a camera or setting up in my studio in Utah and just recording a country album [to put] on YouTube," he said in a mid-2022 interview for SiriusXM's Howard Stern Show. "I'm allowed to do that, I'm a human being."
During a virtual, COVID-19 pandemic-era performance for the We're Texas Benefit, Malone covered a couple country songs, including Paisley's "I'm Gonna Miss Her (The Fishin' Song)."
His country performance was so captivating that Paisley temporarily changed his TikTok bio to say "I write songs for Post Malone."
Look closely at that photo of Paisley and Malone together, and you'll see another country singer in the background: It's Ernest, who just so happened to post another studio photo of Malone over last weekend, this time featuring country singer Morgan Wallen.
Apparently, Posty's been paling around in the studio with several different country performers — including one of the genre's biggest stars.
From those facts alone, the evidence is stacking up that Malone's country project is getting nearer. But there's more: Some fans have made the case that he's going to announce his album during Country Music's Biggest Night — onstage at the CMA Awards.
Wallen, Post Malone and Hardy are on deck to perform together at the 2023 CMAs.
Details haven't been announced, but at a pre-show press conference, CMAs co-host Luke Bryan spilled the beans that it'll involve a Joe Diffie tribute.
Ahead of the show, Hardy hinted to Audacy that a "big announcement" will follow the CMAs performance.
"I can't get too much into why we're doing it, but it'll all make sense in that moment after the awards because we have a big announcement coming," Hardy says.
Fans everywhere are taking their guesses about what's in store, but the only way to know for sure is to wait for show time (8PM ET) on Wednesday night (Nov. 8). The 2023 CMA Awards will air on ABC from Nashville's Bridgestone Arena. Luke Bryan and NFL great Peyton Manning are co-hosting the show.
Country Stars Walk the Red Carpet at the 2022 CMA Awards
Country stars flocked to Nashville on Wednesday, Nov. 9 for the 2022 CMA Awards. The artists also brought their best looks to the red carpet.
Carrie Underwood
brought the drama with a long blue gown, top-nominated
Lainey Wilson
opted for a velvet version of her classic bell bottoms and hosts
Luke Bryan
and Peyton Manning looked snazzy in suits. Here are some of best dressed, and biggest stars, that graced the CMA Awards red carpet.
Gallery Credit: Sterling Whitaker
More From Taste of Country