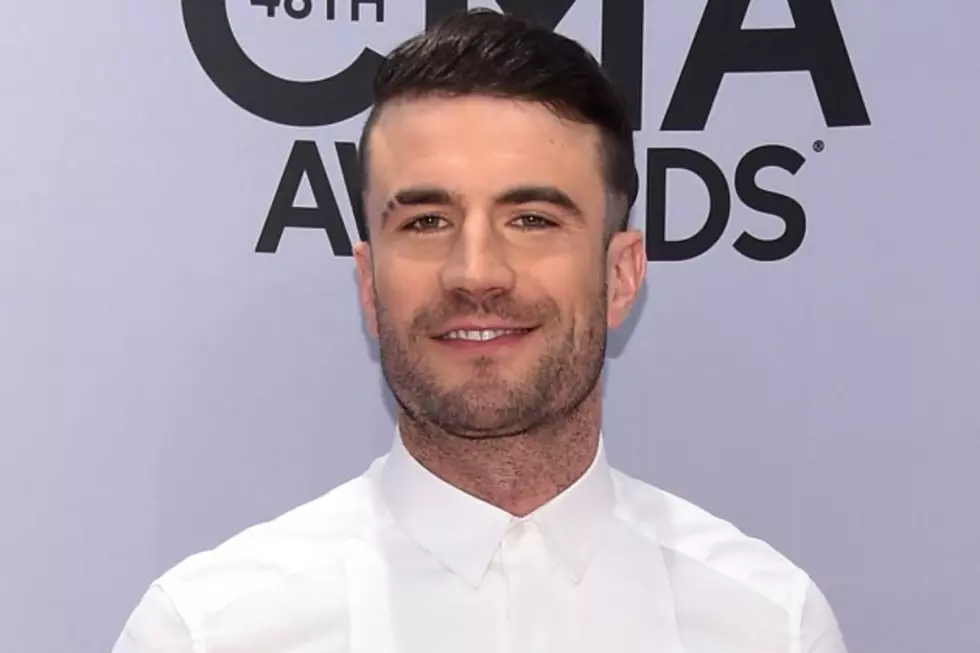 Sam Hunt's Secret: 'Try to Stay as Naive as Possible'
Larry Busacca, Getty Images
Sam Hunt didn't realize the risk he was taking in releasing songs like 'Leave the Night On' to radio, but his co-writers sure did. The white-hot singer's debut single rode a heavy R&B groove to No. 1, and then he followed it with a song that stretched the country genre even further.
Still, Hunt doesn't think of himself as a risk-taker. To be honest, he doesn't think at all about the greater impact his music is having.
"I try to stay as naive as possible, so I'm not as aware as much of the risks," Hunt explained during a recent party to celebrate his chart-topping hit. "Because then I start over-thinking and I might be more hesitant to do that."
I try to stay as naive as possible, so I'm not as aware as much of the risks.
Co-writers Josh Osborne and Shane McAnally were also on hand for Monday's (Jan. 26) event. Both men praised the Georgia-raised singer as a songwriter, but admitted they didn't "always know" Hunt would be a star.
"The truth is I didn't always know because he was so willing to take risks ... and we have not always been so lucky in our genre that risks are rewarded this way," McAnally said. "And so, what I did know for sure was that he wasn't gonna play by anyone else's rules."
Osborne calls Hunt one of the hardest working songwriters, and both men talked about his creativity and willingness to listen to a seemingly crazy idea. "His speaking voice sounds like singing, and it is what every artist wants to find," McAnally shared with attendees.
"It comes so natural to him that Josh and I, when we're throwing out lyrics and throwing out words ... it's almost like putting it into a calculator and a number coming back," he added. "The phrasing, I never thought he was going to put the syllables where he did. It's impossible to imitate that until you've heard it a whole bunch."
Hunt also spoke briefly about the Wheels Up Tour with Lady Antebellum and his own Lipstick Graffiti Tour, which begins Thursday (Jan. 29) in Los Angeles. That name came after some procrastination and a rushed deadline.
"I went through old songs and tried to find buzz phrases that caught my attention. And Lipstick Graffiti just stood out," the 2015 ToC Awards New Artist of the Year nominee said.
The phrase opens his song 'Vandalizer,' found on the 'Between the Pines' acoustic mixtape: "Lipstick graffiti on the bathroom mirror / What happened to me still ain't clear / You came and went like a thief in the night / Left your mark on everything in site."
Hunt's No. 1 party took place at Rocketown Skate Park in Nashville. It's really the first time the three songwriters have had a chance to recognize the achievement. Hunt has been too busy.
"We have our little moments of text celebration when these things happen," Hunt spilled. "Lots of emojis."
Sam Hunt Talks About His Famous Co-Writes
More From Taste of Country