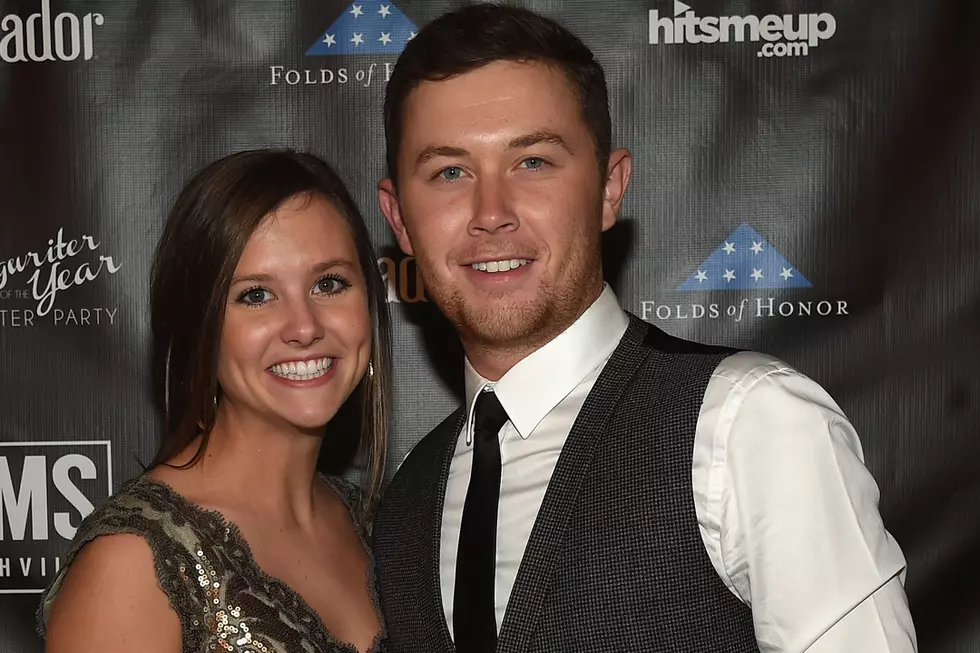 Scotty McCreery's Wedding Desserts and Honeymoon Excursions Are All Mapped Out
Rick Diamond, Getty Images
Scotty McCreery and fiancee Gabi Dugal have been busy planning their wedding in their own unique way, and it's been quite the process. Weddings take so much painstaking work and effort to pull off anyway, but especially when one of the planners is on tour and in the middle of promoting a new album.
The "Five More Minutes" singer is hustling along with Gabi to bring their dream wedding together in time for the big event, and he has a lot of responsibility! McCreery tells Taste of Country Nights' Sam Alex that the planning is well underway, and it's been very much a team effort.
"Catering is my job," McCreery explains, "so I've gotta call them and figure all that out."
Meanwhile, his wife-to-be has taken it on herself to get other important details nailed down. "She's doing a lot of the big stuff," McCreery says of Dugal. "She's killing it."
Yes, Scotty Asked Her Parents!
Even this far into the process, there are still plenty of questions about some of the specifics, which is totally understandable when you're planning what will be one of the most important days of your life, after all.
"I don't know what I'm wearing yet. I know it's gonna be a tux," he says with a bit of a laugh. The venue and menu are nailed down, and the food lineup will include some of the country singer's favorites.
"The venue we're going to, we're going to spend like three days there with family and friends before, so we're going to kind of like hang out and spend some time together. For the cake, we'll probably do a small cake," he shares. "I love a good pie, so I think we're going to do like a chocolate chess pie and some apple pie, so that will kind of be our dessert station."
With a venue chosen and pie for dessert, all that's left is music, right? Will wedding guests hear some of the McCreery catalog? He says maybe. "We'll have a deejay. My band guys will all be there, so they might bring their gear and set up, so we'll see. I'm gonna try and control a lot of the playlist, because I've got a lot of good ideas," he says. "I love throwing it back to the '80s, '90s, and early 2000s. The throwbacks will get people really going, in my opinion."
There's still room for Gabi's favorite of her man's songs, and it has the potential to be an excellent wedding song. "This Is It," of course — it was written for her, after all.
"That's the song I wrote for her and our engagement, so I guess for us, but I wrote it two weeks before we got engaged. I kind of had it all mapped out where I was going to do it and how I was going to do it," he recalls. "I wrote the song according to that plan and luckily it all went to plan, so the song was still valid. I put on the record and it will probably be the next single."
(If you're looking for suggestions, Scotty, "Wherever You Are" would be a great idea to use, too.)
After the wedding, the couple will lay low "somewhere tropical" on a their honeymoon, though McCreery wasn't willing to spill where that place is. Warm weather is conducive to playing one of his favorite sports, but Gabi may not be too happy about it.
"I think if I tried to play golf on our honeymoon ... I'm not sure how that would go," he says sheepishly, "Because I play enough golf at home."
A wedding date has not been shared.
Taste of Country Nights is a syndicated night show which airs on more than 100 radio stations nationwide. Listen to highlights on iTunes or your Android device.
 Listen to Scotty McCreery's Interview With ToC Nights,
See Photos of Scott and Gabi at the CMA Awards
More From Taste of Country